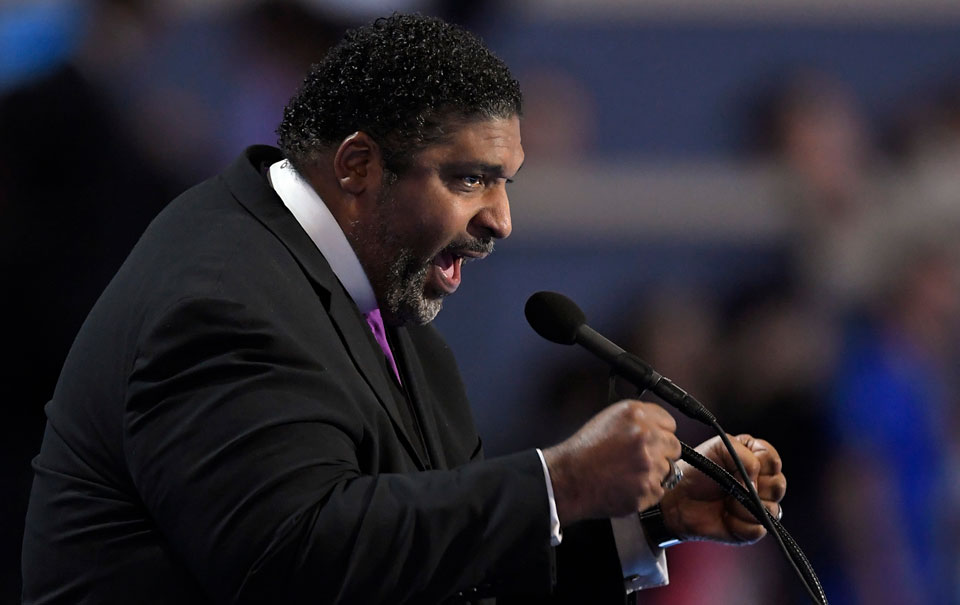 Speaking personally, and not as the co-chair of the New Poor People's Campaign, the Rev. William Barber II said he "will vote for" Democratic presidential nominee Joe Biden over GOP incumbent Donald Trump.
Barber told MSNBC interviewer Joy Reid on Oct. 27 that he will back Biden, running mate Sen. Kamala Harris, D-Calif., and Democratic U.S. Senate candidates.
His reasons are "the hijacking of democracy" by Trump, Senate Majority Leader Mitch McConnell, R-Ky., and other GOP lawmakers and Trump's disastrous refusal to battle the coronavirus pandemic, which has disproportionately hit the poor of all races and people of color in particular.
"They died and they didn't have to," Barber said of the pandemic's national toll, now 227,109.
Meanwhile, "McConnell and Trump are working to put one woman on the Supreme Court"—new Justice Amy Coney Barrett—"and not protect thousands of people from being put into a casket."
"What is happening" to U.S. democracy "is out of control," Barber told Reid. "This is political gangsterism and we can't be ambivalent at all. We have to stop this."
Barber stressed he was speaking personally, after his daughter challenged him on all those issues "to speak up as my daddy, as a father and as a man." She reminded Barber that "to be ambivalent about injustice, or to be silent about injustice is to assist in injustice."
"She said, 'Dad, can't you say something, because these policies are killing people, and could kill me and others like me. And they're trying to steal the election.'"  So he did.
Barber started the campaign as Moral Mondays, peacefully protesting GOP withdrawal of voting rights in his home state of North Carolina. It's since gone nationwide, bringing the plight of the poor and near-poor—who totaled 140 million before the pandemic hit—to the nation's consciousness.
The NPPC, using data and mass action, says the U.S. is rich enough to eradicate poverty, but also should redistribute federal funds away from war, and to aid the poor. It has always been resolutely non-partisan, criticizing politicians at all levels and from both parties for ignoring the plight or the poor, or worse.
That includes constant unfulfilled demands from Barber and his campaign co-chair, the Rev. Liz Theoharis, to devote Democratic debates—and later, Biden-Trump debates—to the issue of poverty. The Democratic Party refused, and the networks ignored the demand.
The campaign also demands Congress restore and strengthen the Voting Rights Act, which a five-man GOP-named U.S. Supreme Court majority gutted several years ago, and guarantee everyone the right to vote, and to have their votes counted. GOP operatives nationwide have been blocking such efforts, Barber told another MSNBC interviewer the following morning. "Point by point by point, policy by policy, by policy, his [Trump's] policies have hurt" the poor and the rest of the country, he said.