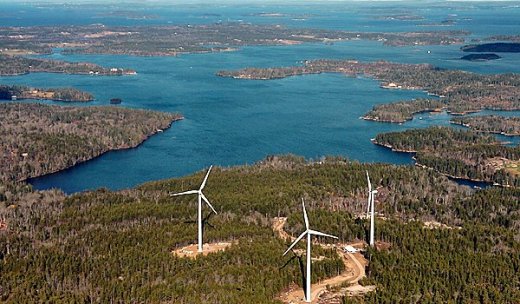 NAUGATUCK, Conn. – When Ronald Reagan had the solar panels ripped off the White House, it was more than a symbolic move. It was a green light signal to the fossil fuel industry to drill away, run roughshod over the environment, pollute the air, garner billions in profits and acquire more political influence.
An updated version of Reagan's action was Sarah Palin's "Drill, baby, drill."
Now there is another battle cry being heard throughout the country and especially in New England: "Spin, baby spin."
Wind energy proposals in the Connecticut towns of Prospect and Colebrook have stirred much discussion. Some who live near the projected sites are calling for a statewide moratorium of wind turbine construction/operation, including a statewide agreement to set turbines 1.25 miles from residences. Citizens in those towns have every right to be heard and make proposals. Since these proposals would have statewide ramifications if implemented, we are now all involved in the conversation.
Looking at a very recent installation of wind turbines elsewhere is instructive. The Fox Islands off the Maine coast received the following benefits in its first year of wind turbine operation. Its three land-based wind turbines generated 12,105 megawatts of clean power, equal to 7,075 barrels of oil.
That means 5,615 tons of carbon dioxide was not released that would have polluted our atmosphere. (Carbon dioxide is a greenhouse gas and it is a major factor in global warming/climate change.) There was a more than 27% reduction in the energy portion of Fox Island's electric rates, compared to the previous fossil fuel year. The project generated 15 temporary full-time jobs, and sustained other green jobs in its production, transportation, construction and operation.
With the proposed site for two GE wind turbines being the town of Prospect, some have raised concerns about wildlife habitat. Wind turbine projects actually save land and water resources vital to wildlife. At one turbine site on Fox Islands, 17 acres have been set aside for preservation. In this sense, wind turbines also mitigate sprawl.
It is instructive that state Senator Joan Hartley has actively sided with the wind turbine moratorium. This is the same legislator who recently prevented regulations of water usage by utility companies and golf courses from getting out of committee. All this while important streams that make up the west branch of the Naugatuck River are impaired with one completely dried up. Now she is working on stringent regulations on renewable energy. Hartley brings her 2010 "D" League of Conservation Voters record with her.
The cost/benefit discussions of technology are very beneficial. Let democracy flourish. Let's also remember the BP oil platform explosion and oil spill, the eleven workers killed, global warming and the resource wars being fought tragically in Iraq and Afghanistan.
Photo: Three wind turbines on the Fox Island of Vinalhaven. In the background are Penobscot Bay and the Camden Hills of Maine. (Via Vinalhaven newsletter)