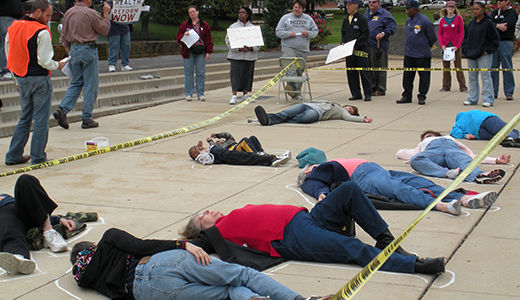 ST. LOUIS — "Ten people die every week in Missouri because they don't have access to quality, affordable health care," Bradley Harmon, president of the Missouri State Workers' Union / CWA Local 6355, told the World as activists staged a mock die-in on the sidewalk out-side of the Wellpoint Inc., Anthem Blue Cross Blue Shield building here on October 6.
Harmon, a social worker by trade, knows first-hand how desperate working families are for health care reform. "Decisions made in this building affect people's lives," he said.
As activists taped-off the "corporate crime scene" and chalked out-lines of the symbolic dead, Harmon said, "these are the victims of corporate profiteering."
Wellpoint Inc., a Fortune 500 company, had $61 billion in revenues in 2008, while its CEO, Angela Braly, received a compensation package worth $8.7 million. In addition, Wellpoint Inc. has spent $6.9 million on federal lobbyists since January 2008.
Oliver Pierce, a member of the Service Employees' International Union, said, "We need to level the playing field. We need a health care public option."
Pierce said his health care premium was $14 a month in 1970. "This is about controlling costs and providing quality service," he added. "The message here today is: without health care reform people die."
Lisa Hill couldn't agree more. She pointed to the mock dead bodies and said, "This could be my son."
Hill's son was diagnosed with leukemia in 1998 and has epilepsy. Hill, who resigned from her job to care for her son, is currently on COBRA, a supplemental insurance policy that provides temporary health insurance to eligible workers and their dependents.
Unfortunately though, Hill's COBRA policy ends June 1, 2010. Additionally, since her son has a pre-existing condition he is unable to get individual coverage. Prior to leaving her job, Hill paid $900 a month for health care.
Hill said, "This is enough to make you want to cry. They are putting profits before people. Congress has to understand the urgency of supporting a strong public option."
"I don't know how their CEO can sleep at night," Hill added.
According to a recent Harvard study, over 45,000 Americans die every year due to a lack of health care. Forty-six million Americans currently have no health care.
Tom Newport, from the Communication Workers union, called the insurance companies "criminals."
"In fact," he continued, "Wellpoint rewards employees for dropping clients. These crimes can't continue."
Additionally, he said, "Wellpoint is only one in a monopoly to control access to health care. In forty-five states five companies control 75 percent of the market. That's a health care monopoly."
As the mock die-in continued investigators assessed the crime scene, evaluated the death toll and labeled big insurance a criminal enterprise.
Newport said, "These people died by a broken health care system controlled by big insurance. If they win, we lose."