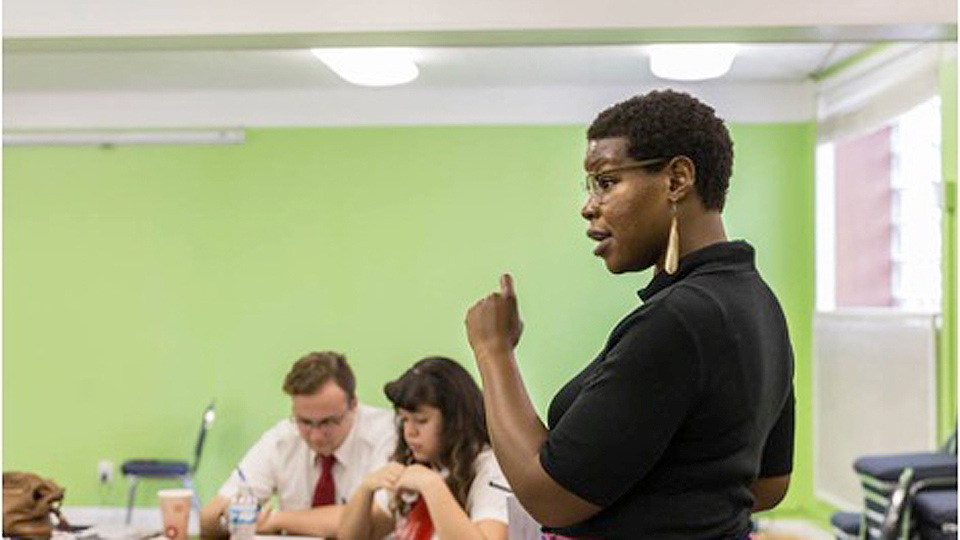 ST. LOUIS, Mo – "We take organizing seriously. We're committed to building a grassroots labor-led fightback movement," Tony Pecinovsky, president of the St. Louis Workers' Education Society (WES), told young activists here at a weekend Youth Voter Registration Camp.
According to Pecinovsky, first and foremost to any successful progressive movement is protecting and expanding workers' rights to form and join unions.
"The right-wing is hell-bent on destroying unions," Pecinovsky added. "They know organized labor is the single most powerful, well-funded and organized entity working people have."
"They want to destroy the labor movement as a precursor to destroying the left. They know that if they can bankrupt organized labor – through so-called 'right-to-work' legislation – they can bankrupt the left. And that is their real goal."
A diverse group of about twenty youth participated in the weekend camp, held at WES's headquarters on St. Louis' south-side October 1-2.
The young activists discussed the future of national politics, neoliberalism and the danger of fascism, the value of the labor movement and right-wing sponsored state-based ballot initiatives – like Missouri Constitutional Amendment 6, a photo ID law designed to limit voting rights, disproportionately affecting working families, seniors, people of color and students.
Participants also had the opportunity to hear directly from local progressive electeds.
State Rep. elect Bruce Franks (D-78) and Alderwoman Cara Spencer (Ward 20) talked about their campaigns and the difficulties of running against entrenched political machines.
Franks was drawn into political activism after the killing of Michael Brown in Ferguson, Mo. He leads a Black youth mentor group, 28-to-Life and facilitates dialog between at-risk youth and the police. Spencer is a single mom who grew tired of politics as usual in a majority Black ward deprived of capital investment, jobs and real representation.
Both Spencer and Franks, WES members, have been targeted by establishment politicians due to their vocal support for raising the minimum wage, reigning-in the pay day loan industry and challenging racism within the St. Louis City police department.
While participants learned a lot through discussion, the Youth Camp wasn't all talk.
Participants hit the street after lunch and registered voters, while informing residents about Amendment 6.
If passed into law, it is estimated that Amendment 6 will disenfranchise over 200,000 Missouri voters, mostly seniors, people of color and students – demographics expected to largely vote democratic.
Similar Photo ID laws have been declared unconstitutional in other states.
In all, over fifty Ward 20 residents were registered, while hundreds were educated about the dangers of Amendment 6.
"This was a great opportunity, especially for young activists, to see first-hand the importance and power that comes when grassroots people's movements move into educational electoral politics," Emiliana Sparaco, an organizer with the Fight for $15, said.
"Participants came out of the weekend inspired and motivated to get to work for representation, access, and engagement."
To celebrate the Youth Camp, WES also hosted its "First Annual Vegan Chili Cook Off." Over 100 local community residents attended, while WES leaders took the opportunity to engage the attendees about its mission and values.
"Bread was broken. Lessoned were learned. And a lot of fun was had," Pecinovsky added. "Building community is one of WES's core values. We're geared towards worker-education and community engagement, with a focus on organized labor."
"We're training the future of the movement," Pecinovsky concluded.