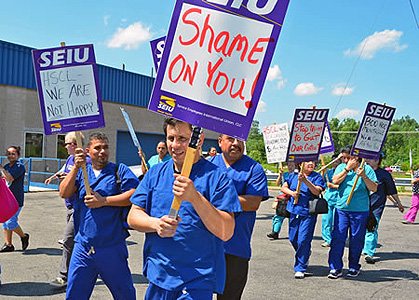 ST. PAUL (Workday Minnesota) – Workers who clean linens for hospitals across the metro area picketed outside Health Systems Cooperative Laundries on St. Paul's East Side, giving their employer a taste of what to expect if management continues to drag its feet in negotiations.
About 240 Health Systems Cooperative employees, members of Workers United Local 150, have been working without a contract since March 31. A temporary extension of the previous contract expired July 14.
Despite a dozen bargaining sessions since then, the two sides remain far apart on contract provisions protecting basic workers' rights, Workers United Area Director Julie Boots said, adding that reflects a change from previous rounds of contract negotiations.
"Generally, we've been able to bargain decent contracts with no problems, but they hired an anti-union lawyer this time," Boots said. "They want to basically gut and rewrite our entire contract.
"It's not really about the money at this point. It's about workers' rights, and respect and dignity on the job." The informational picket, which began Thursday after the laundry facility's day shift ended, drew more than 125 workers and supporters from the labor community. Workers United is an affiliate of SEIU, and SEIU Healthcare Minnesota helped coordinate the demonstration.
"We're trying to keep the pressure on Health Systems Cooperative so these folks get a fair contract," Boots said. "We're here today so they know what a picket line is going to look like out in front of their establishment, if it comes to that."
Michael Moore edits The Union Advocate, the official publication of the St. Paul Regional Labor Federation.
Photo: Workers, picketing outside Health Systems Cooperative Laundries, show they are united behind efforts to win a fair contract. Michael Moore