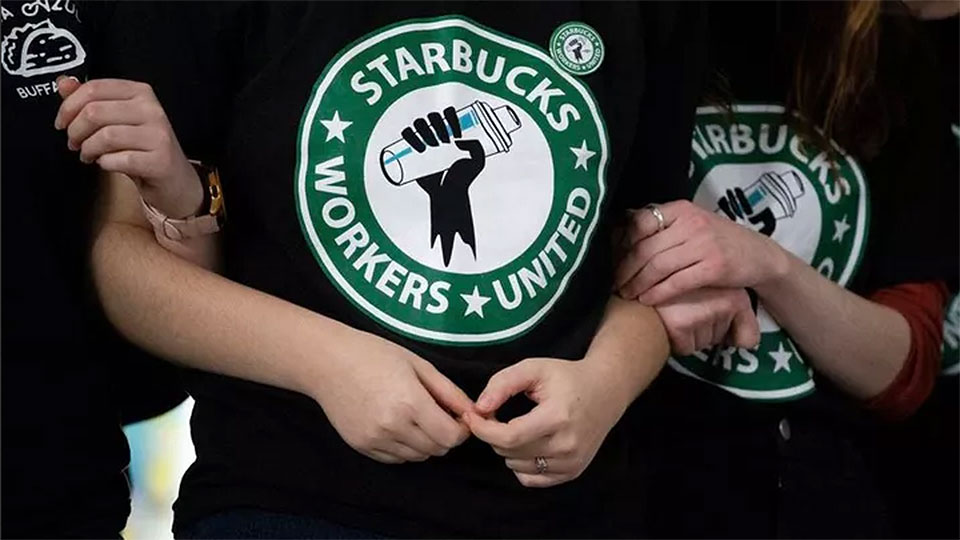 TALLAHASSEE, Fla. — Starbucks' nationwide discrimination against workers who support unionizing its stores—with Workers United's help—hasn't stopped baristas at four out of five stores from voting union in landslide tallies just since May Day, including its first-ever in Florida. And the Boston Globe reported four more Starbucks stores there went union, too.
Ballot tallies at the four stores Workers United listed: 16-1 in Tallahassee, Fla.—the first win in the Sunshine State—12-3 in Farmville, Va., 17-0 at the Ceasar's Bay Shopping Center store in Brooklyn, N.Y., and 19-8 at the Massapequa Village Square store, marking the union backers' first victory on Long Island.
At the fifth store, on Great Neck, Long Island, pro-union forces lost 5-6, after 22 instances of company labor law-breaking, formally called unfair labor practices, leading Workers United to file formal charges with the feds.
And in another piece of good news for workers, Alydia Claypool, the Black Lives Matter activist and union organizer who was illegally fired by bosses at the 1-35 and 75th Street Starbucks in Kansas City, Mo., gets her job back, starting the week of May 8.
"This just goes to show you don't need to be afraid of being fired for organizing your store! You will get justice, it just takes some time," she tweeted.
All this despite Starbucks CEO Howard Schultz's latest nationwide labor law-breaking: Higher pay and expanded training for workers, but not at unionized stores. That led Workers United to file a nationwide unfair labor practices complaint against Starbucks with the National Labor Relations Board, Harvard's On Labor blog, quoting the New York Times, reported.
Schultz told shareholders on May 3 that raises to workers would be either 3% or to $15 an hour, whichever is higher, National Public Radio reported. He claimed, "we do not have the same freedom to make these improvements" at either the 50 stores where employees voted for Starbucks Workers United or the 180 stores where organizing drives are underway.
The Starbucks workers' from-the-bottom-up organizing drives started with successes in five out of six stores in Buffalo, N.Y. But they in turn are part of the larger pattern of ill-paid exploited workers in industries such as restaurants, retail, warehouses—like Amazon—and college TAs, RAs, and adjunct professors rising up to unionize.
The Starbucks workers need raises. The Economic Policy Institute's new Wage Tracker project reports that 63% of Starbucks's 225,529 workers nationwide make less than $15 an hour, including 1% who earn under $10 hourly.
A prior nationwide labor law-breaking (ULP) complaint against the chain, filed in March, reported that after the holidays, most Starbucks workers' hours were drastically cut back, with pro-union workers as particular targets. Starbucks Workers United's extensive interviews nationwide gathered evidence, Spectrum News said.
That nationwide complaint said workers saw cuts of between two and 15 hours weekly, with part-timers reduced to one shift a week, and full-timers losing a day per week on average. Starbucks Workers United added that cuts rob workers of benefits, too, notably health insurance.
"Starting within the six months preceding the filing of this charge, in at least 20 states nationwide, including Arizona and Texas, Starbucks Corporation has reduced employee hours in order to discourage and/or punish Section 7 protected union activity," that national ULP said. "These hours cuts are in swift response to workplace organizing campaigns at Starbucks stores around the country."