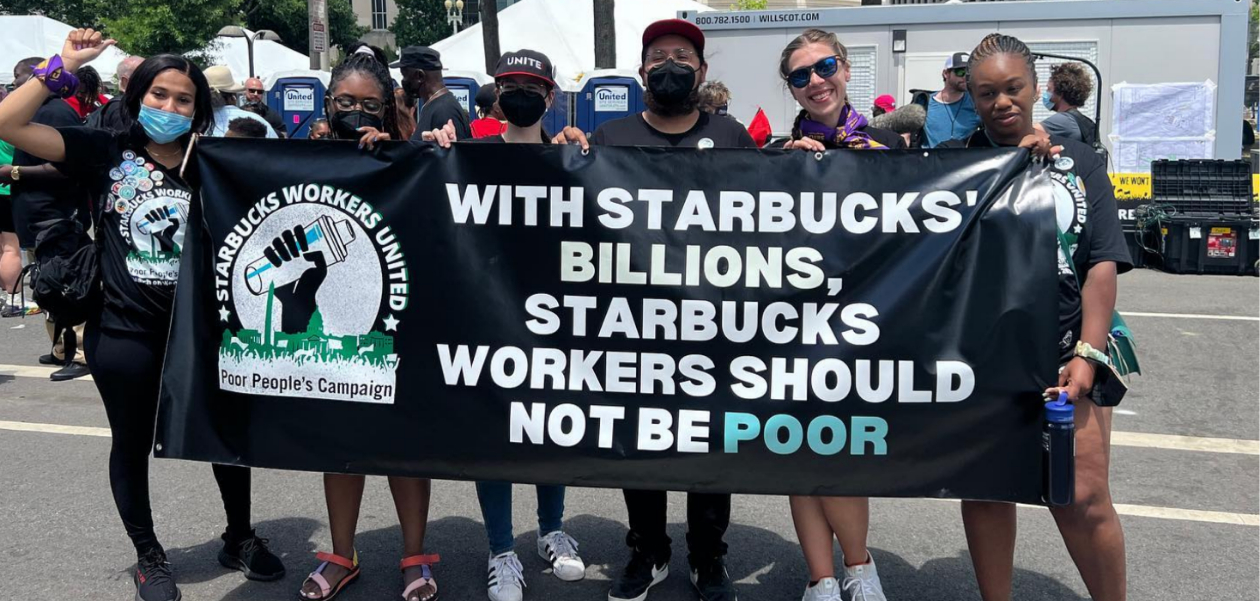 CLEVELAND – Despite rampant company labor law-breaking, and an adamant vow by firm CEO Howard Schultz to never accept unions, workers at more than 200 Starbucks stores from coast to coast have voted to go union, Workers United and other sources report.
But in a measure of the lengths the firm will go to stop organizing at its stores, the number of unfair labor practice cases already filed with National Labor Relations Board regional offices, 263, exceeds the number of stores where the workers have won, so far.
"Starbucks has fought workers tooth and nail," More Perfect Union, which also aids the Starbucks workers' grassroots organizing drives, tweeted. " It has forced workers into hostile meetings, sent them anti-union messages, cut their hours, threatened them, and fired them."
"It's illegal to fire workers for being involved in union activity," it added. "Starbucks does not seem to care. The company has fired at least 55 pro-union workers. Some of the 'justifications' have been absurd. One worker got fired for being 'early' to work."
Starbucks's labor law-breaking is so widespread the NLRB has filed a national complaint against the coffeeshop chain for its "fervent union-busting" Harvard University's OnLabor blog reports. The case is pending. Nevertheless, more than 5,080 Starbucks workers now toil in stores that went union. In 52 of the wins, the votes were unanimous.
The 200th win overall occurred July 22 in Cleveland, and workers at between 116 and 123 more Starbucks stores have filed union recognition election requests with the board. Those stores employ at least 2,815 workers.
"This goal seemed deeply improbable just a few months ago, when there were exactly zero Starbucks locations unionized," Harvard Law School labor scholar Kevin Wang wrote in its OnLabor blog. "But the steady flow of victories since has transformed the idea of winning a union vote at a Starbucks from seemingly impossible to almost inevitable."
The campaign has followed a pattern, according to the New York Times, Wang added: 20 petitions weekly at the start, filed by workers aided by Workers United, a Service Employees sector, and only five per week now. But the petitions have been succeeded by wins, from the first four in Buffalo six months ago to 36 this past April, 62 in May and 82 in June, according to the People's Policy Project.
"In addition to the hundreds of ULPs they filed with the NLRB," the workers, with Workers United and other labor support, "have regularly struck, walked off the job, and taken other conspicuous employment actions to protest management's 'union-avoidance" conduct," Wang wrote.
"In New York City last week, for example, more than 100 workers, joined by local community activists and labor organizations, rallied outside a Starbucks location to demand reinstatement of a worker fired for union activity after lodging a complaint with the NLRB regarding the matter, merely one of many instances of militant labor actions by Starbucks workers and their union in recent months."
Starbucks CEO Schultz is so angry at the workers' success that he's even canned three top executives for insufficient loyalty to his union-busting. "Former CEO Kevin Johnson, North American President Rossann Williams, and top lawyer Rachel Gonzalez–all gone," More Perfect Union tweeted.
But the union recognition election wins are just the first step, Wang and other scholars point out. Companies—and that includes Starbucks—challenge the victories every step of the way, trying to get the NLRB to toss the votes out, or by refusing to bargain first contracts. There are no first contracts yet at Starbucks stores.
And the company has undertaken the ultimate retaliation—closure—in at least two cases, in Ithaca, N.Y., and Memphis, Tenn.
"A favorable first contract will require continued organization, militancy, and perseverance on the part of the workers–fortunately for them, however, all of which they have already demonstrated possessing in droves," Wang wrote.