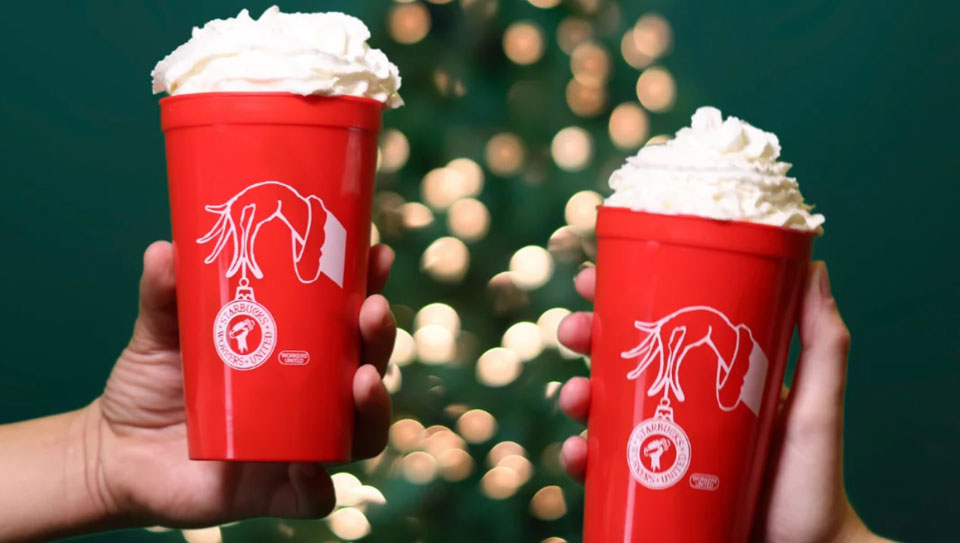 WASHINGTON—Starbucks Workers United will increase its efforts to enlist the coffee chain's customers as allies in its nationwide unionization drive.
It already did so with a "Red Cup Rebellion" last Nov. 17. When the company rolled out its annual special holiday Red Cup, workers at 117 unionized or to-be-unionized Starbucks stores walked out. Customers either stayed away—forcing at least one store, in a gentrifying neighborhood on Chicago's North Side—to close. They also ordered coffee under names that included the word "union."
Since Starbucks workers, when serving up coffee and treats, must, by company rules, call out the name the customer gives them, the word "union" rang out again and again.
While the union has won 85% of recognition elections it has contested so far, covering 7,000 workers in 278 stores, Starbucks has 8,500 stores nationwide "so we have to put more workers in play," Chafe told a small-group session on Jan. 14 during the AFL-CIO's annual Martin Luther King Jr. commemorative conference.
One way is to increase the visibility and the impact of the organizing drive by enlisting more outside support, from other unionists, progressive allies and the company's customers.
But that's not the only lever SWU wants to exercise against the firm's strident anti-union venom—an attitude that runs directly counter to its perceived progressive image. SWU Senior Campaign Strategic Adviser Chris Chafe says the union wants to push the Starbucks board, which includes other top corporate officers, to pressure company CEO Howard Schultz to end his hate and bargain in good faith with his workers.
A corporate board has a fiduciary responsibility to make sure the firm is run correctly, Chafe explained. If it sees union hate affects its sales, it has a duty to step in and stop it.
The board members "come from some of the biggest companies in the country," including Microsoft—like Starbucks, headquartered in Seattle—Nike, Apple and Lego.
"We'll put together public actions" to tell those directors, "'You fix this problem. Now it's yours,'" Chafe said.
A pointed reminder will go to Microsoft CEO Satya Nadella. Last year, Microsoft agreed to company neutrality agreement where it would not interfere with the Communications Workers' organizing drives at the firm and its subsidiaries. Several subsidiaries have unionized since.
SWU points out that's exactly the same type of agreement that, on a store by store level, Starbucks workers demand whenever they inform Starbucks CEO Howard Schultz of unionizing plans. Schultz's union hate has driven the firm's opposition.
"If it's good enough for Microsoft, it's good enough for Starbucks," Chafe said.
Acceding to nationwide bad publicity last year, Starbucks finally agreed to open bargaining within a three-week window. But when the union posted its first points online, after canvassing its members, bosses met with SWU for five minutes, then left for a "caucus," and never returned.
The second session was a minute shorter, when, led by their union-buster, bosses walked out because the entire session was zoomed, and workers tuned in from around the U.S.
Starbucks portrays itself as socially progressive, an image belied by its hardline stand against its workers, Starbucks Workers United, and its illegal firings of pro-union baristas. The firings and labor law-breaking has become so rife at Starbucks that it's overtaken Walmart as the nation's premier labor law-breaker, SWU says.
It's also drawn two nationwide injunctions against labor law-breaking, issued by federal judges at the request of the National Labor Relations Board.
Among some 160 "of our best workers," fired for leading unionization drives were three pro-union baristas in a store in Olney, Md., said barista Aleah Bacetti of Harford County, Md.
Chafe and the two baristas who spoke emphasized they don't want customers to boycott Starbucks. Doing so cuts sales, and declining sales lead to fewer hours, and smaller paychecks for the workers, many if not most of them women, workers of color, young, or all three.
Starbucks has other practices which tarnish its image. Baristas Bacetti and Samantha Shields of the firm's sole (so far) unionized D.C. store said. One is a detailed company dress code—and Starbucks forces workers to buy the clothes on their own dime, often online.
One exception: The ubiquitous Starbucks green apron. The firm issues one per worker, and it must be spotless, literally, every day. Workers get written up otherwise.
And the company benefits when customers buy Starbucks gift cards and recipients don't use them. The money—Chafe put it at $212 million last year alone—"is pure profit," thanks to a tax exemption Starbucks pushed through the Washington state legislature more than a decade ago when it was still small and when the legislature was majority-Republican.
SWU is trying to repeal that exemption. Meanwhile, it's picked up support from the nation's largest union, the National Education Association. "It's starting a campaign to tell its teachers, 'We don't want Starbucks gift cards'" from their students when those pupils graduate.  "Give something else" to your teacher, NEA says.