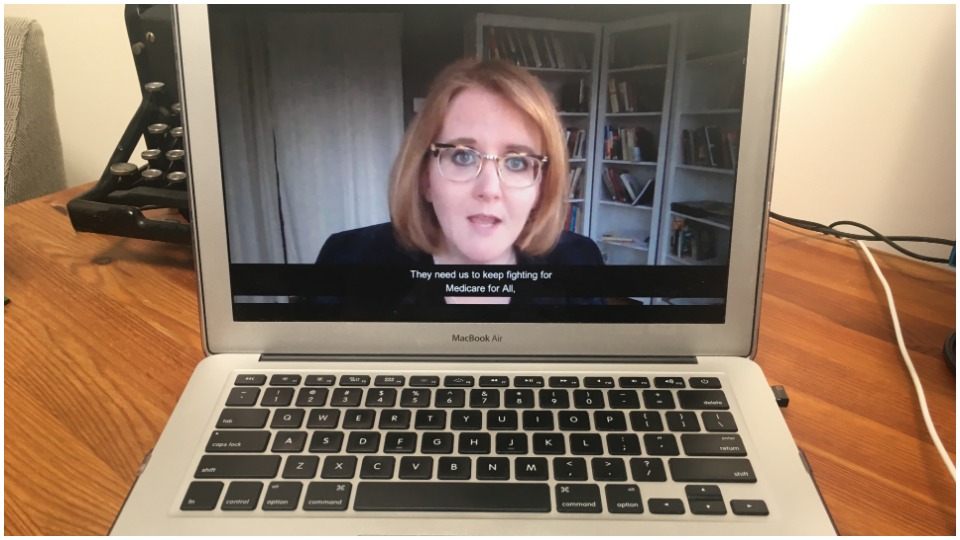 SEQUIM, Wash.—Confined to their homes by COVID-19, Olympic Peninsula voters were able to hear—and see—two candidates for the Sixth Congressional District of Washington State. Speaking in two separate ZOOM "virtual house parties," the electronic gatherings broke new ground—two Democratic candidates for high office who both gave up all face-to-face gatherings, observing the "Stay-At-Home" order imposed by Washington Gov. Jay Inslee.
But it was also the first time incumbent Congressman Derek Kilmer, chair of the centrist New Democrat Coalition in the House, has faced such a determined, skilled, articulate challenger from the left, Rebecca Parson, a young woman community activist from Tacoma. The district has elected Democrats to the U.S. Congress without fail for the past 55 years.
The difference between the two candidates was stark and convinced many that it is time to embrace Parson, a bold grassroots challenger to stick-in-the-mud, stand-pat politics.
The first ZOOM session featured Parson, a first-time office seeker, a tireless community organizer, a supporter of Sen. Bernie Sanders, a member of Democratic Socialists of America, a lesbian active in the struggle for LGBTQ equal rights. Parson accepts no corporate campaign contributions. She is also a Democratic Party Precinct Committee Officer in her home district in Tacoma, endorsed by the Progressive Caucus of the Democratic Party of Washington State.
In her socially distant crowd were movers and shakers, members of Indivisible Sequim, the Democratic Party of Clallam County and Jefferson County, Voices for Health and Healing, Puget Sound Advocates for Retirement Action, Veterans for Peace, and the International Brotherhood of Electrical Workers. Retired school teachers and folk-singers all heard Parson speak and asked questions and made comments.
A union electrician asked Parson, "What do you say to somebody like me, who voted for Bernie Sanders in the primary, now that Bernie has ended his campaign?" Parson replied,  "Donald Trump is the most dangerous president in our modern history. His denial of science has caused tens of thousands of Americans to die needlessly of the coronavirus. He has caused children of refugees on our southern border to be separated from their parents, put in cages, and to die alone there. His cruelty and greed seem to know no bounds. We must defeat him in November."
Parson added, "Joe Biden is an infinitely better choice than Trump, and I hope Biden wins. Right now, Bernie's supporters should be pushing Biden and the whole centrist wing of the Democratic Party to adopt progressive values which the majority of the public supports. Fighting for policies that the majority of the people support is the best way to beat Trump." Many guests on the computer screen nodded in agreement.
Three days later, a similar crowd, in fact many of the very same people, tuned in to hear Kilmer, the guy Parson is running against. That ZOOM event was hosted by Indivisible Sequim (IS).
The session opened with IS members laying out issues. One woman, her eyes brimming with tears, reported on a neighbor who fell ill last week, was unable to get the treatment he needed, and died. Another spoke of the extreme poverty, unemployment, homelessness, and drug abuse on the peninsula. A third questioned Kilmer on why he refuses to endorse Medicare for All, even though it would have saved thousands of lives in the COVID-19 pandemic.
Kilmer began an explanation of the $2.2 trillion economic "bailout" so longwinded that the host interrupted him. Kilmer was asked again why he does not endorse Medicare for All.
Kilmer argued that many of his constituents with good jobs prefer the health plans they now have and would lose those benefits if Medicare for All were enacted. He said he favors adding a "public option" to the Affordable Care Act. Kilmer did not address the current crisis in which over 20 million workers have lost their jobs and millions of them their employer-based health care because of COVID-19.
But Kilmer's IS interrogator had a follow-up. She asked Kilmer about HR-5010, the "State-based Universal Health Care 2019" initiated by Rep. Ro Khanna, D-Calif., chair of the House Progressive Caucus. "Oh yes, I know Ro Khanna. He's a good friend. I just spoke to him on the phone yesterday," Kilmer replied. Kilmer said he does not remember HR-5010 but will contact Khanna. It would mandate states or regions like the west coast to set up their own single-payer health care system.
Kilmer is silent on the matter of the Pentagon devouring $705 billion—over half the discretionary Federal Budget. Independent estimates of the actual military budget total $934 billion. Yet Trump sent to Capitol Hill in February a proposed Federal Budget that slashes funding for the Centers for Disease Control by $693 million and the Health Resources and Services Administration by $742 million, a combined total cut of $1.4 billion—just as the COVID-19 contagion was spreading like wildfire across the nation.
"Kilmer opposes Medicare for All, even though it has funding specifically for rural hospitals," Parson told People's World in an email message. "I support Medicare for all."
Parson quoted a section of the Medicare For All bill that allocates "funds for capital expenditures and staffing needs of providers located in rural or medically underserved areas." That would apply directly to the north Olympic Peninsula served by one struggling public hospital, Olympic Medical Center.
Kilmer takes money from a lobby group which represents companies that manufactured the opioids ravaging the Peninsula. He has taken $187,328 from the pharmaceutical companies, Parson charged.
Kilmer also refuses to endorse the Green New Deal, strongly endorsed by Parson. Said Parson, "Kilmer has taken $155,159 from the Energy and Natural Resources sector," foes of any measure to curb global climate change.
Altogether, Kilmer has accepted $3,283,390 in corporate money. Parson has not taken a penny of that corporate cash. Parson told People's World Kilmer has refused a one-on-one debate so far. Regardless, she says she will be heard.
Like free stuff? So do we. Here at People's World, we believe strongly in the mission of keeping the labor and democratic movements informed so they are prepared for the struggle. But we need your help. While our content is free for readers (something we are proud of) it takes money — a lot of it — to produce and cover the stories you see in our pages. Only you, our readers and supporters, can keep us going. Only you can make sure we keep the news that matters free of paywalls and advertisements. If you enjoy reading People's World and the stories we bring you, support our work by becoming a $5 monthly sustainer today.