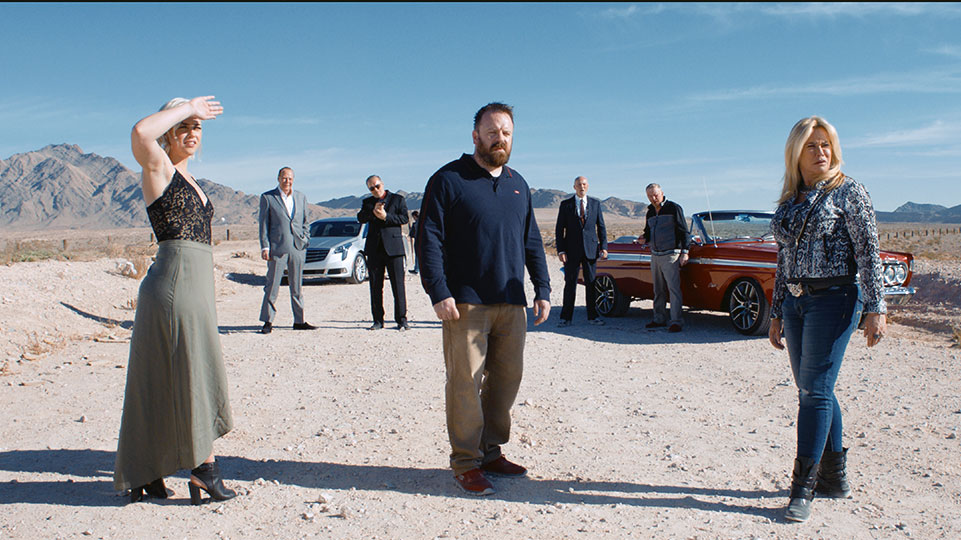 British director Paul Tanter's droll Stealing Chaplin may be a comedy that will keep audiences laughing from beginning to end. Still, the other movie it reminds me of is screenwriter Kemp Powers's One Night in Miami. Although the latter is a heavy-hitting drama, the fanciful stories of both Miami and Stealing are loosely inspired by real-life events. In the case of the former, following his 1964 championship bout with Sonny Liston, Muhammad Ali really did spend much of the rest of the evening with Malcolm X, Jim Brown, and Sam Cooke in a Miami motel room. Little is known of what those titans said and did that evening. Still, this actual, historic incident kindled Powers's powers of imagination to conjure up what may have come to pass, which was dramatized on stage by L.A.'s Rogue Machine in 2013 and onscreen last year.
Similarly, in 1978 body snatchers really did dig up and try to ransom the corpse of the legendary actor/director/writer Charlie Chaplin shortly after his death. But Tanter and his co-writers, Simon and Doug Phillips—who also co-star in Stealing—merely use this fact-based bit of skullduggery as but a launching pad for their fact-free comedy, which combines the kind of slapstick Chaplin was renowned for on the silent screen, with a Monty Python-esque sense of absurdity and that dry Brit wit.
Offscreen, Simon ​(Age of the Living Dead and other Tanter movies such as 2011's Jack Falls) and Doug Phillips are real-life siblings from Galway, Ireland, who in Stealing play the bickering, bumbling brothers Cal and Terry, UK grifters living in Las Vegas. Among their cons are impersonating clergymen and fundraising for "National Leprosy Day," or some such hoax. Faced with having to pay off gambling debts to gangsters hot on their trail and not to mention pay their rent, the con-artists' latest scam is to become graverobbers. By stealing the cadaver of Chaplin, who for some inexplicable reason is supposedly buried in Vegas, the flimflammers hope to make enough money from ransoming the comedian's corpse back to his fabulously wealthy estate (or whoever would pay for the Little Tramp) to make good on the dough they owe and be able to live the high life on what Chaplin called Easy Street in a 1917 short.
Alas! The best-laid plans of mice and men and con-men! Complications and hilarity ensue.
Along the way, Stealing Chaplin has lots of laughs and enough violence (the pic has its share of Keystone Kops) and sex (part of the action takes place at a gentleman's club that puts the strip into the Las Vegas Strip) to keep popcorn munchers at the multiplexes amused, interested and titillated. Film buffs, too, are catered to, as Charlie Chaplin is the movie's putative narrator. About Charlie's silent cinema heyday, Stealing is periodically punctuated by onscreen titles or subtitles that seem to be actual quotations from Chairman Charlie. There is also some vintage footage of the Little Tramp. If cineastes listen closely, they'll hear a clever riff on Chaplin's speech at the end of 1940s The Great Dictator, arguably the best political speech ever delivered in an English-language film. (Some Stealing characters also have names slyly "plagiarized" from Chaplin's anti-fascist classic: Peter Woodward plays "Hynkel," the moniker of Dictator's Hitler character portrayed by Chaplin himself, while Michael Ray depicts "Captain Oakie," a wink and a nod to the adroit comedian Jack Oakie, who lampooned Mussolini as Napaloni.)
Stealing also has something of a Chaplinesque romance, as Cal woos the waitress Helen (Bianca Katz in what appears to be an auspicious screen debut), a blonde beauty with brains who see through the con artist yet somehow falls for him and wants to get in on the scam scheme. The smile-raising movie has also cleverly chosen a popular, crowd-pleasing destination; audiences will likely recognize and enjoy much of the location shooting done in Las Vegas and the nearby desert. Speaking of which, no flick shot on location in Sin City would be complete without one of its most popular attractions, iconic singer Wayne Newton, and indeed, "Mr. Las Vegas" does make an appearance. At almost 80, Newton, who is still performing at Caesar's Palace, looks like he's had more facelifts than Mt. Rushmore, but to be fair, The Midnight Idol has a lovely, wistful cameo in Stealing playing himself.
Of course, unlike the premise of Kemp Powers's imagined tête-à-tête between Ali and company, Stealing is wildly inaccurate. Chaplin was actually buried about 6,000 miles away from Nevada, in a cemetery not in Las Vegas but at Corsier-sur-Vevey (I know, I've visited the unostentatious gravesites of Charlie and wife Oona there), near the Swiss village where Charlie lived in exile after being kicked out of the USA for his leftist sympathies (and where what may be the globe's best movie museum, Chaplin's World, now exists in the mansion and on the grounds the Chaplin family had lived in. In terms of historical accuracy, it's as if Powers had set his drama about Ali, Malcolm X, etc., in Switzerland and entitled his production One Night in Geneva.
Nevertheless, although they do pay homage to the Little Tramp—at one point, a character says of the corpse: "Show him some respect. He's an icon"—the Phillipses' screwy screwdriver of a screwball movie is not intended to be a documentary. While Chaplin was a genius who often made brilliant satirical and political points, most of his movies were intended to entertain and make audiences laugh. There's certainly a lot to be said for that. And the frères Phillips and Tanter likewise succeed in doing this in a farce that's as funny and entertaining for an hour and 45 minutes as it is wildly ahistorical. Note: this is one of those pictures you should continue watching until the very end, as there is some clever voiceover during the final credits.
It may not be City Lights, but Stealing Chaplin has its own delights for general audiences and for buffs who will enjoy seeing Charlie back in the limelight. And stay tuned for the sequel, with the Phillips brothers reportedly set to return as those buffoonish British brothers in Stealing Elvis.
​Stealing Chaplin can be seen at these platforms: DVD Order Link; iTunes Order Link; and Amazon Order Link. Readers can view the trailer here.
Body photo of the cogs from 'Modern Times': Yes, that's the reviewer, Ed Rampell, "reenacting" the famous scene in 'Modern Times' when Charlie is swallowed up by the factory's cogs and wheels, a visual metaphor for Marx's theory of the alienation of labor.