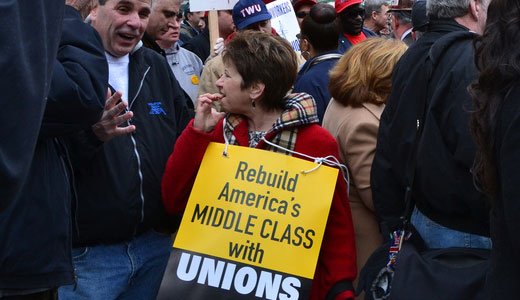 WASHINGTON – The Steelworkers are strongly supporting a new "Buy America" jobs push, targeted at infrastructure projects, proposed Dec. 1 by Rep. Nick Rahall, D-W. Va., and many colleagues.
Rahall, the top Democrat on the House Transportation and Infrastructure Committee, said, "The 'Made in America' label ought to be stamped on every I-beam bolted and welded into our national highway system."
Measures renewing federal highway aid programs are caught in traffic in the committee, with Republicans, led by Chairman Dan Mica, R-Fla., demanding deep cuts in federal funding to rebuild highways, bridges and mass transit systems. Money to do so comes from gas taxes, which have not been increased in approximately 20 years.
And the current Buy America provisions in transportation law have "existing loopholes that have allowed some major components of transportation projects to be purchased abroad," Rahall said as he introduced the Invest in American Jobs Act (H3533), which he wants to insert into a long-term transportation bill.
One example of what can go wrong with foreign-made products is reconstruction of the San Francisco-Oakland Bay Bridge, which included 43,000 tons of Chinese-made steel for the bridge's rebuilt 2.2-mile east span, a $6.3 billion state (not federal) project.
"This project employed 3,000 workers in China — jobs that should have gone to American workers," because the reconstruction money came from U.S. taxpayers, a congressional fact sheet says. It did not detail the problems bridge builders face.
"We all share the same goal to grow manufacturing here at home," Steelworkers Secretary-Treasurer Stan Johnson said at the press conference with Rahall and other lawmakers. "The strong Buy America requirements of this bill make certain that taxpayer dollars are spent on iron, steel and manufactured goods made in America by American workers."
Johnson cited an Alliance for American Manufacturing study showing every $1 billion invested in infrastructure creates or maintains 18,000 jobs. "When you add in strong Buy America requirements, the job number expands by 33 percent," he said.
"We are in a job crisis and we need to use our taxpayer dollars wisely to create as many useful jobs as possible, including good manufacturing jobs that the American public will support as the best engine for economic growth. This bill introduced does just that," Johnson said.
USW President Leo Gerard, adding a statement to support voiced at the press conference, noted Chinese-made materials for the Bay Bridge project have given California nothing but trouble: Faulty rivets, subspec cement, cost overruns, project delays and, now charges of fraud against two bridge inspectors to look the other way.
"California was penny-wise and pound-foolish to not accept federal funding to avoid Buy America," Gerard declared. "This bill introduced today encourages support of
American manufacturing and promotes family supportive American jobs."
AFL-CIO Secretary-Treasurer Liz Shuler told the Dec. 1 press conference that the federation backs Rahall's Buy America bill. Text of her remarks was unavailable.
Photo: Matt Michalski // CC 2.0