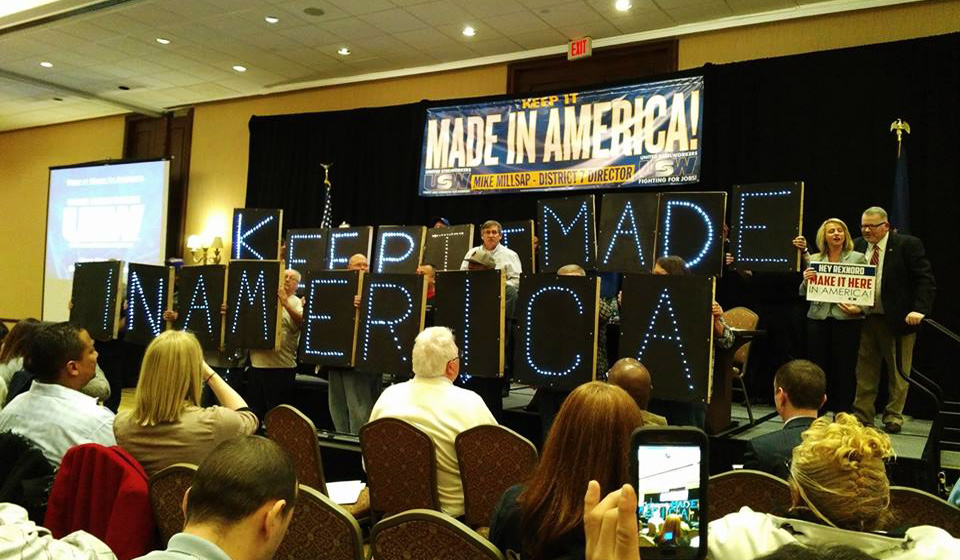 INDIANAPOLIS, In. – At the downtown Indianapolis Sheraton Hotel, about 500 United Steel Workers (USW) members, organizers with Jobs With Justice, and community activists gathered to protect manufacturing jobs.  The rally was organized by the United Steel Workers District 7 and focused on saving jobs at Carrier and Rexnord, specifically. As has been widely reported since February 2016, Carrier is laying off 550 workers and Rexnord, 300. This is despite both corporations reporting record profits.
USW local 1999 president, Chuck Jones, Indiana AFL-CIO President Brett Voorhies, and Indianapolis Mayor Joe Hogsett, joined representatives from USW District 7 leaders in calling on the new administration in Washington, D.C. to "keep it made in America."  Their clear focus was on legislation being proposed by Senators Bernie Sanders (I-VT) and Joe Donnelly (D-IN) called the End Outsourcing Act. Both senators appeared via video message at the rally. Senator Sanders called the loss of 60,000 U.S. manufacturing plants to outsourcing "a disaster." Senator Sanders went on to point out that 84,000 manufacturing jobs were lost in Indiana alone.
As fierce as they were in criticism of existing trade agreements, steel workers were equally realistic in their approach to the new administration in Washington, D.C. Jones told the audience that he was going to "hold Trump's feet to the fire," referring to Trump's promise to keep Carrier jobs in Indiana. Jones went on to talk more somberly about the devastation massive layoffs bring to workers too young to retire, but too old to find jobs that pay as well as Carrier and Rexnord.
Raleigh "Wally" Hall, an 11-year employee at Rexnord, told the crowd that he thought he would work there for the rest of his life. Wally worked at Rexnord for 11 years and is a father of 7 children. He closed with a question to the crowd, "whose job is going to be next?"