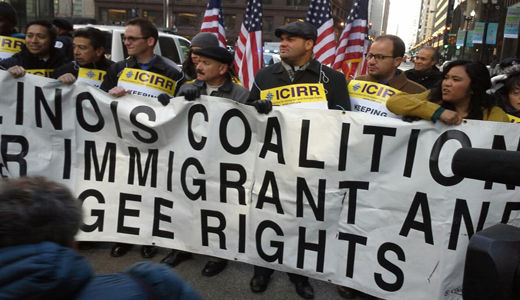 CHICAGO – Frustrated over failure of a bi-partisan group of US senators to craft immigration reform legislation before the Easter recess, 17 clergy, elected officials and representatives of grassroots community organizations were arrested after blocking traffic here.
The civil disobedience at Federal Plaza was one of 10 actions that took place around the country organized by the Fair Immigration Reform Movement.
Organizers are demanding passage of comprehensive legislation that would keep families together and include a path to citizenship for the 11 million undocumented immigrants currently in the country.
"Inaction has consequences. Nearly 20,000 families will be separated during these 18 days that Congress is in recess," said Lawrence Benito, Director of the Illinois Coalition for Immigrant and Refugee Rights.
Over 1,100 undocumented immigrants are being deported each day and over 400,000 were deported in 2012.
Benito said it was an injustice that parents being separated from their children wouldn't be able to offer them comfort and protection.
Congressional Republicans continue to obstruct a fair immigration reform despite polls showing a vast majority of Americans favor it.
"These Republicans, including our own Senator Mark Kirk (R-IL) need to get on board," said Alderman Proco "Joe" Moreno. "We are going to continue to fight for a comprehensive immigration bill that includes a path to citizenship and keeps families together."
On March 25, President Obama urged swift action by Congress at a citizenship ceremony at the White House. "We've known for years that our immigration system is broken. After avoiding the problem for years, the time has come to fix it once and for all," he said.
Clergy from Catholic, Evangelical, Jewish and Muslim faiths all expressed their support. "In this time of spring recess there is no recess in homes divided," said Father Brendan Curran of St. Pius Church. "Let Congress act and protect those who have built these buildings, these cities and our proud country."
The movement embraces a diversity of immigrant communities including from Africa, Asia, Europe, and the Americas.
"I'm doing this for my family and all those affected by this issue," said Kristina Tendilla of Alliance of Filipinos for Immigrant Rights and Empowerment. "It's a small price to pay to keep families together and to get immigration reform legislation passed that is inclusive."
Immigration reform activists also warned against proposals being advanced by Republicans that would eliminate family and diversity visas. This would have a particular impact on immigrants from Asia and Africa.
This included the proposal of Senator Lindsey Graham (R-SC) one of the so-called "Gang of 8" negotiating the outlines of reform legislation, who called for removing siblings and adult sons and daughters of US citizens from visa eligibility in the name of prioritizing high-skilled workers.
Other members of the Gang of 8 members who are negotiating in secret include Senators Dick Durbin (D-IL), Bob Menendez (D-NJ), Charles Schumer (D-NY), Michael Bennet (D-CO), Marco Rubio (R-FL), John McCain (R-AZ) and Jeff Flake (R-AZ).
Photo: John Bachtell/PW