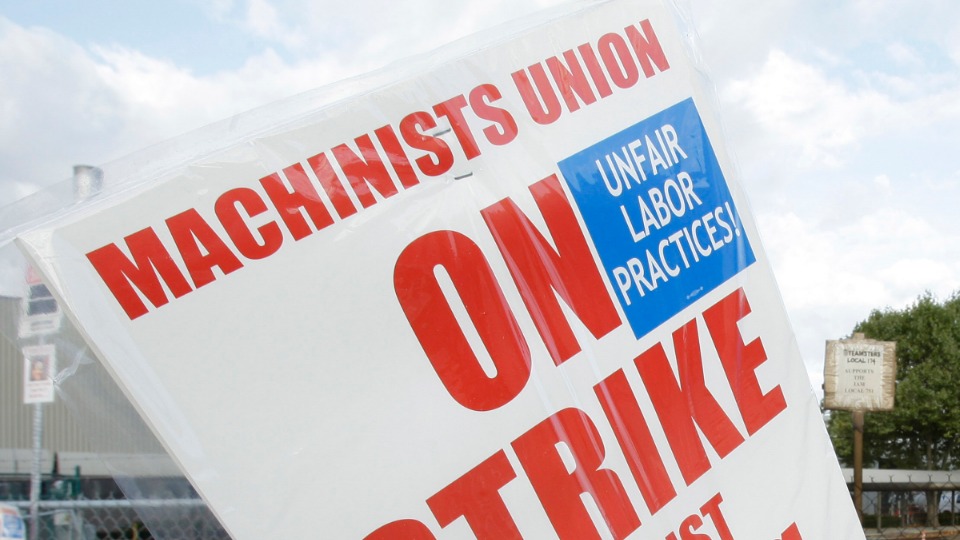 DAVENPORT, Iowa (PAI)—The wave of worker activism the AFL-CIO nicknamed "Striketober," then "Strikesgiving," is continuing well past the holidays and into late February, as some 365 Machinists members at Eaton's factory in Davenport, Iowa, were forced to walk at midnight February 18.
Members of IAM Lodge 388 and Local 1191 at the plant, where they manufacture aerial refueling systems, first overwhelmingly rejected management's last offer. And 98% then voted to authorize a strike and a third vote called for it to begin when the old contract expired.
Eaton's got the money to give workers significant raises. It bought the plant from Cobham Mission Systems the year before for $2.6 billion. The Machinists' 365 skilled workers there are more than 40% of its overall workforce.
By being forced to walk—in the face of driving snow and biting winds of an Iowa winter—the Eaton workers join other highly skilled factory workers, such as at Kellogg's, in refusing to yield more givebacks which profitable corporate capitalists demand.
The Eaton workers also have leverage in those skills. It takes a year or more to train a worker to correctly manufacture the refueling systems, which means the firm can't just go out and hire so-called "replacements."
Key issues at Eaton are management's demands to hit workers with higher costs of health care, an inadequate wage proposal, and an outright cut in the company's contribution to workers' 401(k) plans, which were already reduced under the prior contract. One worker told Davenport's News8 that the firm's offer also killed cost-of-living hikes.
In a statement after the votes, Machinists Directing Business Rep John Herrig, whose district covers the Quad Cities area and the rest of Iowa, said the workers "refuse to accept sub-standard wages or the erosion of our health care and retirement benefits.
"Lodge 388 and IAM Local 1191 members are fighting for a contract that will make life better for themselves and their families. The past two years have been tough during the pandemic, especially as essential manufacturing workers. All we are asking for is a fair share produced from the blood, sweat, and tears of work that makes Eaton Mission Systems Division of Davenport successful. We hope the company will hear our call for respect and dignity from the picket line."
Talks resumed the day the strike began and went through the following weekend.
The Quad Cities community, relatives, and families of the forced strikers and other unionists quickly rallied. "We had a great turnout at the vote yesterday. Let's thank the women's committee for bringing in the food and beverages yesterday. THANK YOU!!" Lodge 388 tweeted. And unionist Paris Dothard told News8 he had thanked Auto Workers members for bringing "hand warmers and gloves and all kinds of stuff." He had done the same for them last year when they were forced to strike John Deere.