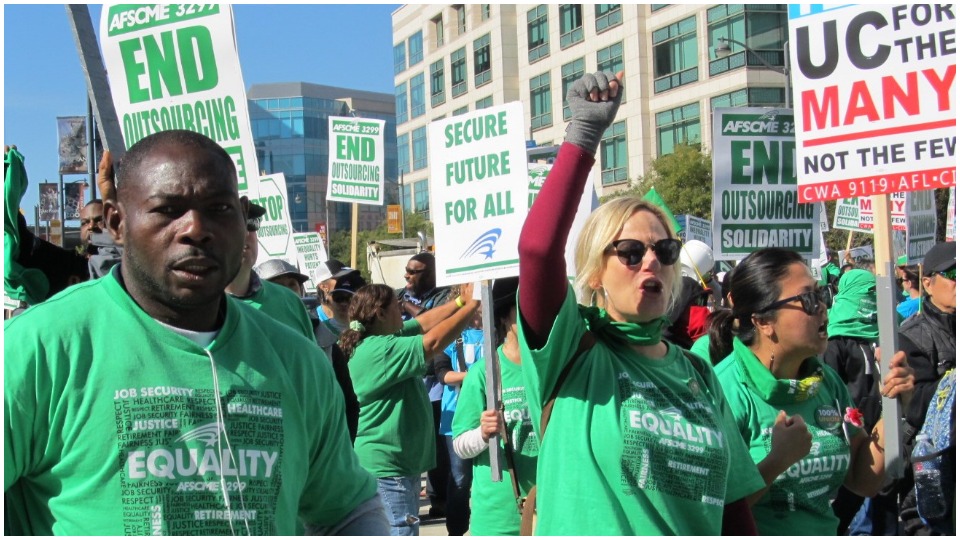 SAN FRANCISCO—Union members and community supporters marched and rallied Oct. 24 on University of California campuses across the state—including at UC's Mission Bay Campus here—to support over 15,000 patient care workers, members of ASCME Local 3299, who were in the midst of a three-day strike at all UC Medical Centers.
The patient care workers were joined in a sympathy strike by nearly 10,000 AFSCME 3299 UC service workers and 15,000 research, technical, and health care professionals, members of UPTE-CWA.
Earlier this month, 96 percent of the union members voted to authorize the walkout.
The workers' decision came as negotiations with UC remain deadlocked after over a year and a half of talks. At issue: growing racial and gender disparities within UC's workforce, and the university's arbitrary imposition of higher health care premiums on patient care workers, together with flattened wages, a higher retirement age, and continued outsourcing of UC jobs.
AFSCME Local 3299 is the UC's largest employee union.
Strike actions took place at all 17 UC campuses and medical centers, to demand raises of 6 percent per year, with no health care cost increases, pension cuts, emergency layoffs, or contracting out.
UC's service workers held a similar three-day strike last May, when patient care, technical, and professional workers joined them in a sympathy strike.
At noon, a large, loud, and lively crowd of union members and supporters gathered outside the Mission Bay Medical Center for a rally.
When asked what issue was most important to him, UCSF patient care worker James Clark, a member of Local 3299's Executive Board, highlighted "the inequality, the continuous inequality that we're facing on a day-to-day basis."
He cited a case he had observed, when a woman with years of pertinent experience was passed over for a job: "They hired someone of no color, with no experience, instead of a person of color with experience. You tell me—that's definitely inequality!"
Clark also emphasized the outsourcing of jobs. "A contractor can work for years and still not be a fulltime employee. It's a shame that UC is saving money by paying contract workers much less and not providing health coverage, retirement, and the other benefits fulltime workers get. And we're not going to tolerate it!"
UC shuttle driver Carmen Lee, a service worker and member of her union's Action Team who was striking in sympathy with the patient care workers, said she had seen experienced fulltime patient care workers having to train contract workers to work alongside them, because not enough experienced professionals are hired to meet the hospitals' needs.
"It's unfair," Lee said. "It takes a toll on the career workers, and on patients whose care isn't as good as what the experienced career workers can give them."
Many supporters from other unions could be seen in the rally crowd, among them SEIU, International Brotherhood of Electrical Workers, Teamsters, and a large delegation from UNITE HERE Locals 2 and 2850, who are on strike at Marriott Hotels around the Bay Area and in other cities across the country.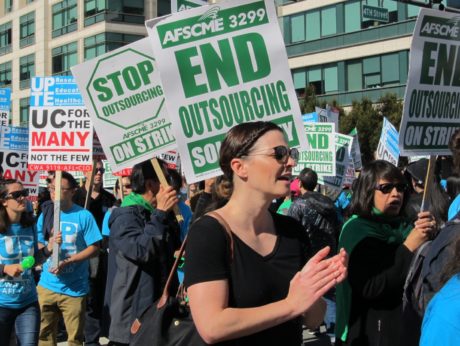 State and area labor leaders and elected officials expressed their solidarity with the strikers.
Art Pulaski, executive secretary-treasurer of the California Labor Federation, told them they have the wholehearted support of the federation's more than two million members who "are solidly behind you" in this strike. "All across the state of California," he said, "they are attending rallies just like this one here today."
He was joined by leaders of the San Francisco and Alameda Labor Councils, who pledged the support of unionists throughout the Bay Area.
San Francisco Assemblymember Phil Ting told the crowd, "Unfortunately, I've been in the Emergency Room with my daughter, right across the street from here. It's always there, and the workers give us first class treatment. So it's impossible, and it's embarrassing, that the university is not treating its workers the same way. It's you who are making this hospital great!"
Elissa McBride, AFSCME's national secretary-treasurer, said AFSCME members "from coast to coast, are with you today," while a representative of UPTE-CWA declared that UC "is not a business, it's a resource for all the students, patients, workers in the state of California. We see UC for the many, not the few!"
Among other speakers: Assemblymember David Chiu, D-San Francisco; a representative of U.S. Senator Kamala Harris, D-Calif., and San Francisco School Board member Matt Haney.