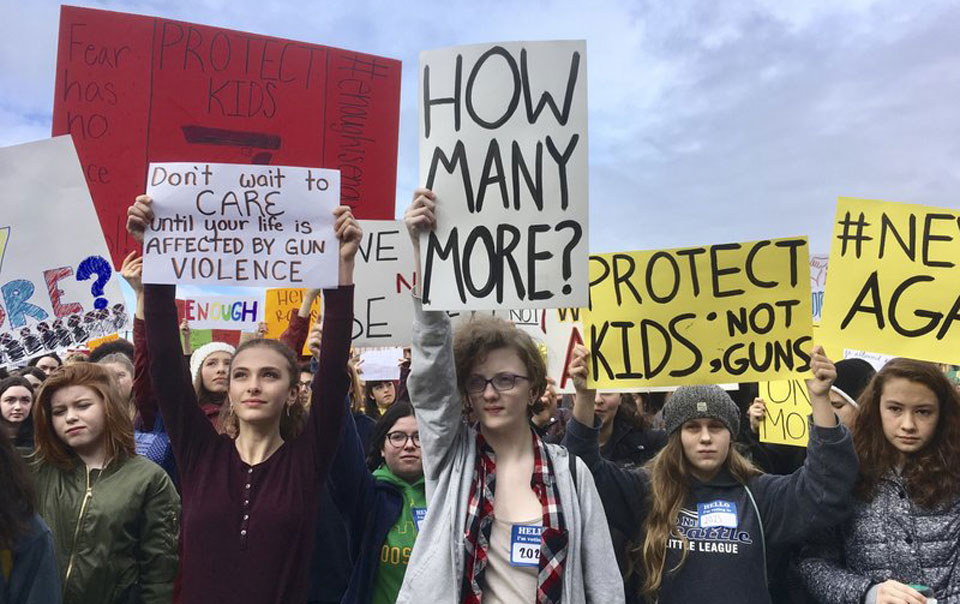 Saying they're "taking matters into their own hands" because politicians have sat on theirs and produced "nothingness," the students who lead the nation's anti-gun violence crusade rolled out a comprehensive plan to cut the gun carnage in the nation's homes and on its streets, malls, theaters, and schools.
Their objective: Cut the yearly gun murders and suicides in half in a decade, saving 200,000 lives.
And, add the leaders of March for Our Lives, they're going to cut the notorious gun lobby, the National Rifle Association, down to size, too, by both campaigning against its baleful influence on politicians and by challenging its federal and state tax exemptions as a charity.
Leaders of the unions representing their school teachers and administrators, the Teachers (AFT), the National Education Association and the School Administrators (AFSA), are on board, too, just as they were last year once the students launched their grass-roots campaign.
Even before the students' August 20 announcement, NEA President Lily Eskelsen-Garcia, a K-6 teacher from Salt Lake City, demanded the U.S. Senate come back for a special session to deal with gun violence, after the El Paso and Dayton massacres. In an example of what the students are talking about, Majority Leader Mitch McConnell, R-Ky., refused.
AFT President Randi Weingarten, like the students, urged politicians to act and faulted President Donald Trump's support of the NRA's vitriolic pro-gun agenda. And AFSA President Ernest Logan's union is lobbying for legislation to install emergency panic alarms in schools and classrooms nationwide teachers can use to get quick responses to an active shooter.
Led by the survivors of the Valentine's Day 2018 massacre at Marjory Stoneman Douglas High School in Florida, the students organized a nationwide grass-roots crusade for tighter gun controls, including mandatory background checks, "red flag" laws, tighter gun controls and a ban on the assault weapons the shooter used at their school.
And, with nothing to lose, they promised to register and vote in droves, with enacting comprehensive gun control as their issue. They did: Turnout by voters under age 30 zoomed, and pro-gun lawmakers were tossed out on their ears, including several in Texas, and the pro-gun Virginia Republican whose district includes the NRA headquarters.
The Democratic-led U.S. House then passed a comprehensive gun control package, but McConnell has sat on it and Trump has responded by talking only with extremist NRA leader Wayne LaPierre.
But it'll take more than legislation to cut the carnage, March for Our Lives says — though legislation is a big part of their program. It'll take "a cultural change," too, away from the national fixation on gun rights. And it'll take complete overhauls of police attitudes towards using guns first, especially against young African-American males, who disproportionately are police victims.  That police overhaul is part of their plan, too.
"For too long, survivors and those living with the trauma of gun violence have looked to policymakers to solve this epidemic. We have grasped at nothingness, waiting for someone in power to have a plan that would address the root causes of the problem — not just serve as a band aid until the next tragedy happens," March for Our Lives said.
"So we're taking matters into our own hands. Introducing: A Peace Plan for a Safer America. Created by survivors, so you don't have to be one.
"Nearly two years ago, we created this organization out of crisis. But since then, thousands of people have had their lives stolen by gun violence. Not just in schools — but on the streets of systematically under-resourced communities of color, in homes, in places of worship, and recently, on our border due to white nationalist terrorism in El Paso.
"No amount of thoughts and prayers" — a typical response from pro-gun pols — "can hide that we've reached a tipping point. We will live or die by the consequences of how we respond to this crisis at this particular moment.
"Our plan is not just anti-injustice or non-violent – it is pro-justice and pro-peace. We need a cultural change that moves against the glorification of violence, not just a legalistic one." Details are at www.marchforourlives.com/peace-plan.
March for Our Lives marshaled the data of a year and a half of gun killings since the high school massacre and studies of how to prevent the carnage. "The NRA and the opposition want to make the American public —and responsible gun owners — believe the problem can be solved with more guns, more violence, and more divisiveness. But we don't believe that."
"We are working to make sure that ours is the last generation that grows up with the constant threat of being shot, and we'll accept nothing less."
The plan has a multi-point platform. Besides challenging the NRA and the pols who support it and turning both the gun culture and the police culture upside down, it includes:
1) Forcing the next president to declare gun carnage "a national public health emergency" and using all available federal resources and actions to end it. The feds "must also commit to holding an unpatriotic gun lobby and gun industry accountable not just for weakening our nation's gun laws, but also for illegal behavior in self-dealing that offends and contradicts America's vast majority of responsible gun owners."
2) Change in gun ownership standards, including national licensing after a thorough "multi-step approval process" for gun buyers, including longer waiting periods, mandatory training and a gun registry. And their plan would ban gun sales to people convicted of hate crimes or any level of domestic violence, those who threaten public institutions such as schools, malls and churches, stalkers and people whom authorities identify as "a danger to themselves or others."
3) The plan would also ban assault weapons, "other weapons of war" and high-capacity gun magazines, enact the red flag laws and institute a national gun buyback to cut down on the 393 million firearms now in circulation.
4) "Hold the gun lobby and industry accountable for decades of illegal behavior and misguided policies intended to shield only themselves." That includes reexamining the U.S. Supreme Court ruling — imposed, though the students did not say so, by the five GOP-named justices — that enshrined the U.S. Constitution's 2nd Amendment as an absolute right to individual gun ownership.
5) It would also have both the Federal Elections Commission and the IRS start probing the NRA for illegal campaign contributions and for whether to yank its tax exemption. The students also want Congress to repeal a law that shields gun manufacturers from being sued for responsibility in gun violence deaths.
6) Strengthen federal agencies, including the Bureau of Alcohol, Tobacco, Firearms, and Explosives (ATF), the Department of Health and Human Services, and the Centers for Disease Control (CDC) to battle for gun control. All three are "structurally weakened by the gun lobby." A new National Director of Gun Violence Prevention, who would report to the president, would start by "overseeing a down payment of $250 million in annual funding for research by the CDC and other federal agencies on gun violence prevention."
7) Allot money for programs to reduce the main gun carnage, which occurs not in mass shootings, but daily on city streets, in suicides and in domestic violence. That would include funding "mental and behavioral health service programs and programs to address police violence in our communities."
8) Force the politicians to be even more accountable to young people who are campaigning to reduce the carnage by automatic voter registration, in person or by mail, once anyone turns 18. They also want to create a "Safety Corps — a Peace Corps for gun violence prevention.
"The younger generations are disproportionately affected by gun violence. They should have a say in how their country solves this epidemic," March for Our Lives says.
The teachers' unions and AFSA are on board with the campaign.
"Trump has said 'real power' comes from instilling fear," AFT's Weingarten said. "Such toxic fear is never far from my mind these days," the New York City civics teacher added. "Eighty percent of teens say their greatest fear is gun violence. The specter of the worst of humanity invading what should be our safest spaces is no longer unthinkable.
"We need to address the fact that young people are more stressed about gun violence than any other issue — a horrific reality that is unique to the United States. We need lawmakers to enact real change to our gun laws so every person can feel safe in school and in our communities. And we need corporations to use their clout to make our country safer. It is infuriating that corporate giants like Walmart sell both guns and bulletproof backpacks while writing checks to lawmakers who stand in the way of sensible gun laws."
Weingarten wrote Walmart's CEO after El Paso saying that unless it stopped supporting pro-gun pols, her union would tell its 1.6 million members to stop shopping at the retail monster.
"Sadly, as a new school year approaches, we—as a nation—are no closer to protecting our students," NEA's Eskelsen-Garcia said. "Donald Trump, Mitch McConnell, and their allies in Congress have all failed us. Instead of accepting the gravity of the moment and the responsibility of their offices, Donald Trump and Mitch McConnell simply blame others. Rather than working to keep weapons of war out of our schools, off our streets, and out of the hands of convicted felons, they do nothing.
"Our country deserves better. Our families deserve better. And our students deserve better."
The panic alarms legislation AFSA backs, introduced by two House GOPers, is modeled on a recently enacted New Jersey law, union President Ernest Logan said. HR3665 "would create a federal grant program for schools to conduct security risk assessments and harden schools, including requiring the installation of panic buttons for all schools receiving grants." The measure continues "an important conversation about ensuring the safety of our students and our educators," he added.