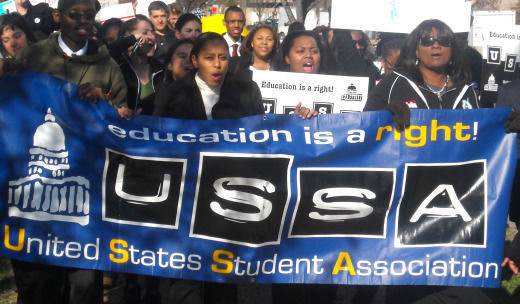 Gregory Cendana, president of the United States Student Association, says students and community members are mobilizing coast to coast to defend public education in "March 4 Education" rallies next month. He described the campaign in the organization's annual State of the Student Union address on the group's web site last week.
USSA represents over 4.5 million students at over 400 campuses nationwide.
Cendana said state governments view higher education spending as little more than budget items with distant payoffs and students paying tuition as perpetual revenue streams for deficit reduction.
"Essentially, they are balancing their budget on the backs of students," said Cendana. And federal spending has not kept up with these cuts.
The Pell Grant, known as the cornerstone of need-based aid, once covered 72 percent of the cost of college, he said. "Today that number has plummeted to 32 percent."
Student borrowers are graduating with an average of over 23,000 dollars in debt and into one of the worst job markets on record for young people. Plus more than 65,000 undocumented students are being denied access to college because of their citizenship, the USSA president said.
All of these factors are leading to ours being the first generation in decades to be worse off than our parents, said Cendana.
"Students are not taking this lying down," he adds. "Despite racking up mountains of debt while facing enormous tuition hikes and state budget cuts, college students have continued organizing to make education a right."
USSA and supporters have been mobilizing hundreds of thousands of students across the country to demand college access and affordability through weeks of action, lobby visits, and campus rallies.
Door-knocking, phone banking and letter-writing campaigns on campuses nationwide are happening and students are on the move, said Cendana.
The March 4 actions are part of this effort.
The U.S. Senate is considering student aid reform legislation, which has already passed in the House. The bill would, instead of subsidizing private lenders, allow the federal government to allocate over 80 billion dollars to need-based aid, toward access and retention programs and investments in community colleges and minority serving institutions.
The measure faces extreme opposition from big banks and the Republican Party that do not want to see their profits lost to college affordability, Cendana says.
"We must lobby the Senate to stand with America's youth by passing student aid reform," said Cendana.
USSA does however welcome the news that education spending has increased by 7.5 percent in President Barack Obama's proposed budget. This must be maintained and students need to urge lawmakers for further increases, said Cendana.
Cendana also noted that undocumented students continue to face limited college accessibility, and said it is wrong and unfair and must be challenged.
"We grow up with these students. They are our grade school classmates, our neighbors, and our friends," he said. "Yet without the ability to go to college, they are left behind."
Students and supporters must fight to pass the Dream Act, a bill that would open the doors to immigrant students who deserve a right to attend college, said Cendana.
We are on the brink of fundamental change, he said, and never before has the goal to make education a right been so within our grasp. But the moment is brief and our action is required, he added.
"Start a Dream Act coalition, take over your student government, lobby for student aid reform, write your newspaper, join a March 4th Education event in your area, and come to USSA's Legislative Conference," said Cendana.
"Together, we must unite to define this decade of student power and make education a right."
For more information about USSA go to: http://www.usstudents.org/.
Photo: USSA