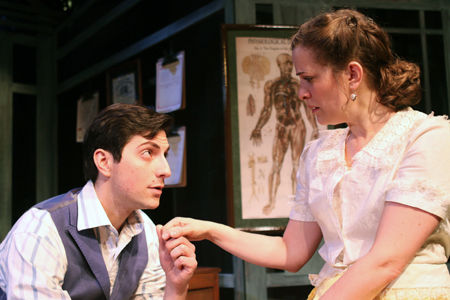 LOS ANGELES – Okay, let me get this out of the way, right off the bat: This Actors Co-op production of Tennessee Williams' Mississippi-set Summer and Smoke is well directed by Thom Babbes and well acted by a skilled ensemble. At times Tara Battani fully inhabits the lead character of Miss Alma, from every nervous tic revealing underlying sexual tension to her wistful outpourings of yearnings to her aspirations for culture to her near hysteria. I marveled at Battani the way one does at a magician, wondering: "How does she do it?" Indeed, Battani delivers such a finely etched performance that she brought to mind the ending of that other Southern gothic work about romance gone wrong: "There will always be Tara!" Hers is arguably among the finest acting I've ever seen on the L.A. boards, and is by itself worth the price of admission.
Summer and Smoke was Williams' third major Broadway production, coming hot on the heels of his smash successes, 1944's The Glass Menagerie and 1947's A Streetcar Named Desire. Like Menagerie's Laura and Streetcar's Blanche DuBois, Smoke's Alma seems to be yet another iteration of Williams' stunted, tortured self, crossed by his schizophrenic sister Rose. Here, he reworks similar themes, about sexual repression, troubled childhood, thwarted sexuality, frigidity, impotence, gentleman callers, small-mindedness in the Magnolia State, religion – the whole Tennessee waltz. So it's apropos that this Smoke is being presented at a house of worship.
In 1948, when Smoke had its Broadway premiere at the Music Box Theatre, one imagines its subject matter was very cutting edge, even quite daring. Theatergoers then may have never seen anything like it on Broadway. But, alas, almost 70 years on, Smoke's leitmotifs seem all too passé for audiences that have seen and heard this all before.
No, I'm not opposed to producing the classics. I would not prevent a once provocative play from being played out. The question is, How does one make a vintage work relevant for today's ticket buyers? Now, cranky critic that I am, I often take revisionist mountings of Greek masterpieces to task for their lack of togas. So, it's a tricky business – retaining the essence of a work while breathing new life into it to render the piece applicable for and relatable to contemporary viewers.
In addition to the by now trite sexual politics are Smoke's rather outdated racial politics that might offend. Its Mexican characters are cartoonish examples of typecasting: Mr. Gonzalez (Marco Antonio Garcia) and his daughter, the gold-digging Rosa Gonzalez (Fernanda Rohd), may cause the most susceptible among us to yearn for Citizen Trump to build that darn wall, pronto. Mr. Gonzalez is an extremely violent drunkard. As for Rosa – ah, those dusky maidens, who are so in touch with their carnal desires, unlike their lily-white sisters, like Miss Alma, who are so out of touch with their own libidinous desires and needs. Following the recent brouhaha about the Cloroxed Academy Awards, ethnic representation – and misrepresentation – are currently very prickly issues (and rightfully so).
Alma, as Smoke clumsily reminds us more than once, means "soul" in Spanish, and this play, as Dr. John Buchanan (Gregory James) stresses, is about that anatomy chart, versus the more ethereal self. John and Alma grew up next door to one another, yet their longings for each other are never realized – their yearnings are never in physical and spiritual synch. Several times during the play I felt like shouting out, "Will you two make love already?!" If Streetcar ends with Blanche famously saying, "I have always depended upon the kindness of strangers," Smoke's coda could be about "the blindness of neighbors."
As a Tennessee Williams fan I was interested in seeing this production largely because I thought I'd never seen it before. However, in fact, five years ago I had reviewed A Noise Within's version of it called The Eccentricities of a Nightingale, so the element of discovery was lost for me.
To sum up, this is a fine rendition of a late, great playwright's early two-acter with an outstanding performance by Battani in the lead role. Those who love good acting will likely enjoy this tragedy. So my quibble is not with the cast or crew or company but with the play itself – which is now more smoke and mirrors – and with its outdated bard. The timeliness of this drama for a 21st-century urbane audience is, shall we say, gone with the wind.
Summer and Smoke is being performed through April 17 on Fridays and Saturdays at 8:00 pm and on Sundays at 2:30 pm, with Saturday matinees at 2:30 pm on March 12 and April 16 (and no performances Easter weekend, March 25-27), at the Actors Co-op David Schall Theatre (located on the campus of the First Presbyterian Church of Hollywood, with free parking across the street on Carlos Ave.), 1760 N. Gower St., Los Angeles 90028. For more info: (322) 462-8460; http://actorsco-op.org/.
Photo: Gregory James and Tara Battani star in the Actors Co-op production of Summer and Smoke. Lindsay Schnebly