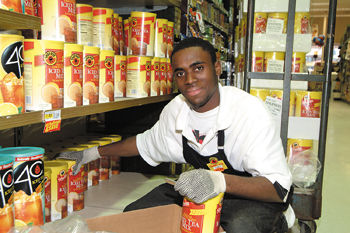 NEW YORK – With the clock ticking towards a June 26 contract deadline, thousands of unionized supermarket workers are negotiating in an attempt to avoid a strike, but their employers at Stop and Shop, King Kullen and Pathmark are refusing to budge.
Their union, United Food and Commercial Workers Local 1500, represents more than 16,000 workers at the three supermarket chains. The contract negotiations and potential strike affect stores across the city, and in neighboring Westchester, Putnam and Dutchess counties and Long Island, with possible repercussions in New Jersey and Connecticut.
As of press time, the union has called for mediation.
Local 1500 has alerted consumers to the possibility of a strike. With the July 4 holiday weekend approaching, the union is urging the public to make plans to buy their cookout ingredients and supplies at other supermarkets.
"Customers have a right to know what is happening," Greg Purcell, a UFCW spokesperson, said. "No shopper should feel comfortable putting their deli, bakery, floral or produce orders in the hands of a supermarket whose workers are on strike."
The supermarkets have told consumers not to worry, saying they have contingency plans in place. These plans, however, would have to include a huge number of scab workers, a move that would be an open attack on labor. The area the markets serve is home to over 1 million union households, who would likely not cross picket lines.
The union says a "contingency" scab workforce would reduce the quality of the supermarkets' services.
"You can't replace 80 percent of your workforce expecting to deliver the same quality products and customer service shoppers demand from Stop and Shop and the two other supermarkets," Greg Pasqual, a Stop and Shop worker from Duchess County, said in a statement.
"We need to avoid this strike so no one, especially our customers, will have their holiday weekend ruined," he said.
There are four main sticking points in the dispute: pensions, pay, health care and the situation of part-time workers. The union contends that the cost of everything has gone up, while workers' wages have remained stagnant, and management has been pushing for givebacks in health care. Further, the workers' pension fund is less than 80 percent funded, and the union and management have to come to an agreement to reach full funding, as required by law.
In a display of solidarity between full-time workers and part-timers, groups that have been played against each other by management in other struggles, the union is fighting for a guarantee of more hours for part-time workers.
Workers at Stop and Shop and King Kullen will take a strike authorization vote on June 23. Workers at Pathmark will do the same on June 25. The strike motions are expected to pass.
New York Jobs with Justice and other progressive organizations have urged the public to help avoid a strike by pushing management to accept what are seen as the just demands of the workers.
Jobs with Justice is asking people to "contact the store manager at your local Stop and Shop, Pathmark or King Kullen and ask them to negotiate in good faith and simply provide the workers with a fair contract they deserve."
To add your voice, the numbers are:
Stop & Shop 800-767-7772 – Press 1 and then press 0
Pathmark 866-443-7374 – Press 4 and then press 2
King Kullen 516-733-7100
Photo: 1union1voice.com