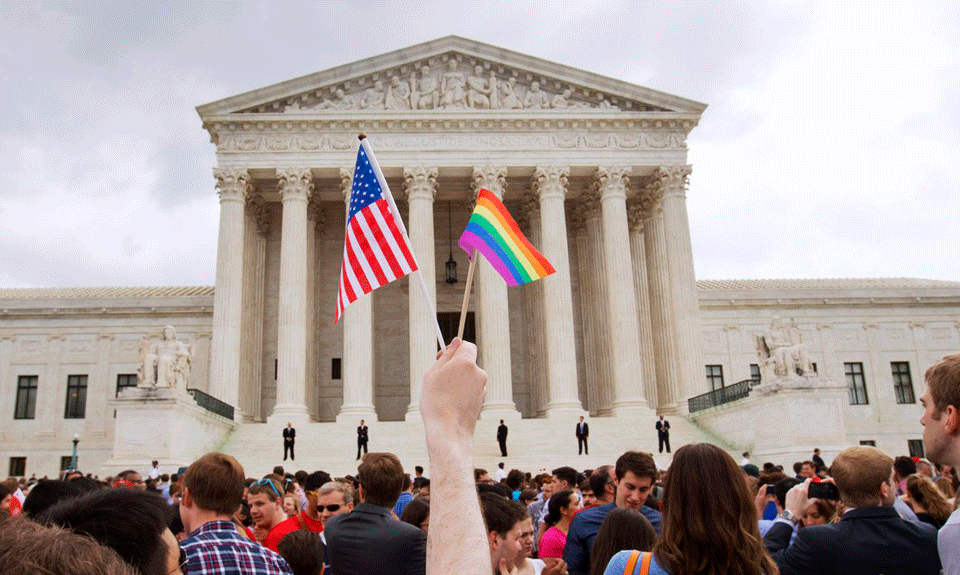 WASHINGTON—Civil rights groups, gay rights groups, the AFL-CIO and other unions hailed the U.S. Supreme Court's June 15 ruling outlawing job discrimination against lesbian-gay-bisexual-transgender-queer (LGTBQ) people. And a top legal counsel for the nation's largest union, the National Education Association, predicted it would extend to other areas of life, too.
"This is a very big case. We really cannot overstate how much is at stake," Eric Harrington of the NEA Office of General Counsel, said in a prior Q&A.
The unusually direct and plain English language in the 6-3 ruling, written by Donald Trump-named Justice Neil Gorsuch, made clear the law – the 1964 Civil Rights Act's Title VII and its ban on sexual discrimination – is the law, and that since then the definition of "sex" has expanded legislatively and in the courts to cover LGBTQ people, too.
"We must decide whether an employer can fire someone simply for being homosexual or transgender. The answer is clear. An employer who fires an individual for being ho­mosexual or transgender fires that person for traits or ac­tions it would not have questioned in members of a different sex. Sex plays a necessary and undisguisable role in the decision, exactly what Title VII forbids," said Gorsuch, joined by the High Court's four progressive justices and Chief Justice John Roberts, another GOP appointee.
The three other GOP-named conservatives said "no." As might be expected, ultra-right anti-equality lobbies, notably the so-called Family Research Council, screamed, too.
In its court arguments, the GOP Trump administration opposed protecting LGBTQ people from job discrimination, and that attitude continues. Three days before the court's ruling, Trump's Health and Human Services Department banned equal Affordable Care Act coverage for LGBTQ people – and pro-gay groups promptly vowed to challenge that anti-gay regulation in court.
"Those who adopted the Civil Rights Act might not have anticipated their work would lead to this particular result," Gorsuch laconically continued. "Likely, they weren't thinking about many of the act's con­sequences that have become apparent over the years, in­cluding its prohibition against discrimination on the basis of motherhood or its ban on the sexual harassment of male employees."
"But the limits of the drafters' imagination sup­ply no reason to ignore the law's demands. When the ex­press terms of a statute give us one answer and extratex­tual considerations suggest another, it's no contest. Only the written word is the law, and all persons are entitled to its benefit."
AFL-CIO President Richard Trumka, who has a law degree, said the court majority "affirmed" organized labor's "long-held conviction," in both union contracts and activism, "that no one should be fired because of who they are."
"This is a momentous step forward for equality in an otherwise dark time, as America suffers from a public health pandemic, an economic free fall, and the poison of structural racism. The LGBTQ community is now freer under the protection of a law fought for and won by the Black civil rights movement a generation ago, another reminder that we are all in this together. Let's use this moment not to rest, but to push forward so every single worker in America can live and work under the banner of liberty and justice for all," he declared.
Several advocates, including Jerame Davis, executive director of Pride@Work, the AFL-CIO's constituency group for LGBTQ people, and House Education and Labor Committee Chairman Bobby Scott, D-Va., lauded the court and declared the Senate should take the ultimate step of writing the anti-discrimination-against-gays language into federal law.
That means passing the Equality Act, with its bans on all discrimination against LGBTQ people. Catering to the Religious Right, Senate Majority Leader Mitch McConnell, R-Ky., refuses to even allow hearings on the House-passed measure.
"Twenty-two years ago, I got started in LGBTQ activism after being fired from my job for being gay," said Davis, a native of Indiana, whose former GOP governor, Mike Pence, tried to impose anti-gay mandates on the state. Business pressure, including convention cancellations, and a national uproar forced Pence, now Trump's VP, to back down.
Davis landed on his employment feet. But too many LGBTQ people in too many states still get fired for being gay, he said – until this High Court ruling. "After today, it'll be a lot harder for LGBTQ people to lose their job because of who they are."
"The court recognized discrimination based on someone's sexual orientation or gender identity is rooted in sex discrimination. The approximately 11.5 million LGB people and 1.5 million transgender people in the United States are now protected from discrimination in workplaces across the country. While many lower courts recognized that, we now have clarity from the highest court in the land."
"Not every working person has the benefit of an inclusive union contract to protect them from discrimination on the job. Until today, half of LGBTQ people lived in a state that had no law to protect them from discrimination. Economic justice for marginalized communities is at the core of the labor movement's work."
"We are not done. LGBTQ discrimination has not been eradicated…We are in the midst of a global pandemic that disproportionately impacted our community economically and medically. LGBTQ folk, especially Black and brown people, face harassment and violence in their daily lives."
NEA President Lily Eskelsen-Garcia, a primary grades teacher from deep red Utah, also hailed the court's ruling. But it was her union's counsel, Harrington, who spelled out in a prior Q&A how the ruling could extend beyond the workplace. NEA and the AFL-CIO filed friend-of-the-court briefs on the LGBTQ side.
"What the U.S. Supreme Court said today is that anywhere sex discrimination is prohibited in federal law or the Constitution, LGBTQ discrimination is prohibited. The message is plain and simple: Our LGBTQ educators and students matter. Full stop," Eskelsen-Garcia said.
"This means educators can no longer be fired at work for who they love or who they are. And since LGBTQ discrimination is sex discrimination under employment discrimination law, it also follows that federal laws proscribing sex discrimination in education and health care also prohibit LGBTQ discrimination. This means our LGBTQ students will also be protected under federal law from discrimination at school."
"LGBTQ educators have long faced employment discrimination, typically based on enforcement of gender norms, and largely based on fears that they will 'convert' students or tell them how they should express their own gender. This has led to many cases of illegal discipline or firing based on sexual orientation or gender identity. Protections under Title VII have provided educators with legal tools and remedies to combat and overturn such discipline and keep their jobs," Harrington elaborated.
"If the Supreme Court concludes that sexual orientation and gender identity discrimination are forms of sex discrimination, NEA's LGBTQ members will continue to be protected under federal civil rights law," Harrington said. And students will benefit, too, he added.
"That is because courts, including the Supreme Court, construe and interpret the prohibition on sex discrimination in education" enacted in 1972 "the same way they construe Title VII's sex discrimination provisions. In other words, if LGBTQ employees are protected…LGBTQ students are protected…But if LGBTQ employees aren't protected by federal law, then students won't be either."
"Let us rejoice, for a moment, in this important victory for every gay and transgender person who can now get up and go to work every day without the cloak of fear that their employer can fire them simply for being themselves," said AFT President Randi Weingarten, one of three openly gay union presidents.
"This is an historic moment for gay and transgender rights in America, when the highest court in the land rules, 6-3, that the words of Title VII mean what it says — that LGBTQ workers are protected against discrimination in the workplace," she continued.
"In plain English, sexual orientation and gender identity are not fire-able offenses. This is a vital step, particularly as the Trump administration works to dismantle rights and freedoms from LGBTQ people in so many other ways."
Like free stuff? So do we. Here at People's World, we believe strongly in the mission of keeping the labor and democratic movements informed so they are prepared for the struggle. But we need your help. While our content is free for readers (something we are proud of) it takes money — a lot of it — to produce and cover the stories you see in our pages. Only you, our readers and supporters, can keep us going. Only you can make sure we keep the news that matters free of paywalls and advertisements. If you enjoy reading People's World and the stories we bring you, support our work by becoming a $5 monthly sustainer today.