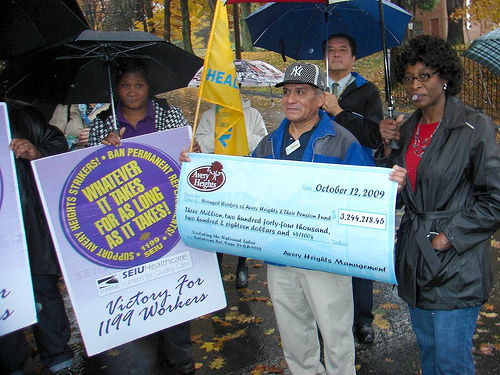 HARTFORD, Conn. — After a 10-year battle, including a two-and-a-half-year strike, current and former Avery Heights nursing home workers won a U.S. Supreme Court ruling this week upholding the responsibility of the corporation to pay nearly $3.5 million in lost wages, interest and pensions. The ruling is being hailed by labor lawyers as precedent setting.
"We've waited a long time for justice," said Herman Davies, Jr., who has worked in the Avery Heights housekeeping department since 1991. "Of course the money is important to us after all these years, but it's even more important to see right win out over might."
According to the National Labor Relations Board's estimate, Herman Davies' share of that justice now comes to more than $75,000 in back pay and interest.
In November 1999, more than 180 members of District 1199, the health care workers union, went on strike against Church Homes, Inc., owner of Avery Heights, a 154-bed nursing home and affiliated assisted living facility with 500 residents.
During the strike, Church Homes secretly and illegally hired permanent replacement workers, deliberately concealing their intentions during contract negotiations. In response to charges filed by the union, the NLRB ruled that Church Homes had "an independent unlawful motive in hiring" the permanent replacements and ordered that strikers be rehired with back pay.
Church Homes refused to comply, and the strike and picket lines continued for two and a half years. This was the longest strike in District 1199's history. The labor action disrupted traffic at the busy intersection of New Britain and Newington Avenues, and drew national attention.
This week the sidewalks were filled again, as current and former Avery Heights workers gathered to announce their final legal victory. On Oct. 13, the U. S. Supreme Court declined to overturn the NLRB decision that had twice been upheld in the Second Circuit Court of Appeals.
Church Homes has already paid hundreds of thousands of dollars to three certified nursing assistants (CNAs) who were found to be illegally fired during the strike. On April 27, 2007, the NLRB ordered the corporation to pay a total of $286,411 in back wages and interest, and to make $45,459 in pension contributions on their behalf. Checks were issued to the workers and to the union's Pension Fund on June 15, 2007.
"We knew that if we persisted, we'd prevail," said Carmen Boudier, president of New England Health Care Employees Union, District 1199. "Justice is finally being done here but it took ten years to arrive – this country's system of labor law is truly broken."
The ruling underscores the significance of the labor movement's campaign to win labor law reform including the Employee Free Choice Act, which would protect workers' right to organize.
Labor law scholar Michael Wishnie, a professor at the Yale Law School, said, "This decision has broad implications for national labor law. For years, employers have used their power to hire permanent replacements as an excuse to try to destroy unions. This decision means that when permanent replacements are hired as a pretext for union busting, they must be displaced by returning strikers, and that employers abuse this law at their real financial peril."
Photo: seiu1199ne