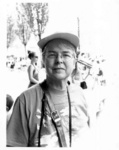 PORTLAND, Ore. — Susan Elizabeth Wheeler, a lifelong fighter for equality, peace and socialism, passed away Jan. 24 at her daughter's home in Sequim, Wash. She was 63 and had fought cancer for four years.
In October 2003, still recovering from surgery, she and her sister, Marion Burns, traveled to Washington, D.C., to join a demonstration against the Iraq war. A year later, she went door-to-door in her neighborhood as an AFL-CIO "get-out-the-vote" volunteer and was elated when an overwhelming anti-Bush vote in Portland carried the state for John Kerry. A few weeks later, she organized a house party for Sam Webb, national chairperson of the Communist Party USA. She had been a CPUSA member for many years, and was elected as an Oregon delegate to the 26th Convention of the CPUSA in Cleveland in 1994. She wrote occasionally for the People's Weekly World.
She was born April 10, 1942, in Washington, D.C., to Donald and Mary (Lukes) Wheeler. The family moved to a dairy farm near Sequim in 1948 where Susan developed a passion for spirited horses and folk music. At age 15, she heard an LP of Pete Seeger and wrote him a fan letter. He replied, offering to perform if she organized a concert. With the help of the Communist Party of Clallam County, the concert took place at a local high school auditorium. He returned the following year, bringing blues singer Sonnie Terrie. It sealed a lifelong friendship. When telephoned with news of her death Seeger told the World, "I will never forget that fan letter. It came in the depths of the Cold War. The concert was in Port Angeles, wasn't it? I will miss Susan."
She graduated from Sequim High School in 1960 and married Don Hamerquist. They moved to Portland where Susan gave birth to two daughters. The marriage ended in divorce.
In March 1965, Dr. Martin Luther King Jr. appealed for solidarity marches with the voting rights workers brutally attacked as they crossed the Edmund Pettus Bridge in Selma, Ala. Susan played a leading role in mobilizing 8,000 people to march through downtown Portland, the largest civil rights protest in the city's history.
In 1970, she moved to Birmingham, Ala., where she earned a college degree. She met and married Ronnie Williams, a leader of the Alabama Black Liberation Front, who was fighting a frame-up. While free on bail, Williams fled to Oregon, joining Susan and her two daughters in Portland.
Alabama Gov. George Wallace sought Williams' extradition. Susan led a determined fight and Republican Gov. Tom McCall granted Williams asylum. In his memoirs, McCall wrote that it was the most effective grassroots campaign he had ever witnessed. When Susan met with and won over the governor's mother, victory was assured. Ronnie and Susan's marriage produced Susan's third daughter. Williams died a few years later.
She later married George Jankowski, a Polish citizen, and helped in his legal struggle to stay in the U.S. The marriage ended but they remained friends.
Susan worked as a legal secretary for legal services and the Oregon Law Center and was held in high esteem for her astute strategy and tactics in defending the poor and racially and nationally oppressed. Larry Kleinman, secretary-treasurer of PCUN, the Oregon farmworkers and tree-planters union, told the World, "We will miss Susan. We considered her a close friend, a supporter of workers' union rights."
She was an active member of the Women's International League for Peace and Freedom, a devoted mother and grandmother and a champion of the underdog and a savior of lost causes. She enjoyed traveling, camping and gardening. She documented her life with a flair for amateur photography.
She was preceded in death by her younger brother Nathaniel Robinson Wheeler and is survived by her brothers Stephen Francis Vause, Tim Wheeler, sister Marion "Honey Bee" Burns, daughters Erika Lynn Hamerquist and Karen Margaret Hamerquist, and Jacqueline (Williams) Green and four grandchildren. A memorial is scheduled for 11 a.m. on Saturday, Feb. 11 at the Friends Meeting House, 4312 SE Stark, Portland.
Contributions in her memory may be made to the PWW, 235 W. 23rd St., New York NY 10011, or WILPF, 1213 Race St., Philadelphia PA 19107, or Assured Hospice of Clallam and Jefferson Counties, 720 E. Washington St., Suite 104, Sequim WA 98382.