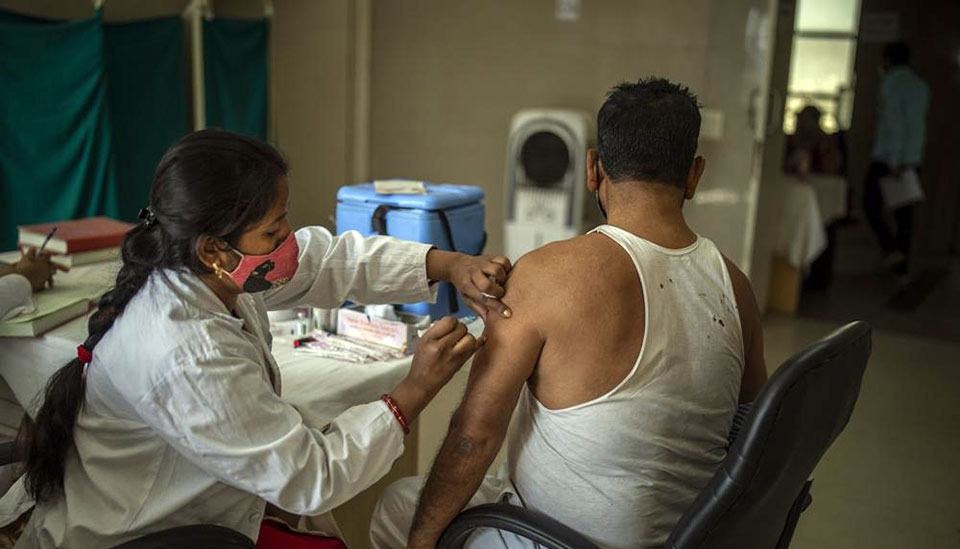 A move is underway internationally to temporarily scrap patent restrictions on COVID-19 vaccines that are making pharmaceutical companies' profits explode while many countries struggle to inoculate their people against the deadly virus. In a surprise but extraordinary decision, the Biden administration announced its support Wednesday for a waiver of such patent rights.
But to happen, all 164-member countries of the World Trade Organization (WTO) will have to agree. Under current intellectual property protections, manufacture of the vaccines developed by private companies is blocked to anyone but the patent holders. If agreement on a waiver is reached, local production facilities could then ramp up vaccine production exponentially to meet the global health emergency.
"The administration believes strongly in intellectual property protections, but in service of ending this pandemic, supports the waiver of those protections for COVID-19 vaccines," U.S. Trade Representative Katherine Tai said at the general council meeting of the WTO on May 5.
The Biden administration has been under intense pressure from countries of the global South, public health officials, and many progressive Democrats in Congress, who applauded the decision. U.S. Surgeon General Vivek Murthy said the Biden administration is putting "people over patents."
With the announcement, the Biden administration joins much of the world in viewing vaccines as "global public goods" rather than commodities. But it's also a recognition that protection of corporate patent rights was a major obstacle to global vaccination. And without global vaccination, ultimately no country is safe from the pandemic and its variants.
World leaders applauded the move, including French President Emmanuel Macron, who also announced his support for a waiver. "I am very much in favor of opening up intellectual property. We must obviously make this vaccine a global public good," said Macron.
Along with the United States, the European Union has been a major obstacle in the WTO to waiving patent rights. Given that the U.S. typically sides with corporations on such matters, Biden's decision was all the more stunning for the rest of the world.
Tedros Adhanom Ghebreyesus, head of the World Health Organization, praised the announcement. "This is a monumental moment in the fight against COVID-19. The commitment by President Joe Biden and U.S. Trade Representative Tai to support the waiver of I.P. protections on vaccines is a powerful example of leadership to address global health challenges."
The call for waiving patent rights, known as TRIPS, was initiated by India and South Africa and is currently supported in the WTO by 90 countries, mainly from the global South. Other vaccine-producing countries, like Russia, have also signed on to the move. Urgent calls for waiving patent rights come in the face of massive global inequality in the production and distribution of vaccines. The advanced capitalist countries have "cleared the shelves" of vaccines while the pandemic ravages many countries in the global South, beginning with India.
Pharmaceutical companies plan to produce between 10-15 billion vaccine doses in 2021. Wealthier capitalist countries have already bought up two-thirds of vaccine orders. The COVAX facility, associated with the World Health Organization, oversees vaccine distribution to 92 impoverished countries and estimates only a 20% vaccination rate of people in those countries by the end of the year.
Biden had advocated waiving the patent rights during the 2020 election campaign but was under intense pressure from Big Pharma. The announcement angered industry CEOs, who opposed the waiver. Big Pharma stocks took a hit on Wall Street with the news. Bill Gates and the Gates Foundation, which had opposed the waiver, reversed course and aligned itself with the Biden position.
In private meetings with White House officials, industry lobbyists reportedly tried to pitch patent protections for their profits as a national security issue, warning that China or Russia might "exploit" technologies like the mRNA method behind the Pfizer and Moderna vaccines to develop vaccines or therapeutics for other conditions like cancer or heart problems. How helping save lives supposedly amounted to a threat to U.S. national security interests was left unsaid.
The U.S. government spent $20 billion to subsidize corporate development of vaccines and their advanced purchase. This year alone, Pfizer expects to make an additional $15 billion in profits while Johnson & Johnson projects to rake in $10 billion in profits.
"We're putting a lot of pressure on the Biden administration because the U.S. public actually co-funded a lot of this research through Operation Warp Speed," said Fatima Hassan, director of South Africa's Health Justice Initiative. Her organization is among those calling for a "people's vaccine."
In October, Moderna said it wouldn't contest a patent waiver. The company partnered with the National Institute of Allergy and Infectious Diseases to develop its vaccine.
"The Biden administration understands that a pandemic doesn't respect boundaries and that what's happening in India has global public health implications," wrote Dewardic McNeal, an Obama-era policy analyst at the Defense Department.
"If it spread to Africa or Latin America to the levels ravaging India, then many countries on those continents would collapse," he added. "So this move is just good global public health policy."
Sen. Bernie Sanders also praised Biden's decision. "This is exactly the kind of leadership the world needs right now," he said. Rep. Alexandria Ocasio-Cortez, in a social media post, said simply, "Let's do insulin next."
Over 60 House Democrats had been urging Biden to support the waiver. "We, the most powerful nation in the world that can help bring an end to this catastrophe, cannot sit idly by—constrained by Big Pharma—watching millions of people die," said Rep. Rosa DeLauro, D-Conn., who was leading the effort.
"I believe we have a moral obligation…to make sure that the rest of the world does not suffer and die, as it were, from something we can help them with and help them prevent," said Dr. Anthony Fauci.
C.J. Atkins contributed to this article.