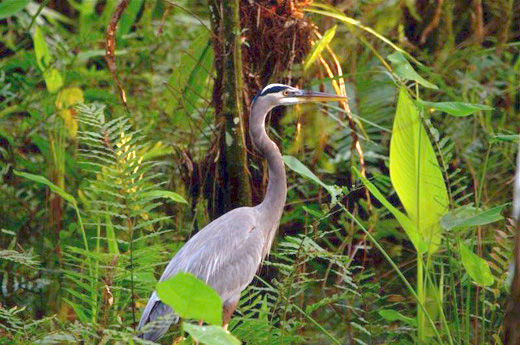 NAPLES, Fla. – Residents, activists and Collier County Commissioners are moving to halt any fracking projects in Southwest Florida.
On Earth Day, April 22, the Collier County Commission voted unanimously to legally challenge a consent order between the Dan A. Hughes oil drilling company and the Florida Department of Environmental Protection. The consent order amounted to a "slap on the wrist" for the Texas-based company over its fracking-like operations in Florida, according to Rob Moher, head of the Conservancy of Southwest Florida, based in Naples.
The DEP acknowledged that the company was conducting drilling that fit the definition of fracking, but the agreement simply fined the Dan A. Hughes Co. $25,000 and barred it "from using the technique further until it completes a groundwater study, according to DEP Spokeswoman Dee Ann Miller."
According to the consent order filed by the DEP, "the Dan A. Hughes Co. performed the unpermitted technique for two days in December and January and defied a cease-and-desist order from DEP for one day," Steve Doane of news-press.com reports. "The well in question is located at Hogan Island, which is located south of Lake Trafford, near the Corkscrew Swamp Sanctuary and Corkscrew Regional Ecosystem Watershed lands."
The Florida DEP has still not released more critical information about exactly how the Dan A. Hughes Company did their "extraction" says Doane. According to the Florida DEP, the company's "technique qualifies as a 'confidential trade secret' and is shielded from public disclosure under Florida law." Doane notes that Florida law does not require a company to obtain a separate permit for hydraulic fracturing, but it is required to notify the DEP to get permission.
Environmental activists and oil drilling opponents have many unanswered questions concerning several aspects of this type of operation. In particular they cite the number fracking accidents being reported nationally, and the potential contamination of local aquifers with drilling chemicals such as hydrochloric acid and the possible release of pools of trapped salt water.
Jennifer Hecker, director of natural resource policy at the Conservancy of Southwest Florida, said, "They've done experiments with our water supply, and we're left to deal with what they did after they've done it. We don't even know if it's possible to clean an aquifer after it's been polluted." Hecker added, "We don't know what we don't know, but I think we're going to find out more and that's disappointing."
Florida Senator Bill Nelson has recently gotten involved also. In a letter to U.S. Environmental Protection Agency Administrator Gina McCarthy, Sen. Nelson wrote, "We cannot tolerate expanded industrial drilling activities that pose a threat to the drinking and surface water so close to the Florida Everglades. The recent discovery of a fracking-like incident there raises serious concerns about whether outside wildcatters would soil one of the world's great environmental treasures."
In the meantime, the Florida DEP is requiring the Dan A. Hughes Co. to hire a third party to test the groundwater by June of this year. The company must submit the results of that test in a report on the quality of the groundwater by December 1.
Photo: The Dan A. Hughes Co. conducted fracking-type drilling not far from this more than 13,000-acre Audubon nature sanctuary. Corkscrew Swamp Sanctuary Facebook page