CHICAGO – Thousands of hotel workers here are marching now for the fifth day in a row outside 25 major hotels in the downtown area. The strike has intensified each of the days since it began Friday at the city's hotels including the luxury establishments run by Marriott, the Hyatt and Hilton chains.
Guests at those hotels are having to cross picket lines to get to rooms that have been left uncleaned for days. Cars passing the picket lines in the downtown streets are honking their support for the workers who are battling for, among other things, the right to maintain health coverage the chains are trying to take away.
"Hotels may slow down in the winter but I still need my diabetes medicine. Nobody should lose health benefits because it is cold outside. Full-time jobs should have year-round benefits," said Q. Rivers, a house attendant, in a statement, at the Palmer House Hilton.
Workers at Seattle hotels yesterday joined the growing strike wave at the nation's hotels. The strikes follow on the heels of strike authorization votes taken by 7,800 Unite Here Marriott Hotel workers from Honolulu to Boston. More votes will follow in coming weeks.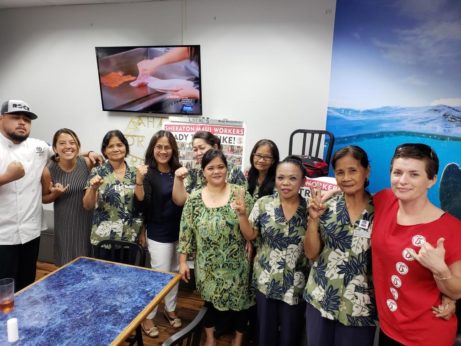 The votes, among workers at 20 hotel chains, came just days after hundreds of the workers staged peaceful civil disobedience actions on Labor Day to bring public attention to their cause, the union said.
The first votes were among 3,500 workers in Honolulu (Waikiki) and Maui, followed by 1,800 in Boston on September 12 and 2,500 in San Francisco scheduled for tomorrow.
Unite Here contracts with Marriott cover those workers, and 12,000 more, said union President D. Taylor. The old pacts have expired and bargaining continues. But the firm, the world's largest and most-profitable hotel chain, refuses to recognize its role as the industry leader and use it to improve wages and working conditions. The workers "don't earn enough to live on," he explained.
Workers also demand better job safety, "particularly around unsafe workloads and strenuous physical labor created by the so-called 'Green Choice' program, and pioneering job protections around technology and innovation in the hospitality industry," the union added.
"Across North America, union workers are ready to fight back against a rigged economy that left working-class families behind for too long now," said Taylor. "Unite Here has a tradition of refusing to take concessionary contracts and changing lives around the world by raising the standards for union and non-union hospitality workers."
"Our members are proud of the exceptional guest service they provide the people who stay in our hotels, but 8,000 Marriott workers are ready and prepared to strike to secure their fair share from a highly profitable company receiving major tax handouts from Donald Trump while workers struggle to get by."
Strike authorization votes in other cities, especially those with convention-oriented hotels, will occur following the votes in the initial four, the union said.