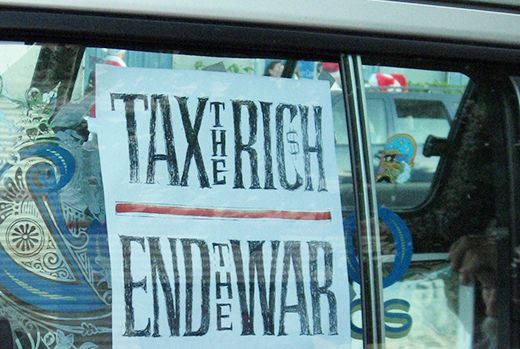 The "tax the rich" idea is gaining in popularity.
A Washington Post-ABC News poll released last Thursday found that 73 percent of Americans would support "a special tax on bonuses over $1 million." That includes 85 percent of Democrats, but also an impressive 62 percent of Republicans and 69 percent of independents.
Voters in Oregon are deciding today whether to increase taxes on the rich in their state, which is being hit by cuts in education and other social programs. They are voting on two ballot measures: Measure 66 which would raise the state income tax on households earning more than $250,000, and Measure 67 which would increase corporate income taxes.
A CNN/Opinion Research Corp. survey also released last Thursday found 61 percent of the public favor the House health reform provision, which pays for reform by a tax surcharge on people with high incomes. Only 29 percent favor the Senate provision, which would tax some employee health insurance plans instead.
"A tax on the wealthy is obviously most popular with lower-income Americans, but it is also the preference of people making $100,000 a year or more," noted CNN Polling Director Keating Holland.
Meanwhile, in a CBS poll released Jan. 18, 7 in 10 Americans said they are "bothered" by the bonuses being handed out by banks that benefited from federal bailout money. By a 72 to 19 percent margin, they feel that the bailout has benefited "mostly just a few big investors and people who work on Wall Street."
The congressional Joint Committee on Taxation, in a report released earlier this month, calculates that in 2010, a little over 1 million U.S. taxpayers will report incomes over $500,000. "These 1 million top-earners will collect an astounding $241 billion more in income this year than the just under 80 million taxpayers who will take home less than $40,000," writes Sam Pizzigati at the Campaign for America's Future web site.
Pizzigati notes that Goldman Sachs is piously congratulating itself for paying its employees a smaller percent of its whopping revenues than it did last year.
"Goldman's chief financial officer, David Viniar, wants all of us to consider this smaller payout share a thoughtful, conscientious bank response to widespread public concern over excessive banker compensation," comments Pizzigati.
"Restraint? Even with the smaller share of bank revenue going to pay, the 'average' Goldman employee will pocket $498,153 for the year," he says. Since, of course, the secretaries and such won't be getting anywhere close to that, that "average" means that the firm's top bankers and traders will be pocketing vastly more.
One important Goldman Sachs shareholder, the Southeastern Pennsylvania Transportation Authority, which operates public transit in the Philadelphia area, last week filed suit against Goldman executives, accusing them of greed.
"Goldman's employees are unreasonably overpaid for the management functions that they undertake, and shareholders are vastly underpaid for the risks taken with their equity," SEPTA's lawsuit charges.
SEPTA's pension fund has about $1 million in Goldman stock, according to SEPTA general counsel Nicholas J. Staffieri.
"The value of that stock dropped because of excessive fees that management took out," Staffieri said.
In the lawsuit, filed Jan. 20, SEPTA says that the bank was not acting in shareholders' best interests when it approved executive pay and bonuses amounting to almost half the bank's net revenue, the Philadelphia Inquirer reported.
Photo: http://www.flickr.com/photos/lisanorwood/ / CC BY 2.0