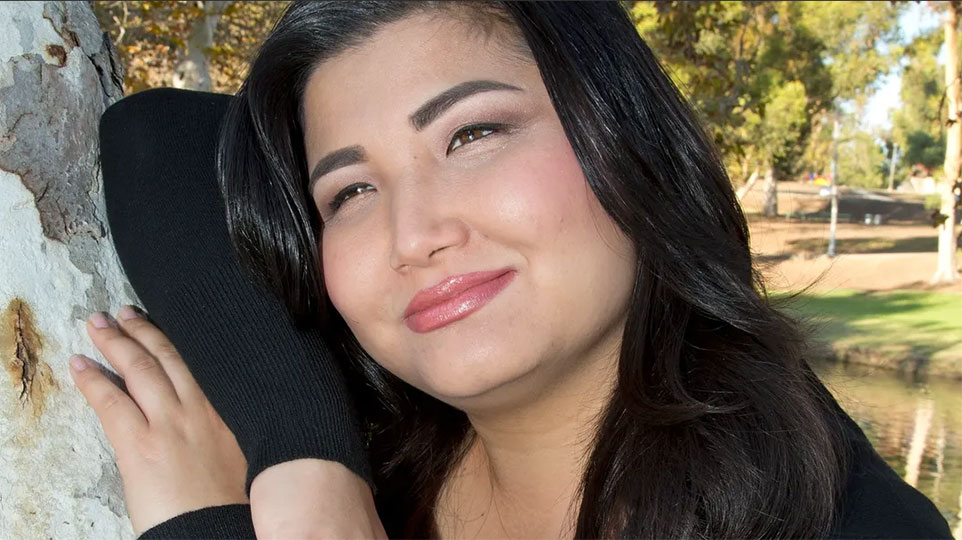 LOS ANGELES — The adventuresome Pacific Opera Project (POP) gave the Los Angeles stage premiere of Pyotr Ilyich Tchaikovsky's Iolanta at the 800-seat Aratani Theatre in Little Tokyo on Sun., March 20. The single largest production ever mounted by the company in terms of casting, orchestra size, and staging requirements, the opera stars blind soprano Cristina Jones in the title role, playing a princess of now marriageable age who has been raised from birth unaware that she is blind. She is coddled by a whole court of what we might call "enablers" today, the retinue of King René who are ordered to cater to her daily needs without ever speaking of color, light, or any aspect of vision.
Iolanta, in a single 100-minute act, was the composer's last opera, immediately following The Queen of Spades. The libretto is by his brother Modest Tchaikovsky, based on a Danish play by Henrik Hertz, a romanticized account of the life of Yolande de Bar, Duchess of Lorraine—of whom there is no evidence of her being blind. POP included Iolanta in its 2021-22 "Fairytale Season." (This work has no relation to the Gilbert and Sullivan operetta Iolanthe.)
Iolanta premiered in December 1892 at Saint Petersburg's Mariinsky Theatre, conducted by Eduard Nápravník. The opera was on a double bill with Tchaikovsky's last ballet, The Nutcracker. He died less than a year later in November 1893.
The first performance outside Russia came almost immediately, on January 3, 1893, in Hamburg, conducted by Gustav Mahler, who also led the Vienna premiere in early 1900. One smaller company had produced it in New York City, but it finally reached the Metropolitan Opera in 2015, starring Anna Netrebko. The only recorded time until now that a blind singer performed the title role was when Nafset Chenib, who had impressed audiences at the 2014 Winter Paralympics closing ceremony, sang it at the Ivangorod Fortress, located on the Narva River along the Russian border with Estonia, on August 29, 2021, making Ms. Jones's accomplishment the first of its kind in the U.S. and Western Hemisphere.
Iolanta is the first opera POP has presented in Russian, using English subtitles. The 32-piece orchestra is led by Isaac Selya, who had led the work's Ohio premiere in 2018 with his Queen City Opera, in collaboration with the Cincinnati Association for the Blind and Visually Impaired. POP has partnered with low-sight organizations for this production to encourage awareness and to amplify their efforts. Arrangements for low-sighted audience members including braille programs, librettos, and audio description.
The Aratani Theatre was also the site for POP's highly imaginative staging of Madama Butterfly, in which the Japanese characters sang in Japanese, and the Americans in English, given that none of them knew Italian!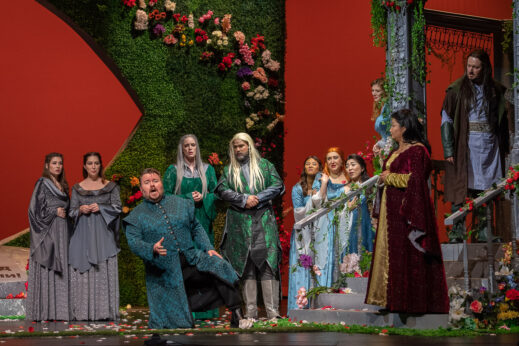 Iolanta has grown up in an enclosed garden compound near King René's castle, although she does not know she is a princess. Despite her caretakers' efforts to shield her from reality, Iolanta cannot help but feel that she is missing something precious. René brings Ibn-Hakia, a magical healer, who is confident he can restore Iolanta's sight, but only if she is first made aware of her blindness and then truly desires to see. At first, the king refuses, fearing that failure would only bring Iolanta sorrow after learning that eyes are not just for crying, but for the gift of sight. Duke Robert, who was betrothed to Iolanta by their families but has never met her, stumbles upon the garden while out hunting with his friend, Count Vaudémont. Robert is in love with Matilda, however. Despite a posted warning that any intruder will be executed, they enter.
Vaudémont discovers the sleeping princess and, bewitched by her beauty and purity, falls in love with her. When she awakens, he asks her to give him a red rose and, when she twice hands him a white rose, realizes that she is blind. The King soon discovers the lovers and threatens to execute him if Iolanta is not healed. In order to save Vaudémont from death, Iolanta agrees to allow the healer to use his powers on her. Robert returns with his guard and is surprised to see King René, father of his betrothed. With encouragement from Vaudémont, Robert confesses to the King that he has fallen in love with another woman and could never love anyone else, including Iolanta. The King cancels the wedding contract and allows Iolanta to marry Vaudémont, explaining that he only threatened to execute him so that Iolanta would agree to the treatment. Iolanta returns, and under the power of the healer, she is able to see light for the first time. Was it the art of the healer? Was it her newly acquired will to see? Or was it the power of love? Perhaps all three, but regardless of whether she will retain her vision, Vaudémont pledges her his undying love.
Lessons learned and not learned
And lessons have been learned. The final chorus is an ode to "love and truth." René realizes his own blindness in the error of not properly educating his daughter to the realities of the world. But at the same time, Iolanta reminds us that hearing, sensing, feeling, touching, smelling, are also paths to knowing, and perhaps those with vision do not fully exploit them. On a personal note, I can attest that this was a topic my late blind husband Juan José frequently raised with me. He'd ask me, after we'd met someone, what color were their eyes? And I had to admit—to his shock and dismay—that I hadn't paid attention, nor to what they were wearing.
Today, the theme of will in pain and suffering is highly controversial, sermonized, and politicized. Was Iolanta blind because of some character flaw in her father, or because she didn't have enough will to see? Are people poor because they don't want to be successful? If someone dies of, say, an occupational disease, is it their own fault because that's the work they chose? If they acquire a venereal disease or AIDS, for example, is it because of their sinfulness? Will, choice, shame, and sin can be convenient copouts for vast social failings, while comparative experience across nations and social systems proves very different outcomes.
At the Q&A following the performance on March 20, conductor Isaac Selya suggested that Tchaikovsky, well known in his own day and since as a homosexual deeply afflicted by societal norms and expectations, may have been drawn to this particular subject as his own way of expressing to the world that though not blind, he too had a different way of "seeing" the world. While not a late-in-life "coming out" statement, the opera serves as a reminder that there are diverse ways of experiencing the world.
Pyotr's brother Modest, who wrote the Iolanta libretto, was also homosexual, more openly so than the composer. He lived with "his boyfriend Nikolai ('Kolia') Hermanovich Konradi (1868-1923), a deaf and dumb boy whom Modest tutored and with whom he lived for about seventeen years from 1876"—that is, at the time Iolanta was written and premiered. So blindness and homosexuality were perhaps not the only "different" ways of moving through the world. Add deafness and muteness to the mix too. In that light, this opera becomes a far more powerful statement about acceptance and esteem than perhaps anyone has ever quite realized, making all the more poignant the hypothesis, now widely accepted as fact, that the composer committed suicide owing to social pressure.
About Cristina Jones
Soprano Cristina Jones is a Southern California native who has performed recitals, oratorio, and operatic works in the United States, England, and Scotland. Her repertoire has included works by  Fauré, John Rutter, Mendelssohn, Verdi, Bernstein, Britten, Handel, Mozart, Puccini, Jonathan Dove, Beethoven, Rossini, and Menotti.
Born with retinopathy of prematurity, an eye condition which eventually left her totally blind, Jones began her musical training at the age of eight upon joining the Johnny Mercer's Children's Choir at the Braille Institute under the direction and guidance of Anne Bell. She went on to study music more extensively at California State University, Fullerton School of Music, where she received her Bachelors of Music in 2013. Upon receiving her Master of Arts in Voice Performance in 2015, Cristina graduated with honors from the Royal Academy of Music in London. She views herself as an advocate for raising awareness for an empowered and enriched life, in her case as a soprano who happens to be blind. Learn more at her website.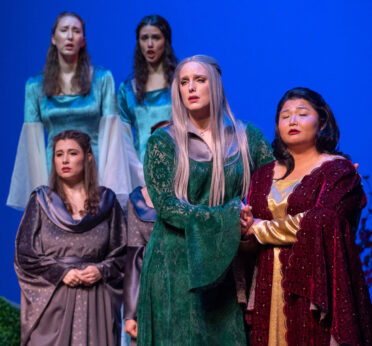 In performance, like the sighted person who doesn't really see everything, an audience member at Iolanta might not even realize that the soprano is a blind person if they didn't already know it. There's frequently some maiden of the court to guide her around the stage and place her in position. One can see her reach out to a banister to establish her bearings, but these are actions that a sighted performer would also make to underscore the character's blindness. Here, unlike a staging for sighted performers, there is a barely noticeable low berm of green vegetation across the front of the stage (we're in a garden, after all) as a line over which she must not step if she wants to avoid falling into the orchestra pit. In the Q&A Jones explained that in all the staged performances she has appeared in so far, she has never played a blind person, so she always had to "wipe the blindness out" of her character. In Iolanta, however, she has felt comfortable acting more like herself: This is, after all, what "authentic casting" is all about.
Jones's casting, though, is far more than a novelty. She has a warm, stress-free lyric soprano that seems capable of handling any assignment she's given without any "bonus points" for her disability. It is to be hoped that her POP role will lead to other engagements that will highlight all that she can do musically, not the one (non-musical) thing she cannot do.
An audience member at the Q&A posed an interesting question to music director Selya: Is there enough information in Tchaikovsky's score itself, or did some adaptation need to be made so that a blind person could find the right cues for her entrances? Even a sighted singer does not want as an actor to be seen constantly looking at the conductor for her cue. Yes, Selya said, Tchaikovsky did think of that, and wrote in the proper moments for Iolanta to start singing.
The cast is uniformly good, making this not just a novel exposure to a rarely staged mature Tchaikovsky opera, but a worthy addition to the city's musical life. Tenor Ben Werley sings the passionate role of Vaudémont, Andrew Potter is the basso profundo King René, baritone Simon Barrad is the bold Robert, Andrew Hiers is the magician Ibn-Hakia, mezzo Megan Potter plays Iolanta's aide Martha, and Brooke Iva Lohmann, Danielle Marcelle Bond, Ben Lowe, and William Grundler round out the cast in smaller roles.
Company founder Josh Shaw directs with special attention to the stage movements of the title role singer. He also designed the show, featuring a huge eye as its principal symbol. The Assistant Director is Carson Gilmore, and the shimmering, stageworthy costumes are by Maggie Green. Lovers of opera are highly encouraged to attend. All praise for this humanistic concept and complete realization!
POP has created a series of podcasts (POPeracast), three of which discuss Iolanta, from the creative process to advocating for low-sight communities in the performing arts. They are co-hosted by Jennifer Miller Hammel for POP, and Lizzy Muhammed-Park & Katelyn MacIntyre, from the National Federation for the Blind, Performing Arts Division: Episodes 49:  "Iolanta Creative Team PART 1"; Episode 50: "Iolanta Creative Team PART 2", and Episode 51: "Even a Tenor & Baritone can be Friends".
The two remaining performances of Iolanta are Sat., March 26 at 7:30 pm, and Sun., March 27 at 3:00 pm, at the Aratani Theatre, 244 San Pedro St., Los Angeles 90012. Go to the POP website for further information and tickets.