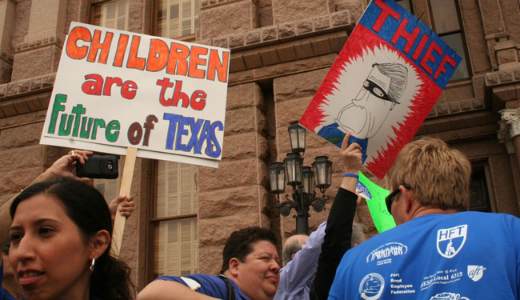 AUSTIN, Texas – The State Capitol hosted two of the largest labor events in recent Texas history on March 12 and 14. Organizers of the Save Our Schools rally on March 12 said that they stopped counting after giving out 12,000 stickers for participants. The state AFL-CIO reported that 10,000 more came for the American Federation of Teachers rally and lobby day on the following Monday.
People drove as long as 12 hours by bus and car to stand up against the legislature's first budget estimate, which projects 100,000 laid-off school employees.
The National Education Association affiliate has scheduled another rally, and at least a half dozen others are on tap before April 6. The overall coalition, Texas Forward, which includes the school employees, state workers, Texas AFL-CIO, Jobs with Justice, and dozens of other progressive organizations, may have the biggest of the series on April 6th.
Handmade signs and the speakers on March 14th clearly held Republican Gov. Rick Perry accountable for the problem. Under his leadership, the legislature deliberately created the big budget shortfall by cutting taxes in 2006. Perry keeps a tight hold on reservoirs of funds that could be used to prevent layoffs, but has refused to help. The so-called "rainy day" fund alone has more than $9.4 billion in it. Rally goers carried umbrellas to remind the legislature that rainy days are already here.
Although the AFT called and organized the event, workers from most of the state's unions attended. One of the most dynamic speakers was Texas AFL-CIO President Becky Moeller, who called on the entire union movement to stand as strong in Texas as they are in Wisconsin, Ohio and Indiana. She closed by leading the chant, "We are one!"
AFT National President Randi Weingarten said that nobody in Texas bore the primary blame for the crisis. Instead, she argued, it was created in her home state, New York, specifically on one street: Wall Street.
Photo: Texas Gov. Rick Perry (on placard) is especially blamed for the state's school crisis (Jim Lane/PW)