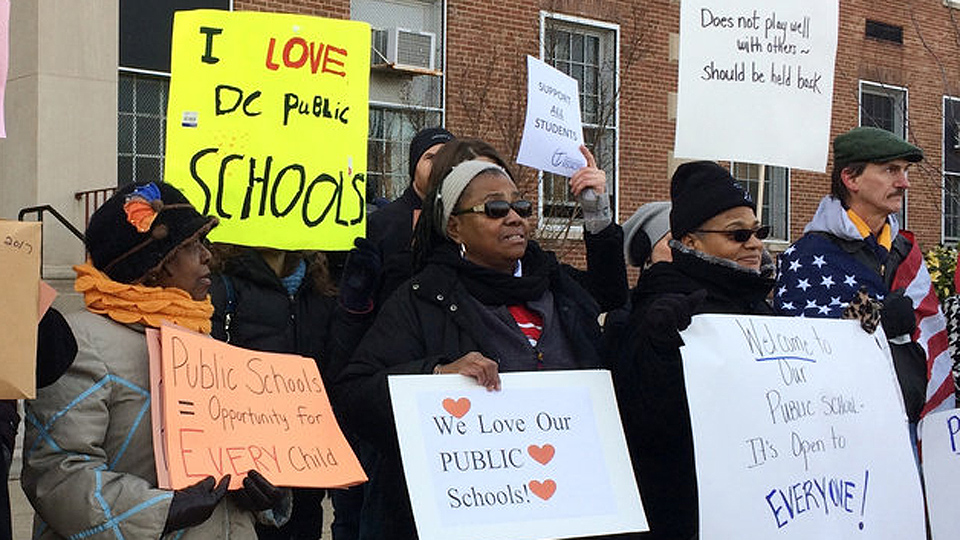 WASHINGTON — Reports by the Washington Post show the Trump administration plans to cut $10.6 billion from federal education initiatives.
"This budget once again illustrates why the American people have no confidence in Donald Trump or Betsy DeVos when it comes to education," said Lily Eskelsen García. "They just don't get it," the president of the National Education Association said in a statement issued May 18.
Garcia explained that the priorities President Trump outlined in his budget are "reckless and wrong for students and working families. If enacted, the Trump budget will crush the dreams of students, deprive millions of opportunities, and make it harder for students to access higher education.
"Members of Congress need to listen to their constituents who do not want to slash public schools in order to spend millions of dollars on private schools. There is a responsibility to provide great public schools for every student in America. We believe improving public schools requires more money, not less, and public money should only be used to help public schools. We urge Congress to reject the Trump-DeVos budget proposal and fight for opportunity for all students."
The National Education Association is the nation's largest professional organization, representing more than 3 million elementary and secondary teachers, higher education faculty, education support professionals, school administrators, retired educators and students preparing to become teachers.
Randi Weingarten, President of the American Federation of Teachers, called the Trump budget proposal "a nightmare for children." She added, "Ironically named 'America First: A Budget Blueprint to Make America Great Again,' it forecloses on the federal government's long-standing commitment to reduce educational inequalities. The budget would take a meat cleaver to public schools, and children with the greatest needs would suffer the greatest harm. Trump and Education Secretary Betsy DeVos plan to slash programs that help low-income children—like after-school and summer programs, class-size reduction efforts, mentoring for early-career teachers, child nutrition programs and community schools.
"Half of all children in America's public schools live in poverty. Rather than make a specious claim that the budget blueprint protects 'the nation's most vulnerable populations,' DeVos should have fought for the programs that would actually do that. For example, in McDowell County, W.Va., formerly coal country and now the seventh-poorest county in the nation, 900 children could lose after-school programs that provide tutoring, technology, healthcare, counseling, recreational activities and, for some children, their only reliable meal of the day.
Weingarten concluded, "More than 80 House of Representatives members—including Trump supporters—and nearly 1,500 organizations are calling on Congress to maintain federal funding for after-school programs."
The American Federation of Teachers, an affiliate of the AFL-CIO, was founded in 1916 and today represents 1.6 million members in more than 3,000 local affiliates nationwide.
Five divisions within the AFT represent the broad spectrum of the AFT's membership: pre-K through 12th-grade teachers; paraprofessionals and other school-related personnel; higher education faculty and professional staff; federal, state and local government employees; and nurses and other healthcare professionals. In addition, the AFT represents approximately 80,000 early childhood educators and nearly 250,000 retiree members.
Diann Woodward, President of the American Federation of School Administrators, found the President's proposed FY18 budget "appalling" since the money cut would be used "to prop-up unaccountable private schools and engage in an unnecessary peace time build-up of U.S. armed forces.
"This ill-advised proposal also completely undermines the intent of the bi-partisan Every Student Succeeds Act, which allows states to set aside up to 3 percent of Title II, Part A funds to invest in principal specific training and support.
Woodward warned, "If Congress approves this budget, you can be assured that our failure to provide reasonable support to our public schools now will lead to students, educators and the nation as a whole paying dearly later."
The American Federation of School Administrators (AFSA) provides labor relations and professional and occupational services to public school principals, vice principals, administrators and supervisors in diverse school districts across the U.S., Puerto Rico and the U.S. Virgin Islands.
Affiliated with the AFL-CIO, AFSA has been fighting for quality public school education for students of all backgrounds since 1976. AFSA's mission is to promote the professional, occupational, and economic interests of its 20,000 members and to fight for the highest quality public school education for all pupils.
Barbara Russum contributed to this article.