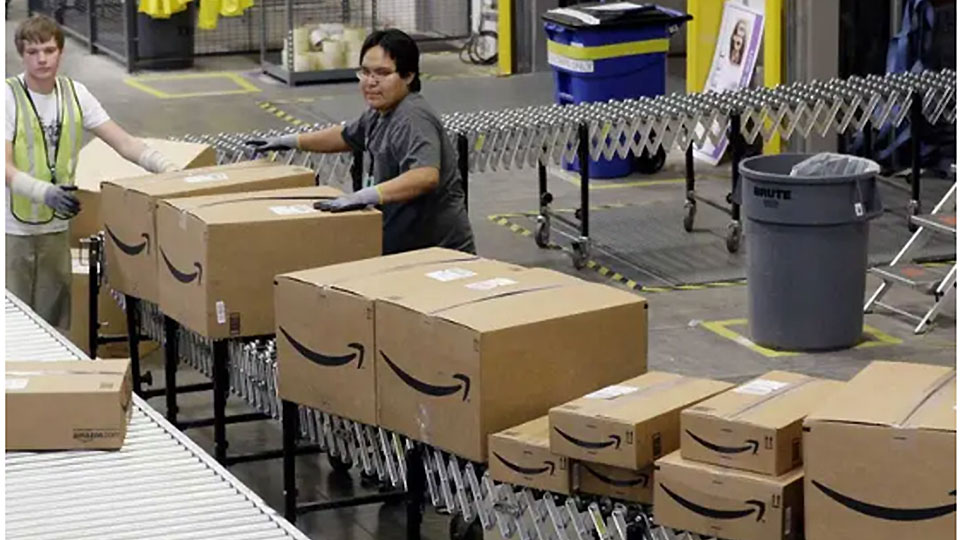 WASHINGTON—Calling it "an existential threat" not just to their union but to workers nationally, Teamsters convention delegates voted to spend unspecified sums of money to organize Amazon.
That was the biggest, but not the only, news that came out of the four-day virtual conclave in late June, forced onto Zoom by a coronavirus not yet finished with the people of this country.
The union will feature a traffic jam of contested races for top offices this fall, as both union President Jim Hoffa and Secretary-Treasurer Ken Hall are retiring. Delegates voted electronically to make Hoffa president emeritus for the rest of his life.
Teamsters for a Democratic Union, a group that has jousted against Hoffa's leadership for years—and whose presidential nominee almost beat him four years ago—is running a full slate of nominees for union offices, including the top spots and executive board seats.
And thanks to continuing provisions from the 25-year-old federal consent decree which former Democratic President Barack Obama finally lifted, all the top officers will be elected by popular votes. The only unopposed officers, whose elections the delegates ratified, are from Teamsters Canada.
In addition, the union's strike fund, which was virtually non-existent when Hoffa and the late Tom Keegel of Minnesota took over at the beginning of the 21st century, is now at $300 million, Hall reported.
And while he's retiring from the international union job, Hall will remain president of Local 175 in his native West Virginia, where he's led a long, now successful statewide campaign to bring big drug companies which flooded the state with opioids to justice.
The Teamsters reported a raft of new organizing wins, plus one merger. The executive board of the National Writers Union voted to leave the United Auto Workers and affiliate with the Graphic Communications Conference—the old Graphic Communications International Union—a Teamsters sector.
GCC President Kurt Freeman told his sector's convention, which preceded the main Teamsters convention, that NWU and the GCC started collaborating two and a half years ago and the relationship grew from there.
And the Teamsters for a Democratic Union claimed some constitutional wins. The notable ones were putting rank and file members on all bargaining committees and eliminating a provision that let the international union announce a new contract with a firm unless two-thirds of voting members rejected it. Hoffa had irked UPS Teamsters in 2018 by invoking it.
But the big news was the big union taking on the monster, Amazon, that is on the way to becoming the nation's biggest corporation. The union board has already named Randy Korgan as National Director for the campaign and it plans a special Amazon division.
They'll have interest to build on. Earlier this year, the smaller Retail, Wholesale and Department Store Union, a United Food and Commercial Workers sector, lost the union recognition vote at Amazon's big warehouse in Bessemer, Ala., following rampant company pressure, enormous Amazon spending on union-busters, and potential labor law-breaking.
But RWDSU's campaign brought Amazon's rampant abuses and exploitation of workers and suppliers out into the open for the world to see—and Amazon workers elsewhere started calling the Teamsters, organizing on their own, or both.
"Amazon workers are calling for safer and better working conditions and with today's resolution we are activating the full force of our union to support them," Korgan, Secretary-Treasurer of Local 1932 in San Bernardino, Calif., told the delegates, who represented the Teamsters' 1.4 million members.
No dollar estimates were given, and no goals of the organizing drive were set, but with Amazon business boosted—and owner Jeff Bezos' pockets lined with more billions of dollars—the monster retailer-warehouse-delivery giant added 500,000 workers in the last year alone.
The coronavirus pandemic produced that boom. Virtually the entire country turned to ordering goods online. But providing those goods drove Amazon warehouse workers into the ground and drove dozens of competitors—brick-and-mortar retailers ranging from high-brow Lord & Taylor to local hardware stores—into bankruptcy or closure.
Amazon's also looking to devour other industries, Ralph Sistos of Local 683 in Riverside, Calif., warned his colleagues on the convention zoom call.
"I keep hearing Amazon is looking to cross over into new industries. They're not satisfied with just dominating logistics. What will our communities look like if they continue their monopoly tactics?" asked Sistos, a Sysco worker. "I'm proud my union will do everything it takes to keep Amazon from succeeding in swallowing up just about everything. Everything we love about our country and our neighborhoods is at stake."
Hoffa agreed. "In my more than two decades of service" running the Teamsters, "I've yet to see a threat quite like the one Amazon presents to hardworking people, small businesses, the logistics industry, and our nation's middle class," he said.
Teamsters and their allies "stand together in solidarity with Amazon workers, and we commit our union's full support as they build worker power for a better future."
"There is no clearer example of how America is failing the working class than Amazon," the resolution committing the Teamsters to the organizing drive begins. "From its start as a book retailer, Amazon has grown to become an e-commerce giant and has disrupted industry after industry and displaced hundreds of thousands of jobs.
"In just a short time, Amazon has been able to use profits generated from its dominant positions in cloud computing and retail eCommerce–coupled with anticompetitive practices–to become a dominant actor in the last-mile delivery portion of the logistics industry," it adds.
That directly impacts the Teamsters because its own largest single employer is UPS, where it represents 250,000 workers. And it also represents drivers, mechanics, and other allied workers around the U.S. and Canada. All face competition from the Amazon behemoth.
Amazon, the resolution says, "exploits its employees, contractors, and employees of contractors via wage theft, fraudulent classification, intense production quotas, dehumanizing work environments, unsafe workplaces and production standards, low wages, high turnover, no voice on the job, lack of job security and outsourced jobs."
Amazon also has an injury rate in its warehouses that's double the industry average, according to the Teamsters' Warehouse Division. Amazon's lost-time injury record among its drivers was 7.9 per 100 the union said. There were 4.4 lost-time injuries per 100 transportation workers overall, federal data show. Amazon also retaliates and often illegally fires workers who expose its failure to protect warehouse workers against community spread of the coronavirus.
All that makes Amazon a top target for the Teamsters, delegates decided. But it'll also take "shop-floor militancy" from Amazon workers and "unquestioned solidarity from warehousing and delivery Teamsters" to overcome Bezos's billions. He spent $10 million a day on union-busters to help beat RWDSU at the 5,600-worker warehouse in Bessemer.
"We got a long road ahead of us with the Amazon," union organizer Jerrod Skelton told the Graphic Communications Conference convention that preceded the main confab. "But we have been working on it for quite some time. We're not out in the media…but we are talking to our membership and we are talking to workers. I think that's probably the most important part."
Like the Amazon workers in Bessemer, the 1,200 National Writers Union freelance writer-members, with the largest share in New York, were "looking for a way to better their working conditions," said Graphic Communications Conference President Kurt Freeman.
"They don't have contracts, but they have the same problems that, you know, that a lot of people have who don't have union contracts. And that's being treated fairly, getting paid fairly, and having a way to settle disputes."
The agreement involves "a small service fee they pay to us, and we are helping them out on legislative issues" and legal aid. The conference and NWU are also working on a Freelance Solidarity Project. And they've been tackling freelancers' qualms—fed by corporate propaganda—that they would get hurt by the Protect the Right to Organize (PRO) Act.
"The idea is to help them grow their organization to the point they will be able to become full-time members of the GCC…It's part of our mission to help people out, help them get better wages and conditions."