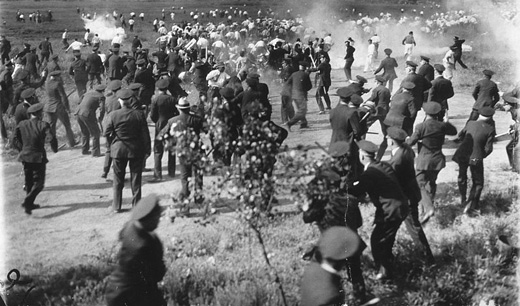 CHICAGO – Memorial Day in Chicago in 1937 was a hot, sunny day, perfect for picnics, the beach or a trip out to the park or the woods. Workers gathered in the field outside Republic Steel's Chicago plant were, in fact, picnicking. They arrived with their entire families in tow.
They were on strike but the strike was just a week old so people were not yet in the direst of straights. Kids rode on their fathers' shoulders, everybody was having a good time and the holiday atmosphere almost made people forget that bosses and police don't like big gatherings of workers, regardless of the reason for the gathering.
They gathered around Sam's Place, where they had set up a soup kitchen to hear some speeches. It was at Sam's place that food for the strikers was collected. The hot weather was relentless so everyone was glad when the vendors arrived with their ice cream and soft drinks. From time to time people broke out into song with "Solidarity Forever!" being the one heard most often.
And then they began their peaceful march to the plant, a third of the mile away from Sam's Place. Fathers carried their kids and women dressed in their Sunday best walked arm-in-arm with them.
Five hundred Chicago policemen stopped them with the captain shouting through a bullhorn: "You dirty sons of bitches, this is as far as you go!"
Two hundred and fifty yards from the plant the assault began. Cops armed with extra long clubs smashed them down onto the people's heads, into the groins of the men and onto the breasts of the women. Then the cops began pulling their guns out of their holsters.
"We have the right to picket peacefully," the women protested.
"You have no rights, you red bastards, you got no rights," the cops shouted back.
Children were screaming. Then came the tear gas, then grenades and then the awful gunfire. Bullets shot from the guns, bored through human flesh into the legs and the backs of fleeing men, women and children until 100 were injured and ten were dead.
Cops shrieked in excitement, running after fleeing workers, shooting them in their backs. When a woman tripped and fell, four cops surrounded her and smashed her face with their boots until the flesh was gone and only her facial bones were visible.
The police lifted dead bodies off the ground and threw them into vans already loaded with the injured and dying.
The horrific details are with us still today because a few brave souls caught snippets of the action on their cameras. The picnic ground was left a bloodstained field.
Today, 75 years later, the fight for workers' rights is still front and center. After occupying the state capital in Madison, Wisconsin last year workers may be on the verge next week of recalling a right-wing Republican Governor who pushed through a law to destroy the collective bargaining rights the families were demanding back then in 1937. There is no question on whose side Wisconsin's Gov. Scott Walker would have been had he been alive in 1937.
While Memorial Day is traditionally thought of as a day to remember our fallen soldiers, many in the labor movement would like to include fallen workers on that list. American history, they say, has also involved warfare between those who want to expand wealth and democracy and those who want to restrict both to a privileged few.
This incredible day in American history will be remembered on May 26th, 2012 at Chicago's George Washington High School, 3535 E. 114TH St., right where the massacre occurred, with a panel discussion at 10 a.m. and a "still fighting back rally" at 1:30 p.m., featuring Leo Gerard, president of the United Steelworkers of America.
The event, sponsored by the Steelworker's Organization of Active Retirees (SOAR), will also feature other labor leaders, elected officials, artists and academicians. And, of course, just like the event in 1937, there will be music, entertainment and food.
Photo: Wikimedia Commons: This file was provided to Wikimedia Commons by the National Archives and Records Administration as part of a cooperation project.