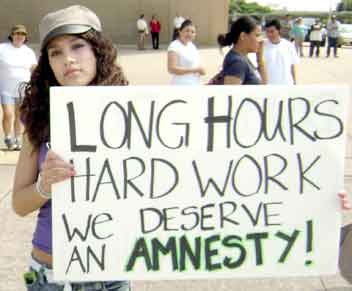 DALLAS — Workers in front of Bank of America here in Dallas on Tax Day, April 15, demanded that banks help pay to create the 11 million jobs lost as a result of the economic crisis created by the nation's large financial institutions.
That demonstration followed one only four days earlier in this city where 160 supporters of immigrant rights went on a "March for Hope" that winded its way through this city's downtown section.
Five hundred leaflets were given out to the noon time passersby at the bank. Cartoon figures on the leaflets said, "For 30 years, corporate CEOs and Wall Street speculators have put the squeeze on workers with globalization and union-busting. They used their rising profits to buy Congress, convincing them to hand out tax breaks to the rich and gut banking regulations and consumer protection. Then they invented unscrupulous mortgage and investing practices, turning Wall Street into their casino. When their speculation didn't pay off, they got Congress to bail them out to the tune of $15,000 for every household in America!
Two television cameras filmed the group as it chanted "Jobs Now!" and "Jobs Yes, Bankers No!"
City Councilman Steve Salazar and state Rep. Roberto Alonzo participated in the immigration march. Marchers said they expected that President Obama's administration would be able to bring about meaningful immigration reform before Congress ends its 2010 season.
Some of the Dallas marchers had attended the big immigrant rights demonstration in the nation's capital recently. Some of them are involved in the "Mega-March" committee that meets weekly in the Tejano restaurant and hopes, on May 1, to recreate the 500,000-person Dallas march of 2006.
Photo: Jim Lane/PW