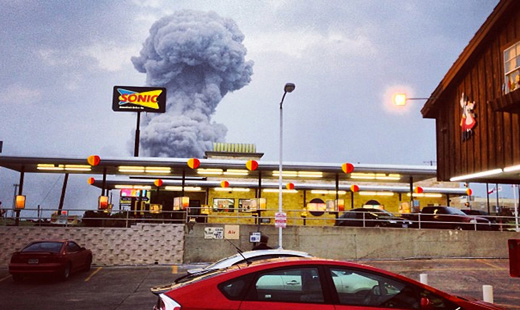 The tragic April 17 explosion at the fertilizer plant in West, Texas was, in part, a product of a severe lack of accountability and oversight by its company, West Fertilizer. The blast killed 14 people and injured at least 200, and it's no wonder: last year, the facility was storing 1,350 times the amount of ammonium nitrate that would typically draw concern from the U.S. Department of Homeland Security.
West Fertilizer was required to tell DHS about the abnormal chemical amount. It reportedly failed, however, to disclose that information. Fertilizer plants are required by law to disclose with DHS any amount of the substance that exceeds 400 lbs. Filings by the company this year with the Texas Department of State Health Services (but not DHS) reveal that the plant had 270 tons of it in 2012.
Ammonium nitrate can be used in bomb making, and, perhaps disturbingly, this plant stored more than 100 times the amount of ammonium nitrate used by domestic terrorist Timothy McVeigh in the 1995 Oklahoma City bombing.
Though DHS had the authority to carry out an inspection of the plant (followed by a potential fine or complete shutdown), it "only has a small number of field auditors" who do that, said plant owner Donald Adair. As there was no interaction between West Fertilizer and DHS, the latter was unable to assess the ammonium nitrate quantity and devise security and safety plans based on it.
Rep. Bennie Thompson, D-Mass., member of the House Committee on Homeland Security, remarked, "It seems this [company] was willfully off the grid. This facility was known to have chemicals well above the threshold amount to be regulated under the Chemical Facility Anti-Terrorism Standards Act, yet we understand that DHS did not even know the plant existed until it blew up."
Thompson shared the public's assessment that the explosion was caused when the ammonium nitrate was somehow set ablaze. "I strongly believe that if the proper safeguards were in place, as they are at thousands of DHS-regulated plants across the country, the loss of life and destruction could have been far less extensive."
This information came after the already-worrying revelation that the facility had not been inspected by the Occupational Safety and Health Administration in five years. And prior to that, it had run into other issues: it was cited in 2006 for not having a permit by the Texas Commission for Environmental Quality. It was also issued a $2,300 penalty by the EPA around that time for similar reasons.
Sam Mannan, director of the process safety center at Texas A&M University added, "This shows that the enforcement routine has to be more robust, on local, state, and federal levels. If information isn't shared with agencies, which is what appears to have happened here, then the regulations won't work."
"That's just a god-awful amount of ammonium nitrate," said Bryan Haywood, who owns a hazardous chemical consulting firm in Milford, Ohio. "As a former HAZMAT coordinator, that would have been a red flag for me."
Photo: A plume of smoke rises from the fertilizer plant explosion in West, Texas. Andy Bartee/AP