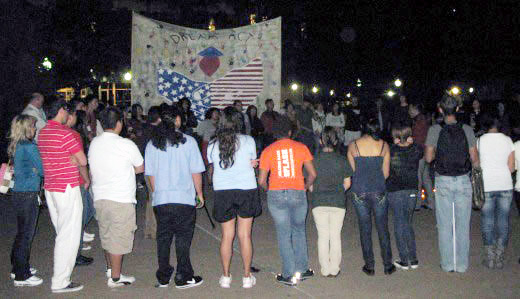 ARLINGTON, Texas – "Your voice is your power!" yelled student activist Emmanuel Faz to a crowd at the University of Texas campus here. The students met in front of the university library late in the evening Nov. 9 to show their support for the DREAM Act.
The DREAM Act would allow undocumented students to be able to legally find a job after graduating from college or serving in the military. The bipartisan bill offers a six-year path to citizenship for approximately 65,000 such young people, who have lived in the U.S. for most of their lives and want "nothing more than to be recognized for what they are, Americans," dreamact.info points out.
The UT students gathered around a poster where they each placed an imprint of their palm. Beneath, each wrote their name and a dream they hope to achieve. Most of the students were wearing red shirts and glow-stick bracelets. Later they later joined their bracelets together to symbolize the joining and cooperation that will be necessary to pass the DREAM Act.
A series of speakers addressed the crowd to give hope, and more importantly, to generate support for the bill and let people know how they can make a difference for the cause.
The DREAM Act was first introduced in Congress on August 1, 2001, and has since been struggling to be passed.
The bill lost by 900 votes last time, according to Emmanuel Faz.
The "Dream Team," an organization of student activists in North Texas working to help pass the DREAM Act, will be fasting for five days in order to gain media attention and the attention of Congress.
Nicole Ano Nuevo, a member of LULAC and a student at UT Arlington, says this is the last chance to get the DREAM Act passed, before the Republicans take control of Congress in January. She urges everyone to contact their representative and do their part to get this bill passed.
The event ended with the passing out of postcards that could be signed and mailed to congressional representatives.
Photo: Students gather to support the DREAM Act, Nov. 9, at the University of Texas in Arlington. (PW/Brandon Berrios)