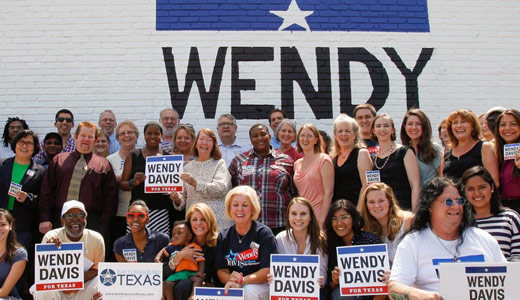 The Texas labor movement hit the streets across the "Lone Star State" this weekend campaigning for votes to elect Democrat, Wendy Davis, as governor, Leticia Van de Putte at lieutenant governor, and Sam Houston as attorney general.
Texas AFL-CIO President, Becky Moeller, praised Davis, a member of the Texas Senate, for her staunch defense of workers' rights including her call for an increase to $10.00 a hour in the state's poverty-level $7.25 an hour minimum wage. Moeller scoffed at "pollsters and prognosticators" who predict an easy win for Davis's Republican opponent, Texas Attorney General, Greg Abbott. "In our block-walks, we are finding union families are plugged in and understand the stakes in the election," Moeller continued. These union workers are determined to prevent a takeover of Texas by "the most radical, right wing Republican ticket ever."
Abbott opposes the minimum wage altogether reflecting the Texas GOP's call for abolishing the law aimed at easing the plight of workers who toil at near-starvation wages even as the wealth of Texas millionaires and billionaires skyrockets. "Texas has the highest percentage of minimum wage earners of any state—around 450,000 as of 2012—and many more Texans fall into the category of the 'working poor' because their wages barely exceed the minimum."
Davis became a popular hero in Texas and across the nation when she staged a filibuster in the State Senate in 2013 to block a vicious bill sponsored by Gov. Rick Perry that would have stripped Texas women of their right to choose an abortion. Her running mate, fellow Senator, Leticia Van de Putte, represents San Antonio in the State Senate. A pharmacist, she is the highest-ranking Mexican-American woman ever to run for statewide office in Texas.
During Davis's abortion-rights filibuster, male senators attempted to hog the limelight, talking loudly in an attempt to silence the women Senators. Finally, Sen. Van de Putte stood and in a loud voice demanded, "At what point must a female Senator raise her hand or her voice to be recognized over male colleagues?" The male Senators fell silent. But the crowd in the visitor galleries erupted in stormy applause.
Van de Putte is ending the campaign with a grueling statewide bus tour that took her to East Texas, the Rio Grande Valley and south Texas where many of Texas's Mexican-American voters reside. The population of Texas is now 40 percent Mexican-American and by 2030 is projected to be a majority Latino.
An official audit released in September, threatened to blow Abbott's campaign out of the water. Abbott, the audit disclosed, has been complicit in the secret disbursement to wealthy corporations of $172 million in taxpayer funds from the Texas Enterprise Fund overseen by Gov. Rick Perry. The money was being doled out to these corporations at the very time Gov. Perry and the Texas Republicans were ranting about "budget deficits" and demanding huge cuts in funding for education, health care, food stamps, and other lifeline programs that benefit the poor.
At a news conference, Sen. Wendy Davis said, "Greg Abbott used the power of his office to orchestrate a cover-up of the transfer of millions of dollars of taxpayer funds to companies who never even completed an application for the funds—blocking release of applications he knew didn't exist."
She added, "Mr. Abbott did not recover one dime of taxpayer dollars for the Enterprise Fund. Instead, he accepted more than $1.4 million in campaign contributions from the very taxpayer funded grant recipients he was supposed to be watching—-and helped hide the fact that hundreds of millions of our tax dollars were handed out without any oversight or accountability." She demanded that Abbott return these corrupt contributions to his campaign.
Abbott's spokesman dismissed Sen. Davis's charges as "grandstanding." But Abbott's connivance in this corrupt endeavor brings back memories of his fellow Republican, former House Speaker, Tom DeLay. DeLay was convicted and spent time in jail for handing out taxpayer-funded favors to oil companies, railroads, and other wealthy clients. Abbott may well follow in DeLay's footsteps.
Photo: Wendy Davis website.