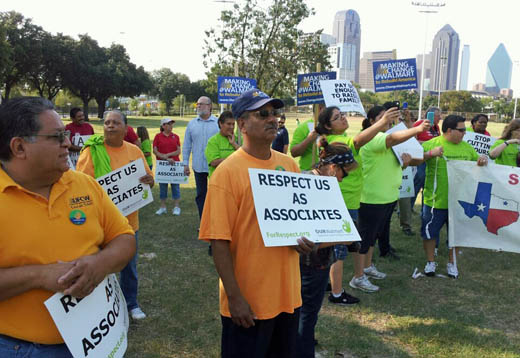 DALLAS – About 200 Walmart employees and their supporters gathered for a "Rally for Respect" in downtown Griggs Park here, Sept. 22.
Walmart, the largest employer in the world, has been dragging down everybody's wages and benefits, Texas state Rep. Roberto Alonzo told the crowd. Dallas City Councilman Steve Salazar said the Walmart organizing drive has tremendous importance for women and minorities.
A high point came when a Communications Workers member spoke. She said Verizon had fired her after last year's strike, but the tentative contract now being considered by the East Coast membership will restore her job and every job wrongfully taken away by the company during the long contract struggle. This union report was especially inspiring to the Walmart employees.
The Organization United For Respect at Walmart (OUR Walmart) worked for months to bring the rally to fruition. Their speakers were ordinary workers telling their own stories of low pay, low benefits, and general disrespect on the job at Walmart.
Supporters included Machinists, Communications Workers, Auto Workers, Food and Commercial Workers, Jobs with Justice, Labor Council for Latin American Advancement, and the Texas Alliance for Retired Americans.
Two television crews recorded the rally.
As the speaking ended, the entire group marched up the sidewalk to a nearby Walmart store. A small delegation went in while the rest walked slowly around the parking lot, then returned to Griggs Park. Rally organizers say to watch for a great deal more action in North Texas.
Photo: Texas Walmart workers rally in Griggs Park, downtown Dallas. Jim Lane/PW