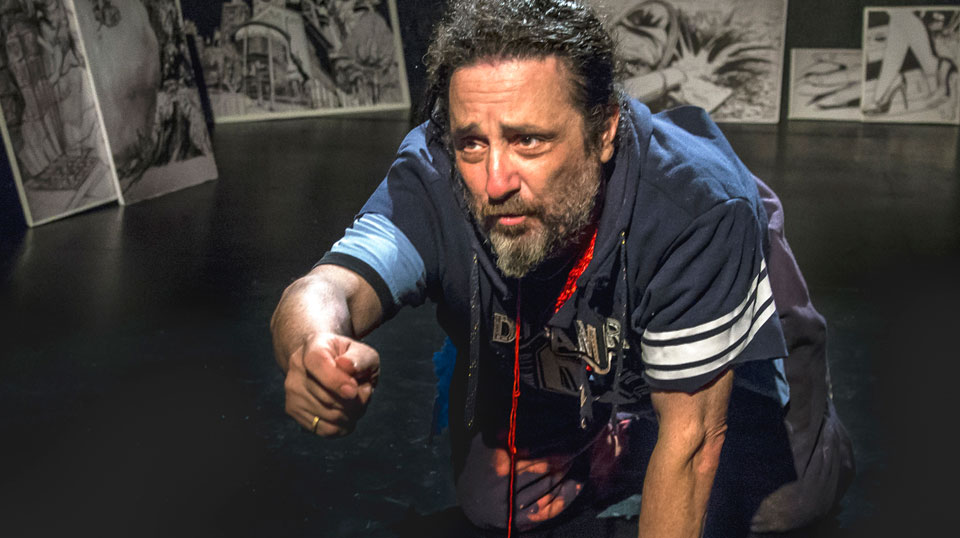 LOS ANGELES—There is no subject that is or should be off limits in the arts, but I am finding that more and more, in the age we live in, artists are turning toward socially relevant issues, and applying to older works a consciousness of the desperate need to effect thorough social change in what is becoming a self-evidently dystopian world. As they have done ever since the Greeks, artists are stepping up to open eyes, offer solutions, repair and make whole.
I was booked to see writer/activist Robert Galinsky's West Coast premiere production of his one-man, 60-minute play The Bench, A Homeless Love Story last Friday night, Oct. 5. That morning I picked up the Los Angeles Times and read up on what a couple of other artists here in L.A. have been up to, work that earned them MacArthur Foundation "Genius" fellowship prizes. Composer, conductor, pianist Matthew Aucoin, 28, whose works PW has reviewed in recent years, was quoted in the Times saying that he would give some of the grant money away: "I tend to think for as long as there are people starving anywhere, then we non-starving artists should be low on the totem pole."
The other surprise artist to receive a MacArthur is Los Angeles Philharmonic violinist Vijay Gupta, who joined our renowned orchestra in 2007 at the age of 19. Since coming to the city, he has immersed himself in providing uplifting concert music to Skid Row denizens and the incarcerated, and teaching indigent people music. He has organized the Street Symphony to perform for these invisible populations who would never be able to afford Walt Disney Concert Hall tickets. "We're not only in these places to perform but to build community," the Times quoted Gupta. "The role of the artist in today's world is not only to heal and inspire but to disrupt and provoke. One of the patterns that Street Symphony is disrupting and asking questions around is 'why should great art only happen at the concert hall?'"
New Yorker Robert Galinsky has a long history of volunteering at homeless shelters and jails, not only serving meals but teaching writing and performance to incarcerated youths at Rikers Island Jail. He works with homeless through the non-profits City Kids and Hearts of Gold and is a founding team member of the We Are Family Foundation and Nile Rodger's "Three Dot Dash" international peace initiative.
While he is in residency in Los Angeles, Galinski is volunteering for the Downtown Women's Center and juvenile organizations. In many ways he finds New York and L.A. quite different. L.A. is worse: "The level of tolerance is unbelievable." He also supports the Research Foundation to Cure AIDS and the Lollipop Theatre.
From the hundreds of true stories of people he has come to know through that work and in his neighborhood, he has compiled five homeless characters whose lives become entwined on and around a certain park bench that is the closest thing they have to what could be called "home." As he delves into their stories and peels away the gruff exteriors vulnerable people often adopt as a means of self-defense, we come to appreciate his unique perspective of life on the streets. He neither beautifies nor sanctifies his characters (four men and a woman). To the contrary, they are revealed in all their rough, brutal honesty, and abundant humor as well.
Several times Galinksi the writer will break out of his street roles, in a sort of reportorial Brechtian exposition, to explain how it arbitrarily came about that each one of these characters wound up on the street. For them, the safety net of family, friends, workmates, community and social services that many of us assume will always be there for us in the direst of circumstances simply failed. Any of us could be but one mistake or health crisis away from joining this underserved and still growing population.
His "POV is from the inside, a place that most of us have never been," says his director Jay O. Sanders, who helmed the Off Broadway world premiere of the play at New York City's Cherry Lane Theatre. "It's a wake-up call on a very visceral level." The play ran in New York for 30 weeks and is currently being shopped at streaming TV networks and services as a television series.
Rather than update the play and distort its language and topicality, Galinksy sets The Bench in the urban decay of a crumbling city during the early years of the AIDS crisis. Thirty years later, the viewer may well ask, how much has changed?
Daphne Arthur's evocative black and white drawings of urban life, taken from a graphic novel, establish the mood and tone before the actor ever appears. A bench with a pile of clothes on one side and a large paper bag on the other, are about the only other properties on stage. Intermittent disco tracks and street sounds (audio design by Deep Singh) help to define the era.
Galinski as well-spoken writer recalls the cool evening of October 5, 1987. In that year—with Ronald Reagan in the White House, the Commander in Chief who never once publicly uttered the word "AIDS" for the first seven years of his presidency as tens of thousands raced to their early graves—gas was 85 cents a gallon, Prozac came on the market, Fox News debuted, right-wing alarmists proposed an AIDS quarantine, the Pope visited the U.S. and embraced children with AIDS, as Princess Diana also did to affirm their humanity, and a future president's The Art of the Deal was released.
We meet Graveyard, nicknamed for the digging job he once held; JD, a former big rig driver whose road accident completely changed his life; Marky, the abandoned rich kid who never found a loving family until he encountered these caring street people; Lorraine, the working woman with AIDS who considers herself as good as dead; and Joe, the emerging Romeo who wants to create a steady life with Lorraine.
In but an hour's time we experience the dysfunctionality of society on the street, yet we also see times of sharing—a smoke, some food, some sexual favors. Through all the noise, confusion and banter, people do listen, they do hear and connect, and strive together toward transformation.
In that sense, as Galinski explained in the Q&A following the show, he promotes the term "people who are experiencing homelessness" rather than "homeless people," which would seem to communicate a permanent, essential characteristic to people who weren't necessarily born homeless and may not be in the future. We can only hope that the evolution of language actually parallels an evolution of attitude and action, and isn't just correct-sounding blather that masks continuing apathy. We hear a lot of that La-La talk in L.A.
Galinsky described how his play has grown and changed in 30 years. Originally, the roles were played by different actors, and there was no Lorraine (she was spoken of but did not appear). But audiences wanted to see Lorraine, so he introduced her; and perhaps for logistical and financial reason, he began to perform all the roles himself, including sometimes what seemed to be three-, four- or even five-way conversations. It was hard to tell as it all went by so fast. That is one of the problems with "tour de force" performances, as I have noted, for example, in the production seen here recently of Shaw's Saint Joan, whose 24 roles are assumed by only four actors. I don't fault such companies for their good intentions: If we had in this country anywhere near the support for the arts that other advanced societies provide, it likely wouldn't be as much of a problem.
Still, in the way Galinsky humanizes his characters and rescues their remarkable stories—and there are many thousands more out there—The Bench is a necessary play right now in the city with the largest population in the country of people experiencing homelessness.
The Bench, A Homeless Love Story plays through November 9 on Thurs. and Fri. at 8 pm at the Hudson Guild Theatre, 6539 Santa Monica Blvd.,  Los Angeles 90038. Tickets here or call (323) 960-7822. The play website is here.