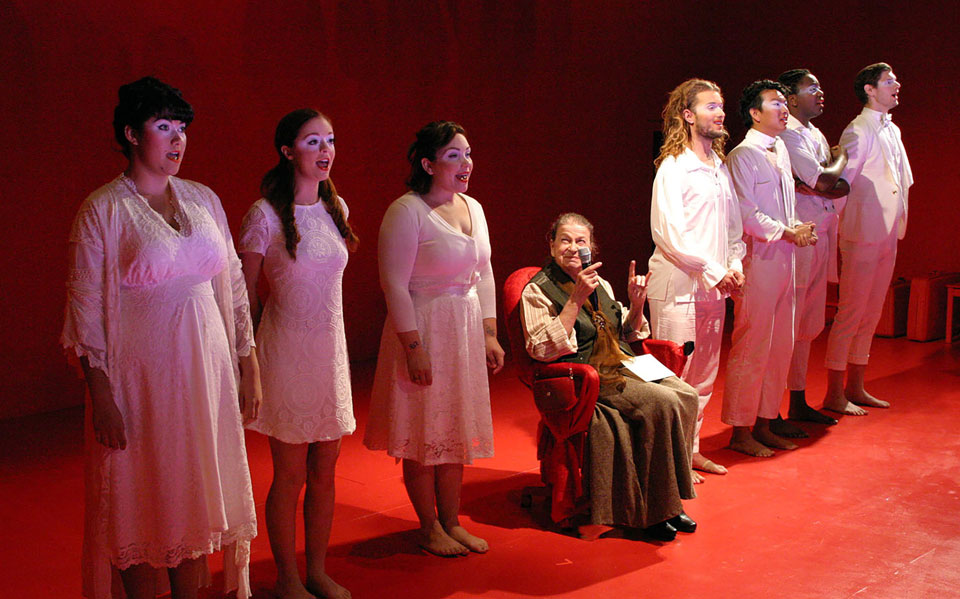 LOS ANGELES—"A rose is a rose is a rose" is perhaps the most quotable quote from pioneering openly lesbian American poet, playwright, novelist and opera librettist Gertrude Stein (1874-1946), who lived for decades in Paris with her partner Alice B. Toklas. Together they hosted a permanent salon for the artistic and literary intelligentsia at their famous address of 27 Rue de Fleurus in the 6th arrondissement on the Left Bank.
At the age of six, when her family moved to Oakland, Calif., in 1880, the city's population was under 35,000. In 1937, recalling her hometown, she could not have anticipated the vibrant city it has become when she wrote, "there is no there there"—her second most famous quote.
But there is far, far more to Stein's oeuvre that for many modern readers remains just out of reach—a little precious, self-conscious, "arty," nonlinear. Just over half a century ago, in 1967, an associate minister of the censorship-averse Judson Memorial Church in New York City's Greenwich Village who devoted much of his time to writing musicals and stage works that he promoted at the church, premiered In Circles. Rev. Al Carmines, a fascinating, highly creative gay man at the cusp of the gay liberation movement, adapted A Circular Play by Gertrude Stein for his experimental ensemble. If you are looking to add to your collection of instant Gertrude Stein quotes, how about this one, a tune from the show: "Papa dozes, Mama blows her noses."
That's just one of the delightfully quirky musical numbers from this Obie award-winning musical romp that L.A.'s Odyssey Theatre Ensemble's is presenting as part of its 50th Anniversary "Circa '69" Season of significant and adventurous plays that premiered around the time of the Odyssey's 1969 inception. People's World recently reviewed another installment in that series, Maria Irene Fornés's Fefu and Her Friends, which closes on Sept. 29. Ron Sossi, who devised this thematic season, is the founder and longtime artistic director of the Odyssey Theatre Ensemble.
Over the arc of an intermissionless 80 minutes, In Circles (seen Sept. 14) takes Stein's seemingly disconnected prose, with no storyline but based primarily on her pleasure at the way certain words sound together, and sets them to a splendid musical score featuring vaudeville, ragtime, tango, waltz, opera, hymns and anthems, barbershop quartet, jazz, cabaret, pop and other musical styles. The show became a landmark in the "over the top" gay theatre scene in New York of the late '60s. At the time, Newsweek critic Jack Kroll called it "a madly meaningful tea party which composer Al Carmines has turned into a gemlike operetta…. No one can set a tautology and a non sequitur to music like Carmines—and he captures perfectly that quality which makes Gertrude Stein sound like a metaphysical Molly Goldberg."
The present incarnation at the Odyssey, directed by David Schweizer, under fine musical direction by Kenneth J. Grimes, with poetic choreography by Kate Coleman, features an original off-Broadway cast member Jacque Lynn Colton. Off and on, over the Odyssey's five decades, Colton, now based in California, has appeared in such productions as The Threepenny Opera, Mother Courage and Her Children, The Caucasian Chalk Circle, Little Murders, Rhinoceros, Kvetch and Arsenic and Old Lace.
"For me, it is truly a 'circular' experience to be reunited with Gertrude Stein, Al Carmines and my wonderful memories of the New York production," Colton recalls. "The original was a unique collaboration between Al, director Lawrence Kornfeld, and the cast. We gathered in Al's living room with just 12 typewritten pages. We were encouraged to develop our own characters and to take any line we liked—if another cast member felt attached to that line, they could repeat it. We did it at the Judson Poets Theater for a while, then moved to the Cherry Lane Theatre where we ran for nearly a year. Everyone who does the show has to reinvent it according to who's in it and what the relationships are. This production is very creative, just as much so as the original. We have a very young, talented well-trained cast and they sing and dance deliciously. And this time, I get to play Gertrude Stein."
In the production we first meet Stein onstage seated as if in those classic portraits of her at home, solid, stolid, in a long skirt and mannish vest, holding a copy of her play and surveying the stage and theatre as the mistress of benign expression. Once the other actors come on, Stein guides them into place and into movement, pleased by the anarchic, uninhibited antics that her text generates.
Set designer Mark Guirguis stages the work on an almost completely carmine-colored set, including walls and floor, chairs and suitcases, offsetting the almost completely white outfits costume designer Ann Closs-Farley has given her barefoot performers.
Starring with Colton are the multi-talented, multi-racial actors/singers/dancers Henry Arber, Shelby Corley, Ashlee Dutson, Kyle Fuller, Chloe Haven, Aaron Jung, and P.T. Mahoney. Seated at the piano, accompanist Kenneth J., Grimes also folds himself into the mise en scène. Lighting designer Chu-Hsuan Chang provides mood and character to each "number."
A literary experimentalist by the year 1920, when A Circular Play was first published, Stein's esthetic shares much in common with the post-World War I Dadaists, who expressed in visual art, performance and the written word their outrage at the senselessness and violence of war. Freudian ideas were also much in vogue, so stream of consciousness entered the literary canon, the unconscious and unstated now becoming almost a character unto itself (James Joyce's Ulysses being a prime example, see also Marcel Proust and Virginia Woolf). The "minimalism" of Erik Satie's "wallpaper music" was in the air, and cubism, formalism, collage, and mechanical imagination came into view on museum and art gallery walls.
In Circles revels in the discovery of rhythms in words, the very genesis of music and poetry. It's easy to hear Stein's absurdist lyrics as harbingers of Edith Sitwell, Ogden Nash, the psychedelic beat poets, and Dr. Seuss. Later, rap and hip hop would also delight in the exuberance of post-modern reassemblage of words in rhyme.
Since there is a fair amount of repetition and echoing of words and phrases, the actors are able to indulge in that old thespian technique of stressing different words or even syllables to try varying the meaning. Which leads me into this not irrelevant diversion:
Rewriting the text
Insofar as Stein savored words for their sonic delight devoid of necessary meaning, she was among the precursors of what in the post-World War II era would be called the deconstructionist movement among philosophers and literary scholars. Now readers were invited to pick apart the text and discover or invent for themselves the meanings words hold for themselves—to "read between the lines" and tease out significance that the author likely never intended, to essentially rewrite the text.
It turned out that some of the leading proponents of deconstruction theory—I am thinking of the influential Belgian-born critic Paul de Man, for example—in their earlier years had been collaborationists with fascism, literally taking words, such as freedom, democracy, order, leaders, the state, and turning them into the opposite of what we understand them to mean in liberal democracy. In dark satires such as 1984 and Animal Farm, George Orwell showed himself as the undisputed master of decoding this process of double-speak in the service of authoritarianism.
Historians and activists are now getting accustomed to accepting that "heroes" are flawed creatures who can and must be admired for their positive achievements, but whose mistakes, misjudgments, bad behavior, and even crimes also cannot go unnoticed. Only in recent years have scholars begun to wonder, How was it possible that two Jewish American lesbians could have managed to live out the Second World War calmly and openly in occupied Paris or at their home in the countryside during the Vichy regime? Why were they protected and undisturbed? Just Google "Gertrude Stein in World War II" and a host of articles, commentary and book reviews will pop up by way of explanation.
So it might be said that Stein's highly personal use of language—deconstructing it, as it were, although that term would emerge only later—was an outer manifestation of an inability to stand by professed, ethical principles, to affirm the certain, undebatable meaning of words, even in dire times of war, fascism, and murderous anti-Semitism. Her class position as the inheritor of a family fortune allowed her the rarefied life of art patron, salon hostess, and writer who could never have sustained herself on her writing alone.
There is a moment, I believe in the number "How Old is America," in which the performers enact a sociable tea party. In the middle of it, a society lady for no discernible reason throws a cup of tea at Ollie, identified in the program as "an Englishman from England," the one, nattily-dressed African-American male in the cast. What was director David Schweizer thinking? The "Americanness" of rejecting British tea, perhaps? The old "American" habit of racism and exclusion? It was, for me, a troubling intrusion into the heady, fanciful verbalism of the musical. But perhaps it bears some connection to Stein's position of class and privilege that I have been speaking about.
Some theatergoers and readers will view the author's wartime behavior as so egregious and inexcusable that they would banish her from mind. By the same token, we would ban many, many (I hesitate to say most) of our great writers, actors, film directors, painters, composers, not to mention political and civic leaders. But what a crimped, claustrophobic world we would inhabit if we did not have the breadth of mind to appreciate the good and the beautiful alongside the dirty and ugly, and perhaps, if we set our minds to it, to learn something from it! The world is a complicated, contradictory place and always has been.
That said (and it would be irresponsible not to have said it), the very best spirit of inventiveness and freedom of speech that Gertrude Stein represented is on display now in a stunning performance that holds untold moments of unalloyed, albeit nonlinear pleasure. There's plenty of there there.
Performances of In Circles take place on Fri. and Sat. at 8 p.m. and Sun. at 2 p.m. through Nov. 10. Additional weeknight performances are scheduled on Thurs., Sept. 26, Weds., Oct. 16, and Weds., Oct. 23, all at 8 p.m. Discounted tickets are available at select performances for seniors, students, and patrons under 30; call theater for details. There will be three "Tix for $10" performances, on Fri., Sept. 20, Weds., Oct. 16, and Fri., Nov. 1. The third Fri. of each month (Sept. 20 and Oct. 18) is "Wine Night": Enjoy complimentary wine and snacks and mingle with the cast after the show. Post-performance discussions are set for Thurs., Sept. 26 and Fri., Oct. 4. Fri., Oct. 11 is "College Night" and includes a pre-performance student reception with themed catering as well as a post-performance discussion: $10 with valid student ID (use promo code COLLEGE). The Odyssey Theatre is located at 2055 S. Sepulveda Blvd., Los Angeles 90025. For reservations and information, call (310) 477-2055 or go to OdysseyTheatre.com.