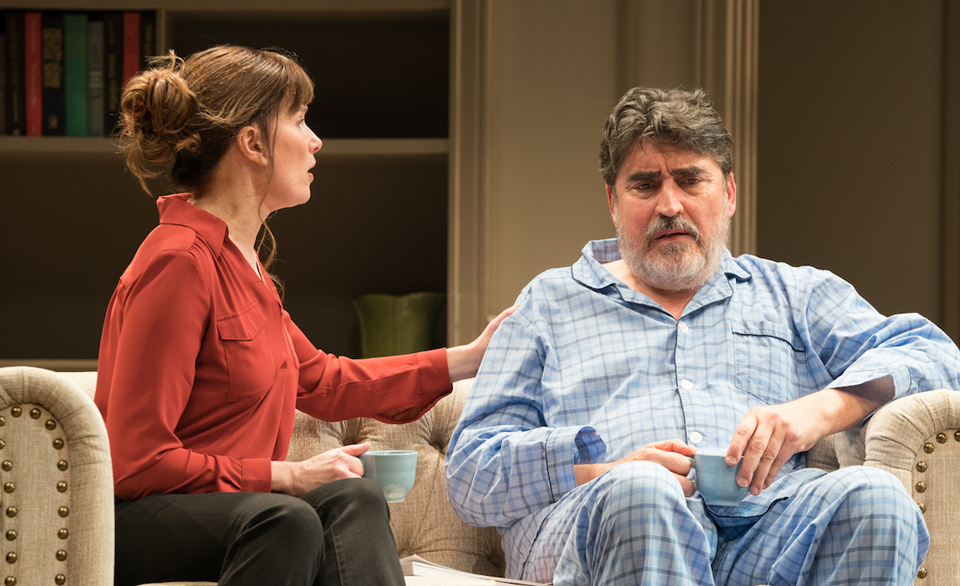 PASADENA, Calif.—Alfred Molina renders a devastating depiction of dementia in Florian Zeller's award-winning play The Father. Ably directed by Jessica Kubzansky, this one-act Alzheimer-palooza is staged in what is usually described as a "cinematic" way, with intercutting and perhaps even montage used to indicate André's (Molina) increasingly fragmented, confused perception of reality. The lighting and sound designers, respectively Elizabeth Harper and John Zalewski, adroitly enhance the loss of his bearings, with David Meyer's shape-shifting sets adding to André's sense of mental mayhem.
At one point race is effectively used for shock value—not in a cultural, ethnic sense but in a visual way that jolts the senses. André is also always looking for his watch, which he accuses caregivers and others of stealing as a convenient ruse to sack them, so he can maintain his ephemeral sense of independence. But in contrast to, say, Rolexes, André's watches are more akin to Salvador Dalí's melting timepieces, symbolizing the distortion of the passage of time.
Zeller is a French novelist and playwright who has won Molière Awards, Paris's highest theatrical accolade. In 2016 The Father was Tony-nominated for Best Play, while Frank Langella scored the acting Tony for his portrayal of André. Likewise, Kenneth Cranham won Britain's Olivier Award for Best Actor, while The Father was nominated for the Olivier for Best New Play in 2016. The venerable playwright Christopher Hampton translated Zeller's text from French into English.
Molina is one of those lovable thespians who always exudes a love of acting (unlike others like Marlon Brando who moan and groan about their art form). He knows he has a fab job, and obviously enjoys doing it, much to audiences' delight. The enormously talented Molina has an expansive range, stretching from his first screen role in Steven Spielberg's 1981 Raiders of the Lost Ark to Mexican mural artist Diego Rivera in 2002's Frida to Spidey's arch-nemesis Dr. Octopus in 2004's Spider-Man 2 to an opportunistic father in 2009's An Education, and so on. The London-born Molina has a gift for the screen and the stage, as well as for both drama and comedy. While this is his first full production at Pasadena Playhouse, despite his success in Hollywood and beyond, Molina is no stranger to L.A. theatergoers.
To be sure, The Father does have some humorous touches and moments. But ticket buyers beware, this is no rom-com, as Zeller's meditation on dementia can be quite distressing and disturbing, just as this disease is in real life. Like Shakespeare in King Lear and the last hour or so of Martin Scorsese's The Irishman, Zeller and his cast tackle a touchy, troubling topic, the negative effects of aging. It's certainly realistic, and Molina's memorable performance as a man struggling to keep his bearings, his dignity and to remain in control won't be forgotten when it's Ovation Awards time.
But audiences seeking escapist (notice I didn't say "mindless") entertainment should remember to look elsewhere. Losing one's mind and sense of self is no laughing matter (even if it has been played for laughs, as with Ruth Gordon's character in Carl Reiner's irreverent 1970 comedy classic Where's Poppa?). It's truly admirable that Zeller and Pasadena Playhouse are taking this disease out of the shadows and placing it in the limelight.
My one quibble is that Molina looks a bit too young to portray the aging André beset by memory loss and the onset of Alzheimer's (or whatever he's suffering from). His beard is gray but André/Alfred has all of his hair, which is more or less jet black. Nevertheless, his is a harrowing journey that takes us down a disintegrating path we'd rather avoid in our own lives.
The supporting cast seems to play different roles at different times, which only serves to heighten the sense of uncertainty, just as the rearrangement and departure of furniture cleverly do. NAACP Theater Award nominee Lisa Renee Pitts, who played Dr. Dre's mom in the 2015 NWA biopic Straight Outta Compton, co-stars as Woman; Robert Mammana is Man; Michael Manuel is Pierre; Sue Cremin is Anne; and Pia Shah plays Laura. Kubzansky adroitly directs her ensemble, as well as the mise-en-scène that creatively externalizes and expresses André's state of mind (or lack of).
Zeller may have the gift of prophecy: Today's America seems to be suffering from people dominating the public sphere who appear to be experiencing mental diseases and self delusion and a complete, total lack of self awareness. Molina takes us into that realm, but thankfully, for only 90 minutes or so. Be that as it may, as rough sledding as this challenging subject is, the main reason to see it is to get a chance to witness one of the greats, Alfred Molina, tread on the boards in the flesh, up close—if, perhaps, a bit too close and personal for comfort.
The Father is being performed through March 1 on Tues.-Fri. at 8 p.m.; Saturday at 2 and 8 p.m.; Sun. at 2 and 7 p.m. at the Pasadena Playhouse, 39 S. El Molino Ave., Pasadena 91101. For tickets and more information, call (626) 356-7529 or go to the company website.
Pasadena Playhouse—"California's Official State Theater"—partnered with Alzheimer's Los Angeles for this show. At 3:30 p.m. on Sat., Feb. 22, it is hosting a free and open to the public conversation with Alzheimer's expert Dr. Stephen Aisen.