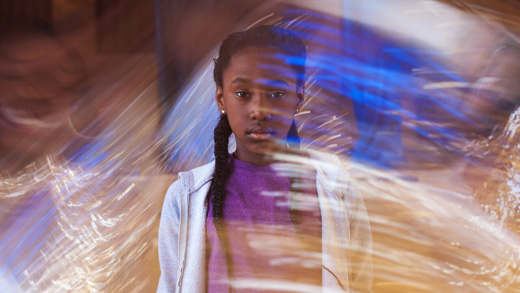 It feels like a bit of a spoiler to quote director Anna Rose Holmer from a statement issued to the press weeks before the release of her new film, but nevertheless:
"At its heart, The Fits is a meditation on movement as seen from the perspective of adolescent girls. The film explores the particularly young female phenomenon of mass hysteria, also known as mass psychogenic illness. The rapid spread of symptoms affects members of a cohesive group whereby physical ills have no corresponding organic cause. The Fits juxtaposes the precise, powerful, and intentional movements of drill with subconscious, spontaneous, and uncontrolled movements of collective hysterics."
I had thought, watching the film, that the "diagnosis" of mass psychology would be more left to the viewer's discretionary interpretation: It certainly crossed my mind as the incidence of hysterical events multiplied, and as the "drinking water" explanation was ruled out. But there it is, out front, and even shouted in the very title. I wonder if that detracted from the more important coming-of-age story in which "the fits" are no more a part, finally, than young girls' oft-noted reactions at Frank Sinatra or Beatles concerts – not the defining character of their identity. (By contrast, there are other variations on "fits" that have much greater social valence, such as the trances, possessions, seizures and talking in tongues that sometimes occur in religious ecstasy.)
The adolescent girls who occupy the center of this film are members of a competition dance ensemble at a gymnasium at the Lincoln Community Center in Cincinnati's West End, where the boys in their peer group box and participate in other sports. Toni, played by the naturally talented and expressive Royalty Hightower, is only 11 years old, but by the end of these quirky 72 minutes, she has grown years in stature as the newest recruit to the Lionesses Dance Team, thoroughly prepped with all her moves down solid, costumed to thrill, and ready for the big parade. Ms. Hightower will certainly be heard from again.
It's her older brother, beginning the film as her boxing coach, who encourages her, saying, "The only way you can lose a fight is if you don't get in the ring."
The Fits is a community-based experiment in film, with real kids from the neighborhood as actors. It seems like one hip-hop step away from a documentary, leaning strongly toward the cinema verité aesthetic. Much of the dialogue is recorded as though from across the echoey gym, and spoken not like lines rehearsed from a script but as everyday dialogue patched together from hours of filming to create a through-line.
The gritty Cincinnati urban environment is presented as though it's going to be a significant player. Much use is made of a depressing highway overpass, on which athletes build up their quads running up stairs and dancers strut their energetic routines. Grim housing developments loom in the middle distance, but I did not notice any scenes set inside the homes of the characters. We know that the dance group was initially established in order to give young kids a healthy alternative to the crime and grime of their growing-up years, but we don't see much of what's going on in the larger world around them. We neither see them at school nor even meet their parents.
Toni spends a lot of her time observing the behavior of the older girls at the center through windows and doorways and studying her own features in mirrors and reflections – this may be typical of girls that age. But in such a short film, that kind of time-consuming introspection seemed to take away from our wider-angle view of her environment. I felt we could have been offered more than the few milestones of maturation, like "the fits," that Toni negotiates in her individual way.
If Toni is a quiet, almost affect-less girl trying to find her confident self in the world, her friend Beezy (Alexis Neblett) is effervescent and joyful, a sweet counterpart to Toni. One gets the impression these two will remain important pillars for one another as life unspools.
"Making a micro-budget film on an accelerated timeline has been a gift to me as a first-time director," Holmer says. "The objective of the Biennale [Cinema College] initiative was clear: Pitch a film that could be developed, written, produced, edited, and premiered in under a year…and with a budget of only 150,000 euros (roughly $163,000). From the moment of conception, we designed The Fits around those constraints."
As a dance-centered film, The Fits ends up being as much anthropological as dramatic. In fact, Holmer's two key collaborators – Lisa Kjerulff, producer and co-writer, and Saela Davis, editor and co-writer – both come from a background in documentary film. The choreography by Mariah and Chariah Jones is exciting (maybe a few more punching gestures than necessary) and the cinematography by Paul Yee is sensitive. I came away from it underwhelmed by the thin story for a narrative, even as I understand the limits under which Holmer was working. Still, my personal reaction aside, I hope that this film finds its audience.
The Fits received its world premiere at the Venice International Film Festival 2015, and its North American premiere at the Sundance Film Festival 2016. It opens on June 3 in New York and June 10 in Los Angeles.
Photo: Royalty Hightower in "The Fits."