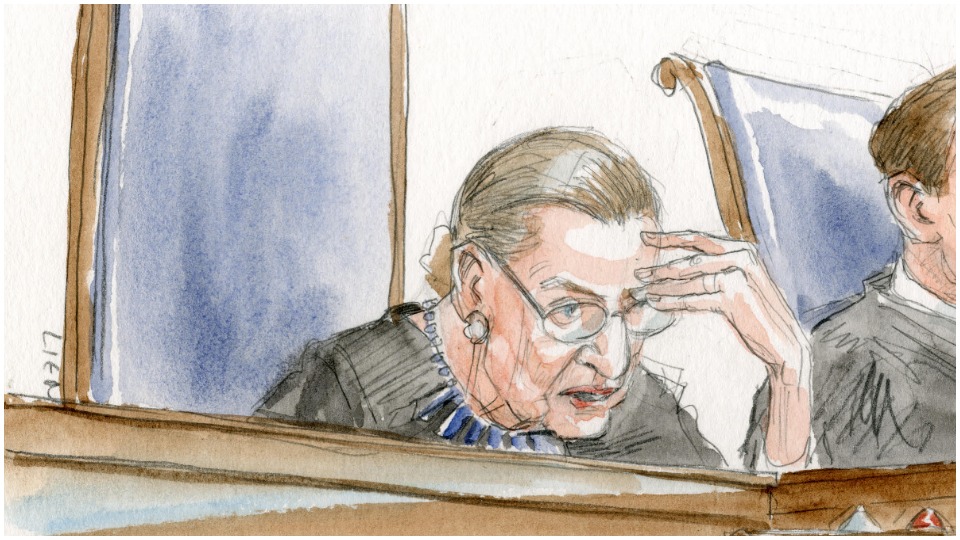 LOS ANGELES—In July of this year, Supreme Court Justice Ruth Bader Ginsburg announced that she intended to serve "at least five more years." By that time she would be 90, the same age that her senior colleague John Paul Stevens retired.
The liberal Justice RBG, as she is familiarly known, is the object of what can fairly be described as a cult of admiration and near-worship. Her fans are urging her to stay on the Court at least until a Democratic president retakes the White House, and it seems that she is listening.
Other signs of the cult are the 2015 book Notorious RBG: The Life and Times of Ruth Bader Ginsburg, by Irin Carmon and Shana Knizhnik, and the 2018 documentary film RBG. Toward the end of this year a new feature film On the Basis of Sex, based on RBG's life, will arrive in movie theatres, written by her nephew, Daniel Stiepleman.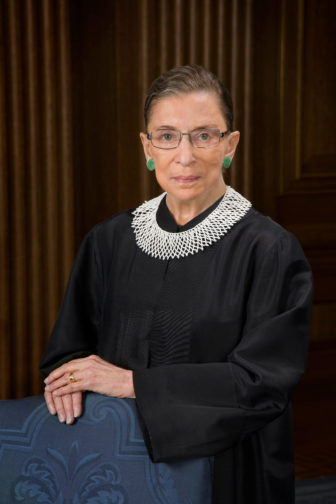 Now a new traveling exhibition with the same name as the book has debuted at this city's Skirball Cultural Center. On view now through March 10, 2019, the exhibition will travel to several U.S. cities through 2022. An original costume designed by Isis Mussenden and worn by Felicity Jones as the young RBG in the forthcoming film is among the many items on display.
Ginsburg was nominated by President Bill Clinton in 1993 to replace the retiring Byron White.
The "notorious" part comes by way of comparison with the late Notorious B.I.G., the outspoken rapper from Brooklyn, where RBG was also born and raised. Part of her drive for equality before the law come from her early life. As she recalled in her Supreme Court confirmation hearing in 1993, "I have memories as a child, even before the war, of being in a car with my parents and passing…a resort with a sign out in front that read: 'No dogs or Jews allowed.'" The Senate confirmed her by a vote of 96 to 3.
Until now there has likely never been a U.S. Supreme Court Justice celebrated by a comprehensive touring retrospective of a life and career in the law.
The exhibition marks 25 years since her appointment to the Supreme Court bench, with an engaging and often entertaining, yet rigorously informative look at RBG's life and work. In particular, viewers can amply appreciate the efforts she made to protect civil rights and expand equal opportunity for all Americans.
"With so much at stake on the Supreme Court, we encourage visitors to explore the American judicial system through the lens of one of its sharpest legal minds," says Skirball curator Cate Thurston, who developed the exhibition in partnership with the book's authors, Irin Carmon and Shana Knizhnik.
An overriding theme throughout the meticulously planned and organized display of original artifacts, photos, didactic panels and media stations is to show, under the rubric "What Was at Stake," how the legal cases and decisions in which RBG took part impact everyone.
Visitors to the exhibition owe it to themselves to plan spending at least a couple of hours there. It includes a number of little environments of key places in RBG's life, each one in a different coordinated color scheme to set it apart from the rest of the show. We see a re-creation of the living room in her childhood Brooklyn apartment, where visitors can flip through the Nancy Drew girl detective novels Ruth Bader loved reading, among other items, and get a feel for her modest Jewish upbringing. I asked the curator why the bookshelf was filled with red books, wondering if that was some kind of political hint, but no, it's just the color scheme for that display.
We also see the kitchen in RBG and her husband Marty's home, featuring some of his favorite recipes and cooking utensils. He was the primary cook in the family, only one of many testimonies to their shared belief that men can be true partners in the struggle for women's emancipation. "I think that men and women, shoulder to shoulder, will work together to make this a better world," RBG has said. In many instances, the cases she chose to argue pointed up the negative effects of sexism on men, only to show how laden with prejudice and gender-based assumptions our laws could be. She personally experienced discrimination as a Jew, as a woman and as a mother.
Another environment is the desk she sat at in Oklahoma when Marty was serving in the military. She had a job at the Social Security Administration, where she soon saw that benefits were being denied to people without proper identification papers. She understood that clearly as a means to exclude Indians who were never issued birth certificates. She accepted even a fishing license as adequate ID in such cases. She also soon found that her grade (and salary) were dropped as soon as the SSA learned that she was pregnant. Echoes of her concerns about benefits and voting rights resound to this day, where in North Dakota new voter regulations insist on a street address when it is well known that Indians on reservations often do not live on "streets." Those newly excluded voters, most of them Democrats, amount to 5 percent of the state's voter rolls.
At the re-creation of the Supreme Court bench, visitors can dress up in a robe and jabot (the lace collar RBG wears),  and imagine making their own opinions heard. We also can sit at a model of the desk in her chambers, where visitors can view the 2018–2019 Supreme Court calendar and grasp what sorts of cases will be decided by the justices in the near term.
One display cabinet contains three mail carrier hats to help illustrate one of RBG's early cases. Men were issued a cap with a sun visor, while women could choose between a beret and a pillbox, neither of which provided any eye-glare protection. She won that case, showing the thoughtlessness and irrationality of sex-based discrimination.
All phases of RBG's life are covered—her varied roles as daughter, student, life partner, mother, lawyer, law school professor, judge, women's rights pioneer, and Supreme Court Justice, not to mention beloved cult figure. Each of these phases is well illustrated, by yearbooks, home videos, copies of school papers and editorials she wrote, audio of speeches and legal arguments, and official portraits of RBG and Sandra Day O'Connor, the first two women to serve on the Supreme Court, on loan from the National Portrait Gallery. Today RBG sits on the Court with two other women, Elena Kagan and Sonia Sotomayor, although for four years, after O'Connor's retirement, she was the lone female.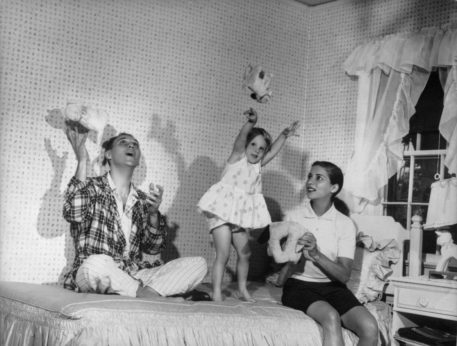 Ten listening stations allow visitors to hear RBG's delivery of oral arguments, majority opinions, and forceful dissents in landmark Supreme Court cases such as United States v. Virginia, the case that abolished male-only admissions to the Virginia Military Institute; Bush v. Gore, the fateful 5-4 decision that awarded the 2000 U.S. presidential election to George W. Bush; Ledbetter v. Goodyear Tire & Rubber Company, regarding pay discrimination toward women—that case was lost at the Supreme Court but was taken up by Congress as the Lilly Ledbetter Act, becoming the first legislation Barack Obama signed into law; and the influential 1975 case of Stephen Wiesenfeld, a widower who had been denied his late wife's Social Security benefits because only widows, not widowers, were eligible to receive them. As head of the ACLU's Women's Rights Project, RBG successfully argued that case before the Supreme Court, which concurred that the gender-based distinction violated Wiesenfeld's right to equal protection under the law.
One of the most disastrous Supreme Court decisions in recent years was Shelby County v. Holder (2013). Section 5 of the landmark 1965 Voting Rights Act required states with a history of voting discrimination to receive approval and pre-clearance from the federal government before putting in place rules that could make it harder for minorities to vote. In Shelby the court voted 5-4 to strike down pre-clearance. In his majority opinion Chief Justice John Roberts said the provision was no longer needed. "Any racial discrimination in voting is too much," he declared sanctimoniously, "but our country has changed in the last 50 years."
In her ringing dissent, RBG compared getting rid of pre-clearance to "throwing away your umbrella in a rain storm because you're not getting wet." She quoted Martin Luther King Jr.'s famous dictum, "The arc of the moral universe is long, but it bends toward justice," and added, "if there is a steadfast commitment to see the task through to completion. That commitment has been disturbed by today's decision." We have seen the destructive swath strewn across our electoral process in almost every election since, which of course was the intent of the decision. Yes, there is election fraud in this country, and it comes directly from the highest court in the land!
Among RBG's virtues is her eagerness to acknowledge collaborators and mentors in her thinking. The exhibition contains a generous tribute to legal theorist and theologian Pauli Murray, whose writings and activism around both gender and race were strong influences, as were those of future Supreme Court Justice Thurgood Marshall.
RBG is known to be a major opera fan. In 2016 the Washington National Opera surprised its audience by featuring her in a cameo appearance as the Duchess of Krakenthorp in Gaetano Donizetti's The Daughter of the Regiment at the Kennedy Center. The costume she wore in the role is on view at the Skirball. A video can be viewed here.
Accompanying all the historical material is a small collection of RBG-inspired art by artists such as Maira Kalman, Roxana Alfer Geffen, and Ari Richter.
Following its debut at the Skirball, Notorious RBG will go on a national tour over the next four years. Venues and dates will be announced as they firm up.
Now that she forms part of a clear minority on the bench, with five confirmed right-wingers poised to roll back many of the gains Americans believed they had secured over the last century and a half, her presence on the Supreme Court will be more critical than ever. Her dissenting voice will undoubtedly be heard more often, and the "dissent" collar she wears to indicate her stance will be more frequently seen. The day will come when those dissents will stand as the shining conscience of America during a reactionary time when the Court turned the historical clock backward. As curator Cate Thurston says, "There is no neutral voice in history."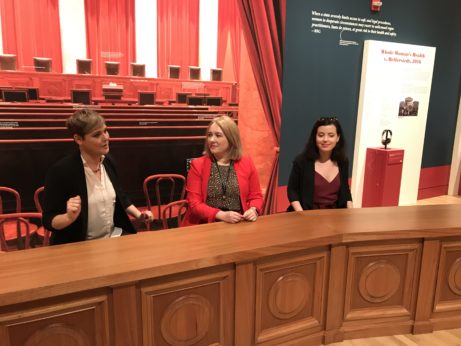 Related to the exhibition are several special events:
Fri., Nov. 2, 6-10 pm, Visit the show, plus enjoy a DJ set by dublab's Mamabear, food trucks, a cash bar, and more.
Sun., Nov. 4, 7:30 pm, see the film RBG, with a Q&A with filmmakers Julie Cohen and Betsy West.
Sat., Dec. 15, 7-10 pm, a free Teen Night (grades 9–12), for high school-age fans to view the exhibition, watch the documentary RBG, make "righteous" art work, and enjoy refreshments.
Sun., Jan. 13, 7:30 pm, composer and soprano Patrice Michaels performs "Notorious RBG in Song" with a celebratory concert that includes her nine-song cycle, "The Long View." Written in an engaging and lively jazz-meets-classical style, it illuminates key aspects of RBG's personal and professional life through letters, remembrances, conversations, and even court opinions. Songs by Vivian Fung, Stacy Garrop and Lori Laitman add dimension to the musical portrait of RBG, and the aria "You are Searching in Vain for a Bright-Line Solution" from Derrick Wang's opera Scalia/Ginsburg provides a spectacular and hilarious finish to the evening.
Other programming can be found on the Skirball website.
The Skirball Cultural Center is located at 2701 N. Sepulveda Blvd., Los Angeles 90049. For further information you may call (310) 440-4500.