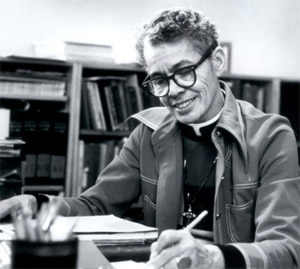 Anna Pauline Murray (1910-1985), African-American civil rights activist, lawyer and theologian, and an acknowledged lesbian, will soon lend her name to one of two new residential colleges at Yale University in New Haven, Conn. The other will bear the name of Benjamin Franklin. Murray adopted the name "Pauli" to make her persona more gender-neutral.
Pauli Murray is a Yale alumna ('65 Doctor of Juridical Science – J.S.D., '79 Hon. Doctor of Divinity – D.Div.) noted for her achievements in law and religion, and for her leadership in civil rights and the advancement of women. She graduated from Hunter College in 1933 and later began an unsuccessful campaign to enter the all-white University of North Carolina.
Murray was an early leader and foot-soldier of the civil rights and women's movements. In these struggles, she stood at the vanguard of history, speaking and acting when her views were unpopular and often dangerous. She worked for tenant and sharecropper rights; led early sit-ins to desegregate public eating establishments in Washington, D.C.; trained others in the methods of nonviolent civil disobedience; helped organize the March on Washington movement; initiated two different campaigns to integrate universities; and refused to succumb to Jim Crow law.
During the Great Depression, she rode the rails dressed as a man until she found employment with the Works Progress Administration. She met Eleanor Roosevelt when the first lady visited the work camp where she was assigned. Murray refused to stand when Roosevelt entered the room, an infraction that earned her expulsion from the camp. But even in that bit of youthful impetuosity, she attracted Roosevelt's attention and laid the groundwork for their future correspondence and a deep, lifelong friendship.
Murray bridled at segregation in all its forms. In the 1940s, while riding a bus to visit her aunt in Virginia, she and her friend were arrested for seeming to defy Jim Crow conventions on a Greyhound bus. Jailed in Petersburg, Va., Murray drew on a vast network of friends and colleagues, including Eleanor Roosevelt, for help. She hoped that her arrest would lead to the courts and allow her to challenge segregation. Yet despite initial assistance from the NAACP, her case did not become a springboard for challenging the constitutionality of "separate but equal." Instead, she and her friend served their jail sentences. The NAACP had felt nervous about her "maverick" tendencies and questioned her gender and sexual identity.
As a law student at Howard University, she organized and led sit-ins aimed at integrating whites-only eating establishments in Washington, D.C. Although the sit-ins were successful in forcing some establishments to serve African Americans, the Howard administration demanded that the students end their demonstration. White newspapers refused to cover the protests, and this early use of nonviolence was mostly forgotten until it became one of the hallmarks of the civil rights movement fifteen years later.
A graduate of Howard Law School, Murray had an extraordinary legal career as a champion of racial and gender equity. United States Supreme Court Justice Thurgood Marshall cited her book, States' Laws on Race and Color, for its influence on the lawyers fighting segregation laws. President John F. Kennedy appointed her to the Committee on Civil and Political Rights of the President's Commission on the Status of Women.
Awarded a fellowship by the Ford Foundation, Murray pursued a doctorate in law at Yale in order to further her scholarly work on gender and racial justice. She co-authored Jane Crow and the Law: Sex Discrimination and Title VII, in which she drew parallels between gender-based discrimination and Jim Crow laws. In 1965, she received her J.S.D. from Yale Law School, the first African American to do so. Her dissertation was entitled, Roots of the Racial Crisis: Prologue to Policy. Immediately thereafter, she served as counsel in White v. Crook, which successfully challenged discrimination on the basis of sex and race in jury selection. She was a cofounder of the National Organization for Women.
Murray was a vice president of Benedict College in Columbia, S.C., in 1967-68, but left to become a professor at Brandeis University, where she earned tenure and taught until 1973. She was the first person to teach African-American studies and women's studies at Brandeis. In 1971, she was named Louis Stulberg Professor of Law and Politics at Brandeis, becoming the first person to hold the chair named for the president of the International Ladies' Garment Workers Union.
The final stage of Murray's career continued a life marked by confronting challenges and breaking down barriers. At age 63, inspired by her connections with other women in the Episcopal Church, she left Brandeis and enrolled at the General Theological Seminary. She became the first African-American woman ordained as an Episcopal priest.
As she told her protégés during training for the sit-ins in the early 1940s, "No matter what happens to you temporarily, whether you are served in a restaurant, or go to prison, or get slapped down, the resources of human history are behind you and the future of human society is on your side, if there is to be any human society in the future. You have nothing to lose and everything to gain."
Pauli Murray authored two memoirs, Proud Shoes: The Story of an American Family and Song in a Weary Throat: An American Pilgrimage. Murray also wrote The Constitution and Government of Ghana, and a collection of poems, Dark Testament and Other Poems.
Sarah Azaransky's 2011 biography is The Dream Is Freedom: Pauli Murray and American Democratic Faith. The recently published book by Patricia Bell-Scott, The Firebrand and the First Lady: Portrait of a Friendship: Pauli Murray, Eleanor Roosevelt, and the Struggle for Social Justice (2016) has been well received in the LGBT media, and pronounced a "tremendous book" by the New York Times.
Her papers are located at the Radcliffe Institute at Harvard University, Duke University, and the University of North Carolina at Chapel Hill.
Adapted from Peter Salovey, "Decisions on Residential College Names and 'Master' Title" (email to Yale alumni, April 27, 2016), and a Yale University communication on the announcement here.