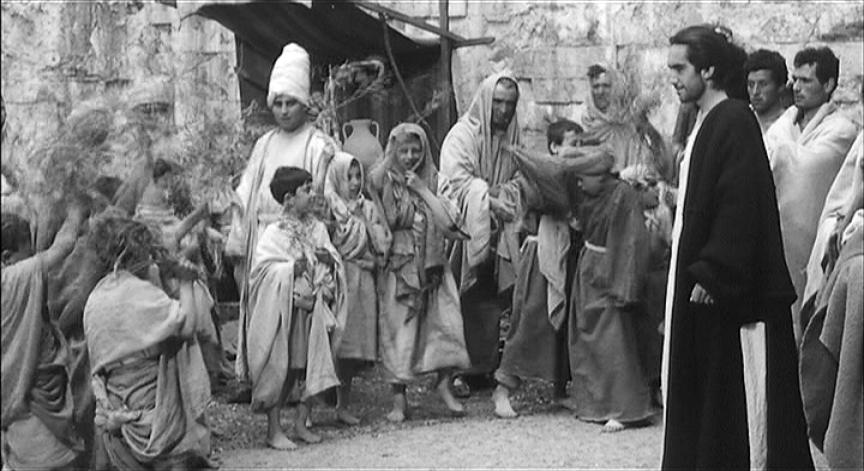 LOS ANGELES—This city's Marx @ 200: The Marxist Movie Series, commemorating the bicentennial of Karl Marx's birth by screening films by and/or about Marxists, finishes off the year with a seasonal offering.
Gay Italian Communist Party member Pier Paolo Pasolini's 1964 film The Gospel According to St. Matthew uses a "you are there" documentary style to depict a "liberation theology" Jesus of Nazareth (Enrique Irazoqui). Nominated for three Oscars and winner of the Venice Film Festival's Special Jury Prize and OCIC Award plus nominated for the Golden Lion, this Marxist vision of Christ is the perfect picture for celebrating the true spirit of Christmas (for we all know Jesus was a proto-communist revolutionary, right?).
The script largely follows the New Testament text, focusing on the teachings of Jesus, including his parables, and on their revolutionary nature. As he continues his ministry around the Sea of Galilee, he gathers followers and eventually comes into direct conflict with the authorities. Pasolini reportedly chose Matthew's Gospel over the others because he had decided that "John was too mystical, Mark too vulgar, and Luke too sentimental."
The screening takes place on Thurs., Dec. 27. Doors open at 7:00 pm, and the program starts at 7:30 pm. Celebrating both the end of the year and the end of the film series, guests are invited to bring a contribution to the potluck dinner. Film historian/critic Ed Rampell introduces the 142-minute film, followed by Q&A. In addition he will host a short "contest" (with no prizes!) to determine the audience favorite among the ten films shown throughout the bicentennial year.
The film showing takes place at the L.A. Workers Center, 1251 S. St. Andrews Place, Los Angeles 90019 (near the intersection of Pico and Western, accessible only from Pico). A donation is requested.
For the complete schedule of the past year's screenings see here.