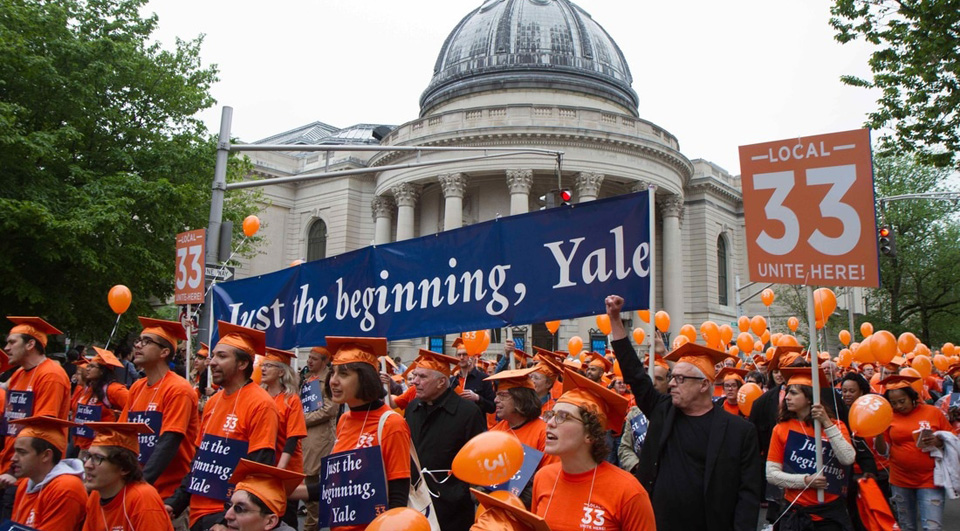 CAMBRIDGE, Mass. – Despite the cold and uninviting rain which fell on hundreds of union and community members marching in solidarity with the UNITE HERE Local 26 Harvard dining hall workers' strike, the seeds of a possible revival of the labor movement were clearly germinating.
Instead of the mills of Lawrence, Lowell and factories of Hartford and New Haven, however, this new labor movement is organizing on the privileged lawns of Harvard and Yale, and in the cafeterias, hotels and hospitals of the 21st century.
With the help of labor unions all over New England, including UNITE HERE locals 33, 34 and 35, Teamsters Local 25, the Harvard Student Labor Action Movement (SLAM) and many other groups, the once seemingly powerless dining hall workers were able to take down Harvard University's $36 billion Goliath. The 750 union dining hall employees won across-the-board-wages of about $35,000 annually, as well as a concession by Harvard to not raise the rates of health insurance for the new five-year contract.
The Harvard dining hall workers' victory might seem small, but it was the first time in 30 years that anyone had dared to strike against the oldest and best endowed Ivy League school in America.
Another important part of the UNITE HERE, Local 26 victory was the impressive solidarity shown by its sisters and brothers from Connecticut-based unions.  This past May, Boston area activists and labor unions were able to return the favor by participating in the immense demonstration supporting the Yale graduate student union, UNITE HERE Local 33, during Yale's commencement ceremonies.  In what appeared to be one of the best coordinated labor actions in recent memory, thousands of union members and social justice activists made an impressive show of support for the hunger strikers and other graduate student workers at Yale.
In place of low wages, frustration and apathy, the tireless work of union organizers has built up strike funds, deployed fleets of solidarity buses, and coordinated marching orders.
Interestingly, as the Boston and New Haven union members marched hand-in-hand down Massachusetts Ave. in Cambridge on that rainy day last November, the ink was still drying on an agreement with the Harvard Graduate Student Union–UAW (HGSU-UAW) initiative to hold an election on unionization, marking the first formal arrangement between the two parties.  News reports were flying around the region and the country predicting that Harvard would be the first school to vote on a graduate student union following the favorable ruling by the National Labor Relations Board's (NLRB) in August, 2016.
By the end of December, Harvard administrators began what turned out to be a campaign of stalling and sabotage, challenging the votes and leaving hundreds of students off a list of eligible voters, causing confusion about who was allowed to vote.  The HGSU-UAW cried foul.
Finally, this month, the regional NLRB confirmed that the union election held in November was invalid due to inaccuracies in the voter list that "interfered with the employees' exercise of a free and reasoned choice" (NLRB Ruling, 7/7/17). According to the HGSU-UAW, "Harvard's administration failed to follow national labor law, established by longstanding precedent, by not providing a full and accurate list of eligible voters prior to the election. An email from the administration earlier this week announced their intention to disregard the regional ruling and instead appeal to the federal Trump NLRB." The tactic being used against the Harvard students is nearly identical to what faces their UNITE HERE Local 33 brothers and sisters at Yale, and thus it requires the same response: Broad-based regional solidarity from labor and the community.
Across the Charles River, just days after the NLRB ruling at Harvard, over 1,200 nurses of the Massachusetts Nurses Association (MNA) at the Tufts Medical Center in Boston went on the first strike of its kind—also in 30 years.   After negotiations collapsed over the nurses' pension benefits, a 24-hour strike was called by the MNA including about 1,200 nurses at Tufts Medical Center, one of the oldest hospitals in the country, founded as the Boston Dispensary in 1796. Today, the Medical Center is a 415-bed teaching hospital for Tufts University and an important biomedical research facility.
The strike ended at 7 a.m. Thursday, when approximately 100 nurses tried to return to work and were turned away by hospital security staff. The nurses were locked out from Friday, July 14 until Monday, July 17.
An MNA spokesperson made the nurses' position clear:  "When people on the front lines of an industry – health care or otherwise – stand up with each other, we make our voices heard loud and clear. Quality patient care, quality working conditions, and quality of life – these are all goals we can and should join together to accomplish." Negotiations with the hospital fell through when Tufts rejected a union offer that would have saved the hospital $96 million in pension concessions.  Salary, staffing and pensions have all been points of disagreement between the nurses and Tufts.
Thousands of other union members, their families, friends and community activists, including UNITE HERE Local 26 and many other unions, flooded the streets in front of Tufts Medical Center all weekend long.  Gestures of support came from far and wide, including from the now-famous ironworker, Randy Bryce, who has declared his candidacy against U.S. House of Representatives speaker Paul Ryan in Wisconsin.  Over 70 Massachusetts state legislators petitioned Tufts Medical Center CEO Michael Wagner to consider the nurses' demands, but their letter fell on deaf ears.  In a show of incredible arrogance and callousness, Wagner, who got an 82% pay raise in 2016 making $1.1 million for himself, refused to meet with the legislators who were waiting outside his office door.
The same morning, Mary Havlicek Cornacchia, an Operating Room nurse and bargaining unit chair, told the press: "Tufts wants hundreds of our nurses to give up long-earned pension benefits and yet also rejects modest staffing improvements to protect patient care," Cornacchia continued, "Tufts nurses want to be inside the hospital caring for our patients. Instead we are locked out."
At 7 a.m. on July 17, the 1,200 nurses of Tufts Medical Center returned to work after the forced four-day lock-out that followed their historic one-day strike.
While both the Tufts Medical Center nurses and the graduate student workers at Harvard and Yale continue their struggle for their basic human rights to a living wage and a decent quality of life, these workers at least know they aren't alone.  If there is one lesson which is being learned by these disparate labor unions, it is that their basic human needs will only be met if workers band together in increasingly large numbers.
These three examples of labor solidarity demonstrate there is a surge among workers in many sectors of New England's economy toward union organizing and activism.  As if awakened from years of slumber since the massive strikes of the early 20th century, working class people, regardless of background or occupation, are beginning to realize that the battle for quality health care, quality working conditions, and quality of life, must be fought together with other working people.
Labor has once again become political ground zero in American politics, and the outcome of these struggles heavily depends on labor's ability to organize effective workplace and political action.