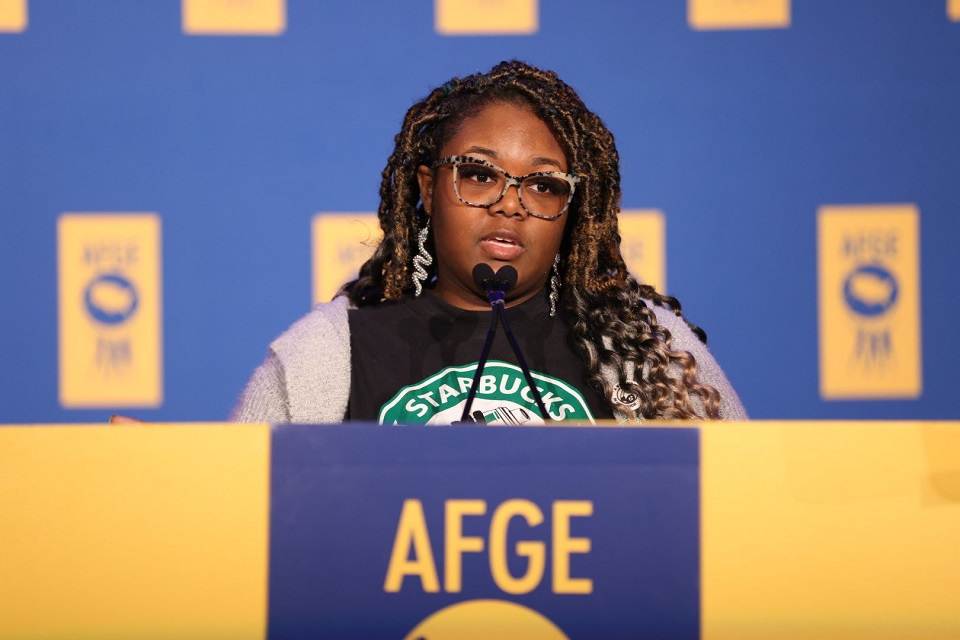 WASHINGTON—Sen. Bernie Sanders wants Starbucks CEO Howard Schultz to explain why he illegally fired Narbetta Hardin last year—two weeks after Martin Luther King's Birthday.
To Hardin, it's very plain: She's one of the "Memphis 7," fired for standing up for her rights and trying to organize the union at her store, with aid from Starbucks Workers United.
Hardin brought her story to the Government Employees (AFGE) Legislative Conference in D.C. on February 12. She says it resulted in vindication for her and her colleagues, and a National Labor Relations Board U.S.-wide injunction against Schultz and Starbucks for its illegal firings of more than 150 pro-union workers.
The story actually began with the coronavirus pandemic, which hit Memphis, and especially its African-American community, hard, Hardin, a 22-year-old Black woman, said.
"On Dec. 21 (2021), my store had 21 workers" on various shifts, she said. "Everybody but three of us—I was one of the three—got Covid," the official name for the coronavirus.
The usual procedure, and one recommended by the federal Centers for Disease Control, was to close such a workplace until it's completely sanitized from the virus. Starbucks didn't. That left a three-person crew—including Hardin–to open and close the Memphis store and work all the hours in between.
"We asked upper management 'Can we close down?'" she told the AFGE crowd. Bosses not only said "no," but "they didn't thank us. They didn't give us extra benefits," either for their hard work.
Now Sanders, the new chair of the Senate Health, Education, Labor and Pensions (HELP) Committee, which handles labor laws, wants an explanation from wealthy CEO Schultz—the first corporate honcho invited to appear before the panel as the Vermont Independent carries out his prior vow to rake corporate chieftains and their greed over the coals.
So Hardin and her six colleagues filed their union recognition petition with the NLRB office covering Memphis on King's birthday last year. The firm fired them, Starbucks Workers United complained on their behalf to the NLRB, and on Feb. 9 the board's General Counsel's office agreed to take the charges to an administrative law judge.
In so many words, the Memphis 7 were illegally fired for talking about a union.
Issued unlawful subpoenas
"The complaint states Starbucks unlawfully issued subpoenas to the Memphis 7, pressuring the workers to turn over all correspondence with the media, any communication about their illegal termination from Starbucks, and more—trying to strong-arm workers into submitting their emails, text messages, and voicemails to the company," Starbucks Workers United said after the counsel's office took the case.
"With these actions, Starbucks' interfered with, restrained, and coerced employees in the exercise of the rights guaranteed by the National Labor Relations Act.'"
"The subpoena came out of nowhere and was wildly unexpected," Memphis 7 barista Nikki Taylor Martin told Starbucks Workers United. "They wanted all of our emails and texts, even those that might have compromising and personal information. We didn't think it was fair for them to ask for that, and now we know it wasn't. We are glad the law supports the workers."
"They can't shut us down and they can't shut us up," Hardin said, to a standing ovation. "This is a great opportunity to show we need our rights."
But they can try, and they've done so by firing dozens of worker-organizers from coast to coast. That produced the nationwide injunction 10(j) injunction against Schultz and Starbucks—and Sanders' demand, backed by the panel's 10 other Democrats, that he explain the firings if he can. The firings haven't stopped the organizing drive. As of Feb. 10, workers, aided by SWU, a Service Employees sector, have won 80% of their union elections and organized 280 Starbucks stores.
"The $122 billion-dollar corporation has fought their workers every step of the way, including refusing to bargain a first contract in good faith, delay tactics, and a significant escalation in union-busting," Sanders said in a statement announcing the invitation to Schultz.
Schultz has pocketed much of Starbucks's increasing proceeds, as his wealth soared by 20%–$800 million—in the pandemic year of 2021, to $4 billion,
"There have been 500 unfair labor practice cases filed against Starbucks and its affiliates," continued Sanders, workers' longest and strongest supporter in Congress for decades. "The National Labor Relations Board has issued 75 complaints in response to those charges and sought emergency preliminary injunctive relief in five cases in the federal courts."
Sanders tried three times last year by mail to persuade Schultz to "end the egregious union-busting campaign the company has deployed against its own workers." "Schultz has not yet responded to or provided the documents requested in the most recent in January 2023."
Now, Sanders says, he should come and explain himself, in person, on March 9. Sanders gave Shultz a Feb. 14 deadline to reply. "The hearing will focus on Starbucks' compliance with Federal labor laws."
In plain English, that means Sanders will demand Schultz justify his labor law-breaking, formally called unfair labor practices—the actions that led to at least that nationwide federal injunction against the firm.
People's World has an enormous challenge ahead of it—to raise $200,000 from readers and supporters in 2023, including $125,000 during the Fund Drive, which runs from Feb. 1 to May 1.

Please donate to help People's World reach our $200,000 goal. We appreciate whatever you can donate: $5, $10, $25, $50, $100, or more.