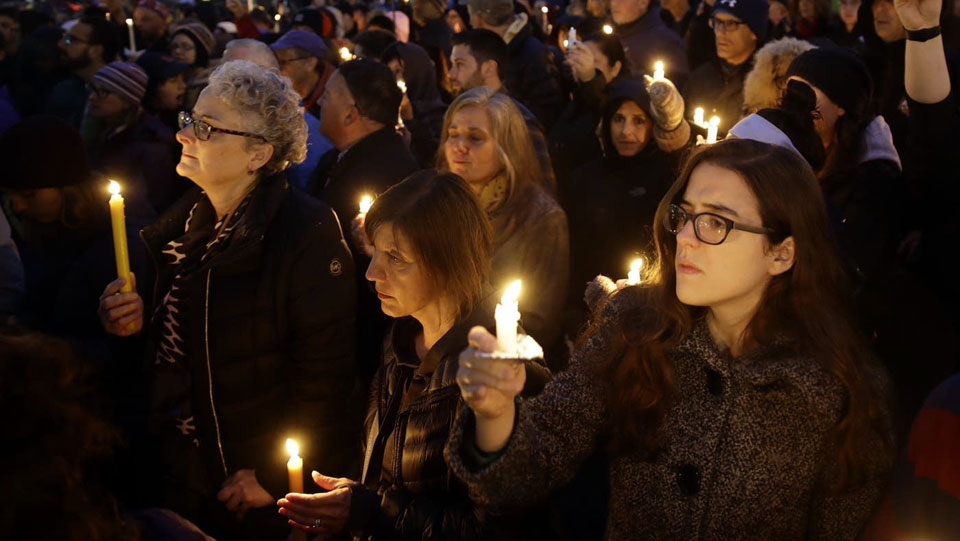 PITTSBURGH – Weekend mornings are slow in Pittsburgh. Folks off to sports practices or games, errands, breakfast at a walking distance diner or café or to worship. Joggers, bicyclists, skate boarders, baby strollers fill the sidewalks in Squirrel Hill, the heart of the area's Jewish community.
Mr. Rogers of PBS "Mr. Rogers Neighborhood" lived here. Safe is this neighborhood, with students, university and high school, from every continent on the globe mingling with professors, writers, welders and bakers and folks with walkers or canes. It's not idyllic, with its warts and bumps, but it's a neighborhood, like most Allegheny County communities, where residents, unless transferred for work, stay.
Or so it was until the screaming sirens of emergency vehicles shattered the quiet, replacing it with bulletins over radios and frightening messages via social media. I was dusting the living room when I heard Pittsburgh City Councilor Cory O'Connor on the radio. I knew his dad and know his aunt – this is Greater Pittsburgh where so many seem to know everyone. He was urging the community to "shelter in place" – "active shooter incident in progress at Shady and Wilkins."
There was no need for a more specific address.  I didn't wrap my brain around what I was hearing. I went out onto the porch and saw emergency vehicles racing west, toward Squirrel Hill. I heard the flop, flop of a low flying helicopter. I went in and called my friends in Squirrel Hill. They heard gunshots, automatic gunshots.
My sister in Baltimore called. Friends called. There was confusion and worry. I live in an independent borough, Wilkinsburg, bordering the city and Squirrel Hill. I can walk to Little's Shoe Store. Our town is no stranger to gunshots. We have had to pull together twice following two mass shootings, once in 2000 and another in 2016. This lazy Saturday morning had that queasy feeling.
The community did not wait for the official announcement. Eleven neighbors had been murdered in a synagogue. It was an anti-Semitic attack.  Saturday afternoon a group of students from Taylor-Allderdice, the local public school, gathered over coffee.
Before the sun went down that evening, in a miserable, cold misting rain, thousands of families overflowed the Sixth Presbyterian Church and into Squirrel Hill streets. Families came from every city neighborhood, from all parts of the region. Candles and handmade signs of love and anger gave voice to heartfelt sorrow and outrage. Some of the clergy – Jewish, Christian and Muslim – elected officials and community leaders charged Trump and his vitriolic rhetoric with igniting the fires of anti-Semitism and nationalism. A chant started outside and was picked up by those able to get a seat: "Vote, Vote, Vote, Vote."
More than anti-Semitism was on the mind of the murderer. During the week preceding the murders, the Tree of Life Synagogue hosted a meeting on immigration. For years the congregants worked with the Hebrew Immigrant Aid Society, assisting refugees and immigrants from around the world to settle in Pittsburgh. The shooter targeted immigrants in his online rants.
Sunday morning and the tearful news –  Joyce Fienberg, Richard Gottfried, Rose Mellinger, Jerry Rabinowitz, Cecil Rosenthal, David Rosenthal, Bernice Simon, Sylvan Simon, Daniel Stein, Melvin Wax, and Irving Younger were attending services at the Tree of Life Synagogue and did not return home. Six more people, including four police officers, were in the hospital. It was clear. Federal investigators found the evidence, including statements from first responders, that hatred of Jewish people and people coming to our country fleeing violence and poverty at home motivated Robert Bowers to pull the trigger.
I knew Bernice Simon. We met over 20 years ago in the middle of an argument. Our community was debating the privatization of Turner Elementary School. I opposed it but Bernice supported it. Disagreements could be spirited but were always respectful. Bernice worked her poll on the long 13-hour voting day. If an issue arose, she would call me. We would work it out — in Wilkinsburg our motto is everyone's vote is precious. Then she would offer coffee, pop, and baked goods. Most of our polls are neighborhood events with food and news of the latest baby, marriage, and meeting new neighbors.  But at Bernice's poll, it was homemade. While we never agreed on local issues, our positions would be clear, listened to and considered. A retired nurse, she was confident, warm and thoughtful. Really, as small as our town is, 2.2 square miles, 16,000 souls, it doesn't get better than that.
As we recognized friends, colleagues, and neighbors who never returned to our neighborhoods, the community was on the move. Sunday night, over 2,400 filled Soldiers and Sailors auditorium with speakers set up outside. Every faith in the region was on the stage as well as the congressional delegation, the governor and his wife, state elected officials, county officials and city council, Republican and Democrat. Pittsburgh Mayor Peduto issued the challenge: "We know hatred will never win out – that those who try to divide us because of the way we pray or where our families are from around the world will lose.  And in Pittsburgh, we're pragmatic and we find solutions to problems. We will not try to rationalize irrational behavior. We will not try to figure out ways .. to lessen the degrees of crimes such as this. We will work to eradicate it!"
Following the Soldiers and Sailors assembly of unity, city neighborhoods and county municipalities brought together their respective residents to not only express solidarity with the Tree of Life but, as is said in Pittsburgh, cross bridges and rivers and drive through tunnels to come together. In the historic African-American Hill District Pittsburgh NAACP Chapter President Richard A. Stewart thundered, "This is a common cause and a common goal. This thing just made us stronger." East of Pittsburgh, Monroeville residents from the Sikh, Roman Catholic, Protestant, Muslim, Hindu Jain, and Jewish communities promised to not only stand with Squirrel Hill but to take the first steps to address prejudices in their municipality.
Then Trump decided to come to Pittsburgh. No Pennsylvania elected officials on any level met him. But 5,000 protesters did, organized by IfNotNow, a Jewish progressive group. "(Trump) has a substantial amount of blame to bear for the environment we live in," said Aaron Bloomfield, standing with his two-and-a-half-year-old son. "He pulled no triggers. But he definitely triggered people." At one point, marchers passed the Squirrel Hill police station and many thanked the officers who ran to gunfire at Tree of Life. The demonstration occurred at rush hour, which is hairy, frustrating at best, in this 18th-century city.  Despite the snarls, closed street jams and backups, no car horns blared in road rage. It was just the sounds of the people, some singing, some chanting "Vote!, Vote! Vote."