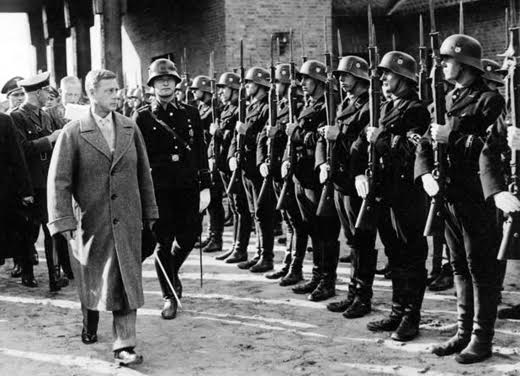 LONDON – The Queen was urged July 20 to make a personal statement regarding leaked footage showing her at aged six or seven performing a Nazi salute with her mother and her uncle Prince Edward (later King Edward VIII, who abdicated in 1936). The grainy footage shows the Queen as she played alongside her younger sister, Princess Margaret, then three years old.
Republic, which campaigns for a democratic alternative to the monarchy, said the palace should stop dodging responsibility. Chief executive officer Graham Smith told the Star: "Rather than playing the victim the Queen should make a personal statement to explain herself about the contents of the video. The footage is clearly in the public interest. It's a public record about our head of state and the public has every right to see it."
Conservative John Whittingdale, Secretary of State for Culture, Media and Sport, said he understands why the palace is upset by the publication, but defended the right of the press to make editorial judgments.
It is understood that depending on the outcome of the investigation, the palace will be looking at issues of copyright and possible criminality. A Palace spokesman said: "It is disappointing that film, shot eight decades ago and apparently from Her Majesty's personal family archive, has been obtained and exploited in this manner."
Ricky Gervais defends the actions of a seven year old child
British Comedian Ricky Gervais tweeted, "If the Queen does another Nazi Salute let me know about it. Until then… she was seven and it didn't even have its eventual context. Not news."
The outspoken atheist later added, "Now I'm terrified someone is going to dig up a photo of me praying when I was seven. Never mind The Queen, I actually looked like a tiny Hitler when I was seven."
Uncle Edward and Wallis were Nazi sympathizers, visited Hitler
More importantly, the Huffington Post UK reported that photographs revealing the Queen's uncle, the then Duke of Windsor, apparently raising his right arm in a 'Heil Hitler' salute, are to be auctioned July 30.
The pictures were taken during an unofficial visit to the Friedrich Heinrich colliery in Germany's Lower Rhine area in 1937, a year after he gave up the throne to marry American divorcee Wallis Simpson, also a Nazi sympathizer.
The former King is pictured surrounded by senior Nazis in uniform, some wearing Swastika armbands. Edward's visit also saw him attend a political rally flanked by SS guards and meet with Adolf Hitler at his Alpine retreat at Berchtesgaden.
It has been speculated that if Edward had not abdicated, there would have been a government crisis in the U.K. over his support of Nazi fascism.
Meanwhile in the U.S., rallies by klansmen, neo-nazis, gun nuts, and other ultra-right groups often show impressionable children whose parents are carefully teaching them to hate.
Morning Star and Barbara Russum contributed to this article.
Photo: Edward reviewing a squad of SS, 1937. "Bundesarchiv Bild 102-17964, Ordensburg Krössinsee, Herzog von Windsor" by Bundesarchiv, Bild 102-17964 / Pahl, Georg. Licensed under CC BY-SA 3.0 de via Wikimedia Commons