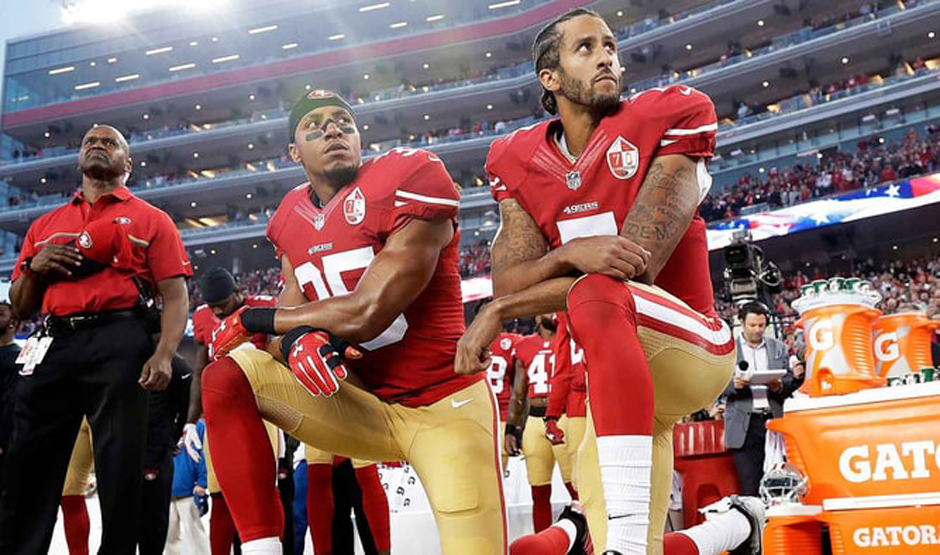 Donald J. Trump has made it abundantly clear he is no fan of the NFL.
In fact, other than golfing on the taxpayers' dime, racist tweeting, and sexual assault, he seems to lead a fairly inactive lifestyle—watching Fox and Friends doesn't count.
So it may come as a surprise that last week—the same day it was revealed he played an active role in the NFL's blacklist of Colin Kaepernick—Trump announced his plan to promote youth participation in sports, and make youth sports more accessible to economically disadvantaged children.
Stepping into the batting cage for a quick swing, then chipping the day away with his most prized possession, a golf club, Trump joined professional athletes, members of the President's Council on Sports, Fitness, and Nutrition, and kids Wed., May 30, to kick off the council's refocus on youth sports.
Trump issued his youth sports executive order in February reversing the Obama administrations' focus and emphasis on fitness and healthy eating in conjunction with first lady Michelle Obama's "Let's Move!" initiative to fight childhood obesity.
"Work hard, get in the game, play to win and, most of all, have a good time," said Trump to the youngsters, while later telling them to "have a great life"–unless you're using sports as a way to highlight racism, oppression, and injustice…then you're just a "son of a bitch" that "doesn't belong in this country."
After addressing participants, Trump made his rounds to the flag football, baseball, golf, and track and field stations. He posed for photos and asked kids to name their favorite players. Hopefully one of them mentioned Kaepernick and took a knee off camera.
Speaking to reporters before the event, Ivanka Trump, a White House senior adviser, said that sports participation lags disproportionately among young girls and children who live in economically distressed areas.
"We must break down barriers to youth sports participation and empower each child to reach his or her full potential through sport and play," said Ivanka Trump.
She went on to say that "by the time girls reach age 14, they drop out of athletics at two times the rate of boys." Did she follow any of the Larry Nassar case out of MSU?
While Ivanka Trump's words are well and good, they mean nothing. Her father's racist and sexist brand of American conservatism will never lead to economic improvements for those who are hurting. Among these are the all-out assault on union workers, women, the LGBTQIA, immigrants, the Muslim travel ban and so many more.
The Trump administration plans on creating a national promotion strategy for the initiative and set the stage with a series of large events around the 2020 Summer Olympics.
Trump can brag all he wants about his athletic ability. "I was always the best athlete. People don't know that," he said. As far as how committed he supposedly is to working with groups in the public and private sector to address the decline in youth sports participation, I doubt this will amount to more than just a headline.
The Council was established in 1956 by President Dwight D. Eisenhower to promote youth fitness and team sports.