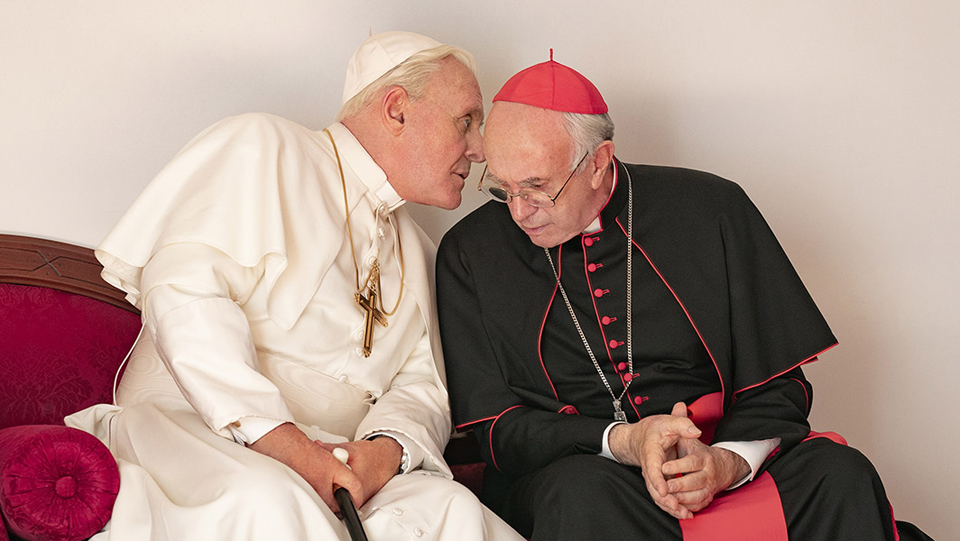 Brazilian director Fernando Meirelles, who was Oscar-nominated for 2002's City of God and Golden Globe-nommed for 2005's The Constant Gardener, is back with another topical film, The Two Popes. At a gala in the TCL Chinese Theatre, 81-year-old Anthony Hopkins, who portrays Pope Benedict, told the American Film Institute audience Popes had a "message" of "tolerance," which Meirelles noted was extremely needed nowadays. Hopkins's fellow Welsh actor and co-star as Argentina-born Cardinal Jorge Bergoglio, later Pope Francis, Jonathan Pryce (who played another religious leader, High Sparrow, in HBO's Game of Thrones, as well as another Argentine, Juan Perón, in 1996's Evita), also attended the screening, which was one of AFI 2019's highlights.
This 125-minute historically inspired film was written by three-time Oscar-nominee Anthony McCarten, who wrote the biopics 2014's The Theory of Everything about physicist Stephen Hawking, 2017's Darkest Hour about Winston Churchill and 2018's Bohemian Rhapsody about Freddie Mercury. It includes some news clips in dramatizing the real-life relationship of the German-born Pope, Cardinal Joseph Aloisius Ratzinger, and his much more liberal, Buenos Aires-born successor, and is a true actors' movie. Rachel Weisz won the Best Supporting Actress Academy Award for The Constant Gardener and Hopkins was Oscar-nommed three times and won the coveted Golden statuette for 1991's The Silence of the Lambs. Don't be surprised if both Sir Anthony and Pryce are nominated for Best Actor for their superlative work in this film about the two Bishops of Rome.
For a movie about godliness, Popes is full of humanity. It is also extremely philosophical, although not overly religious. However, one will learn fascinating details about how the pontiff is chosen by the conclave of cardinals, and so on. There is also a highly informative subplot about Argentina's military junta and the questionable role of Jorge Mario Bergoglio (portrayed as a young Jesuit by Argentine actor Juan Minujin) during the state terrorism of the so-called "Dirty War" from 1976-1983, decades before he became known as Pope Francis, the papacy's first Latin American leader. I learned a lot about this period of harsh repression from the film, and it does moviegoers a service in dramatizing these forgotten, fascistic events.
There are no flashbacks to Ratzinger's past during the Third Reich, but Meirelles (who as a Brazilian also knows a thing or two about "Dirty War") has very cunning ways of saying things, and I'll come back around to the Nazi thing in a moment. His choice of music throughout the film is most important and revealing. For one thing, he uses the theme from ABBA's song "Dancing Queen" more than once, indicating that Bergoglio knows the song and Benedict wonders if it's a new hymn he's not familiar with. Meirelles may be trying to hint at the substantial numbers of homosexually inclined men who have gone into the priesthood—and uh, maybe, become cardinals and popes. And then, too, ABBA is a Hebrew word that means "father."
Other uses of music, including the Italian Resistance song "Bella Ciao," the Argentine protest singer Mercedes Sosa, the African-American spiritual "Sometimes I Feel Like a Motherless Child" and free jazz in a basilica setting, not to mention Bergoglio's beloved Argentine tango (he teaches Benedict a move or two) and the recurring theme of "Bésame Mucho" (Kiss Me, Kiss Me), add to the aural portrait of the two men and the environments they emerged from.
In Benedict's case, he's a piano player of some talent, and one of his favorite songs that he plays for Bergoglio in his private summer quarters is a song from the 1930s popularized by the singer Zara Leander, which Benedict remembered from that time. Well, there's the sly Meirelles at work: Zara Leander was a smoky, sexy Swedish singer in the mold of a Marlene Dietrich, who built her career on stage and film during the Third Reich as an active collaborator of the Nazi regime. When she returned to Sweden after the war she was shunned, and it took some years before she made a comeback to her forgiving (though not forgetting) public.
In another oblique way, Meirelles brings up Benedict's Nazi past in what may be the emotional highpoint of the film. It's when Bergoglio admits to Benedict why he is an unworthy choice as successor to the Papacy, remembering how inconsistently and at times spinelessly he behaved during the "Dirty War." If Francis is known as one of the Church's great liberal reformers, that came about out of remorse for what he failed to do when humanity was so severely tested decades earlier.
But then, quite to his surprise, as if in response, Benedict asks Bergoglio to hear his own confession. Benedict laments that perhaps he had cloistered himself off in his studies and his books and separated himself from the world, and as he continues speaking, Bergoglio kind of tunes out, partly out of embarrassment from hearing his superior's confession, partly from what he is hearing, and maybe because he doesn't really want to know. It is entirely likely that during this confession, which we see Benedict mouthing but do not hear, that Benedict, similarly to Bergoglio, released himself of his long pent-up shame at his own inaction during his nation's time of trial. Confession can be liberating; but it doesn't necessarily help the victims of crime, a point Bergoglio makes in the film.
Pope Francis named himself after my favorite saint, who gave his wealth away to the poor and spoke with the animals. In sharp contrast to the traditionalist Pope Benedict, derided by some in the movie, as in real life, as a "Nazi," Bergoglio, as a cardinal and eventually as Holy Father, publicly eschewed ostentation and ornamentation, relaxed the ideological war on gays, and supported other reforms, earning the popular nickname of "the People's Pope." Bergoglio became the head of state representing the Holy See when the Vatican was rocked by banking and sexual molestation scandals. Their differences and relationship are captivating, especially considering the fact that two men who became pope haven't been alive at the same time in 600 years. The conversations they engage on tradition and morality are certainly of far broader interest to a general public than simply to Roman Catholics.
The film also features sumptuous cinematography with South American and Roman locations, including aerial exterior shots of Vatican City. But the Vatican interiors, including what seems to be the majestic Sistine Chapel by my favorite artist, Michelangelo, were recreated at Cinecittà Studios.
Given its subject matter, Popes is well-timed for a Christmas release on Dec. 20. With a billion-plus Catholics worldwide, this papal epic may have a built-in audience. Some of our popcorn-munching friends at the multiplex used to far more dynamic superheroes may consider this to be a snooze-fest with two old geezers gabbing with each other about boring subjects such as the nature of god, Christianity, mercy and other topics of spiritual import. Although about half an hour could arguably be cut out of The Two Popes, I nevertheless enjoyed it and was thrilled to see "Hannibal Hopkins," the brilliant actor who played Captain Bligh in 1984's The Bounty, in person. Shiver me timbers!
The trailer can be viewed here.