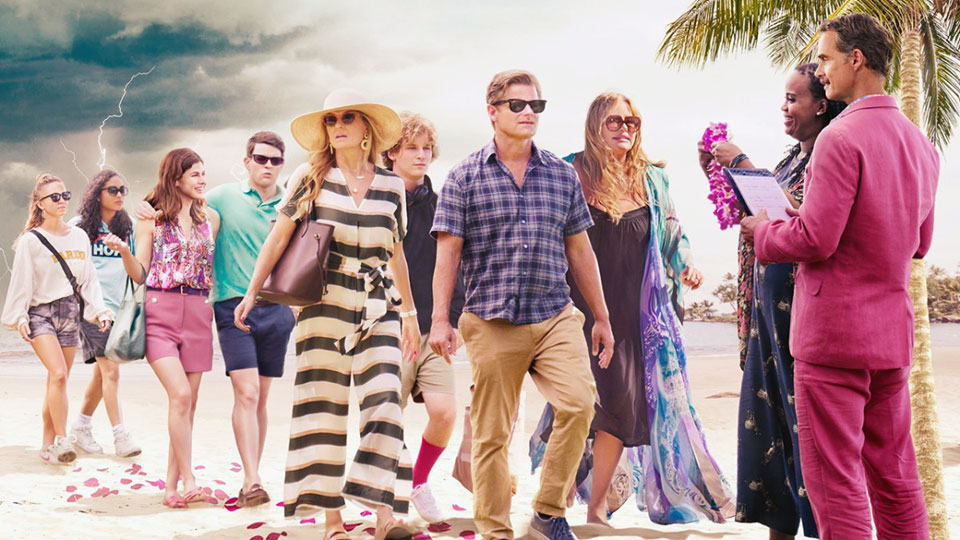 Tanya McQuoid (Jennifer Coolidge) is troubled. She carries around her mother's ashes searching for the perfect place to scatter them. More importantly, she also searches for love.
Newlywed Shane Patton's (Jake Lacy) search is for respect, no matter how many people he must step over in his grim, mean-spirited quest to show his superiority. Could his sweet young bride Rachel (Alexandra Daddario) be yet another victim of his total self-absorption?
High-powered CEO Nicole Mossbacher (Connie Britton) struggles up the corporate ladder and funnels all her energy into her work, leaving feckless husband Mark (Steve Zahn) to constantly question his manhood.
These White Lotus Spa patrons' personal lives are wanting. But their actual problems are nothing compared to those of the folks who must serve them, cater to their needs and follow their direction. The workers at the spa deal with existential questions of survival on a daily basis: the unrelenting struggles to earn money, keep their jobs, restore their lands, navigate in a world where they have little control.
Perhaps nowhere is the class divide more starkly on display than the spas where America's rich go to be pampered by their economic inferiors. Thanks to two new TV shows, HBO's The White Lotus and Hulu's Nine Perfect Strangers, we see our class system in full, if ignominious action.
Perhaps not everyone is content or compliant with making the world safe and comfortable for the rich. The question becomes: who will eat the White Lotus and who will devour the Lotusans?
Writer-director Mike White's (School of Rock, Nacho Libre) supple direction and fluid turns in White Lotus add humor and surprise to these painful resolutions of conflict. White's father was speechwriter for the Religious Right's Reverends Jerry Falwell and Pat Robertson before coming out as gay. With his friend, actor Jack Black, White formed the socially conscious production company, Black and White.
Over on Hulu, we can see similar spats at the spa! Nine Perfect Strangers, despite their wealth, suffer also from disturbances to their slightly less-than-perfect world. Like their White Lotus counterparts, adherents of Nicole Kidman's Tranquillum House retreat are not economic victims. Melissa McCarthy is a wealthy, formerly popular writer, Bobby Cannavale a well-off professional football player, Regina Hall and Luke Evans well heeled, and Melvin Gregg and Samara Weaving have even won the lottery.
Unlike in White Lotus, where the principals act out their problems, Perfect Strangers writer David E. Kelley (Ally McBeal, Big Little Lies, The Undoing, Big Sky) largely establishes character by having his actors reflect on their backstories. Also different is the more manipulative role of Tranquillum's wielder of wellness, founder Masha (Nicole Kidman). While White Lotus's spa chief  Armond (Murray Bartlett) mixes humor into his disastrous agenda for his clients, Tranquillum's Kidman brews a darker elixir. Could she be drugging her clients? Does she actually mean them well or harm? Is she forcing them toward danger or even disaster?
Still, the regrets of the rich must be resolved. Their leisure, health, and therapy are a small price to be paid—by the rest of society. The least they can do in return for our labor and viewership is provide an instructive class-based morality play.